California is on fire.
Four years into a compounding drought period, the California countryside is dry, brittle and rife with opportunity for fire. A match, a spark, a bolt of lightning could ignite a powerful, seemingly unstoppable inferno. What used to be a designated "Fire Season" now has expanded to year-round.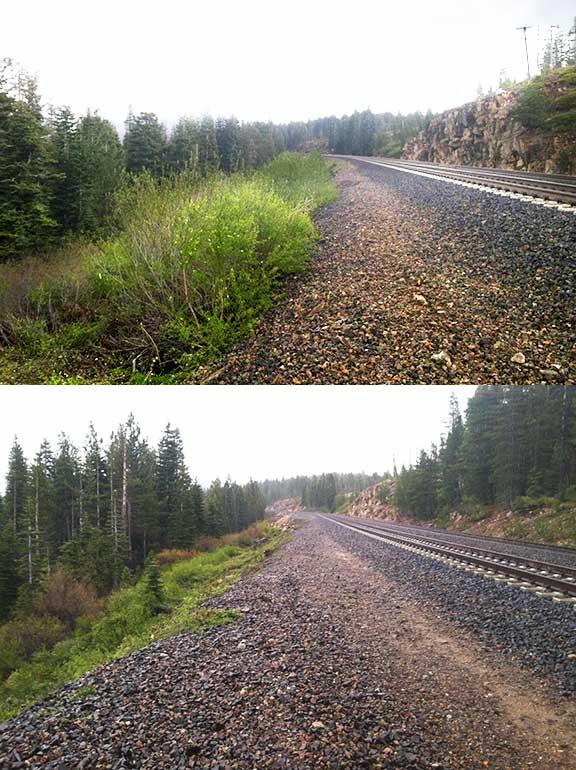 With more than 3,200 miles of track in the state, Union Pacific works with hundreds of local, municipal and volunteer fire departments to prevent fires along railroad right-of-way. It's a daunting task, especially now when California is suffering one of the worst droughts in the state's history.
"This year, more than three times the average number of fires have been reported in California," said Mark Mahoney, Union Pacific manager of Public Projects-Western Region. But Union Pacific has put controls in place to decrease the number associated with the railroad.
California is famous for its towering conifers, but the needles they drop can dry and turn into an unfortunate fuel source. Overhanging trees and dried native grasses also can be a problem. Union Pacific is working on creating a 70-foot-wide firebreak centered on its main track between Rocklin and Soda Springs, said Dave Wickersham, Union Pacific chief engineer-Maintenance of Way. This effort helps both Union Pacific and the National Forest Service, as the probability of an errant spark from igniting the tinder-dry grass is reduced.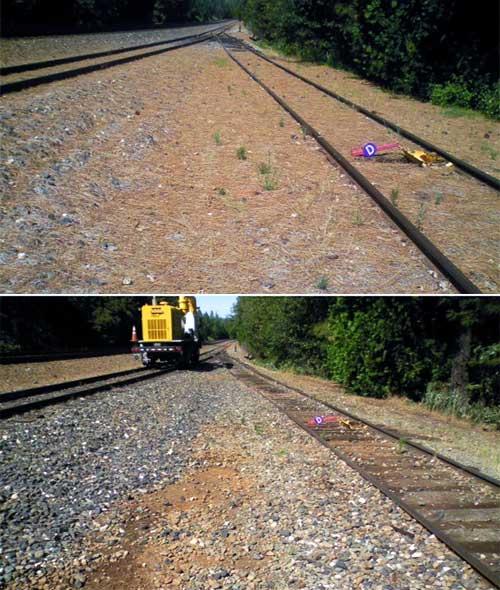 Clearing the Risk
Sometimes the efforts to reduce fire possibilities come from unexpected sources. For example, amid some of the hottest temperatures in the country, UP recently invested in a snowblower.
Affectionately known as "Air Forced One," the equipment that formerly kept track clear by blowing snow in winter now blows pine needles and debris from between the rail ties during the warmer weather. This helps reduce the opportunity for spot fires.
Then there are the goats. Union Pacific recently signed a contract to put goats to work along the right of way. Using goats to reduce dry vegetation is common in California. Fences were erected to keep the goats away from the track and any access roads, and there are plans for a goat herder 24/7 while the animals are left to roam and keep the brush in check.
"Chemicals may be the most cost effective way to treat overgrowth on the right of way," said MaryBeth Farley, program manager - Vegetation, "but it's not the most environmentally friendly."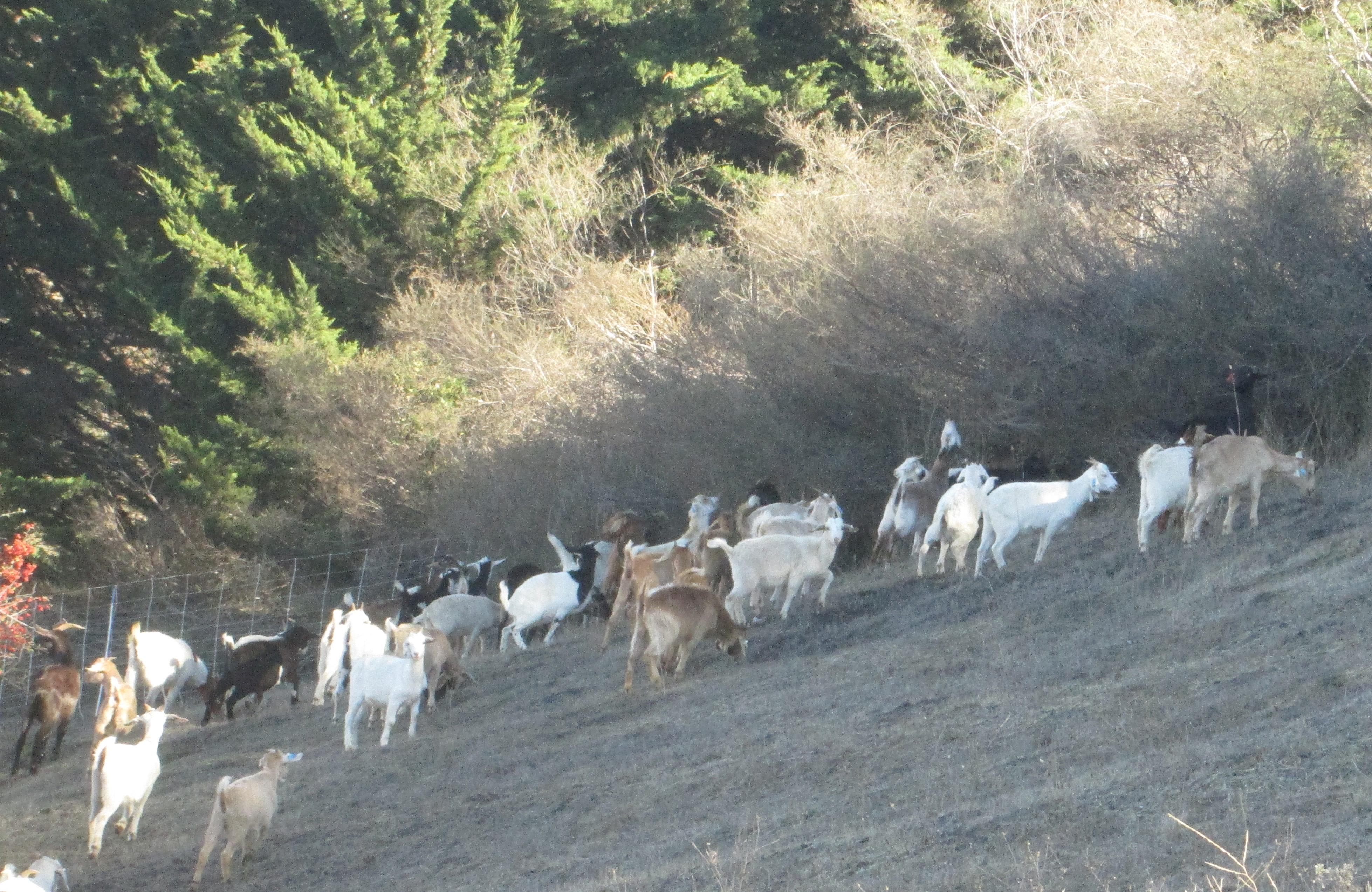 Farley came to Union Pacific from the University of California-Davis with a bachelor's degree in Environmental Horticulture and Urban Forestry. "I didn't know when I joined that I'd be involved in vegetation control on the right of way," she said. "I was used to growing crops, not keeping them in check, but I enjoy the challenge of working to establish safe landscapes for our employees and our communities," she said.
Vegetation clearance isn't always well received, said Tom Savage, manager-Engineering Operations Support, Western Region. "People get used to the big trees along the right of way. It blocks the noise and view of the trains, but that need to eliminate the fuel source is important. "
Regionally, an estimated $20 million annually is spent on vegetation control, with two-thirds going to spraying weeds. In Northern California, the site of heavy vegetation, a current fire prevention project in the Donner Pass area is focused on 80 miles of the highest fire concentration. The project will clear the right of way of all grasses, bush and debris, and woody material (cleared trees) will be chipped on site and donated to the Rocklin Power Plant, where it can be used as a fuel source for the city.
"This is the biggest clearing project we've ever done," Farley said. The vegetation and dry conditions were getting too close to the Roseville Subdivision, and addressing the situation couldn't wait any longer. "There may be risk everywhere," Farley said, "but the goal is to prioritize and implement control measures where there's a need, before it's too late."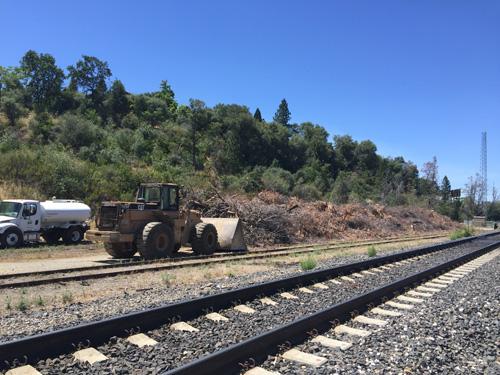 Dousing the Spark
Just as important as clearing the area of fire fuel is keeping sparks under control. Grinding and welding steel rail can produce fountains of sparks. Last year, Union Pacific spent $432 million on track maintenance in California. That's a lot of sparks. So when hot work — rail grinding or welding — needs to be done, it takes place in an enclosed work area. A fireproof tent surrounds the area. Spark shields are used, and crews are required to have fire-fighting equipment and water on hand. They also must remain in the area of hot work for at least one hour after work has been completed, to ensure they are leaving a safe environment.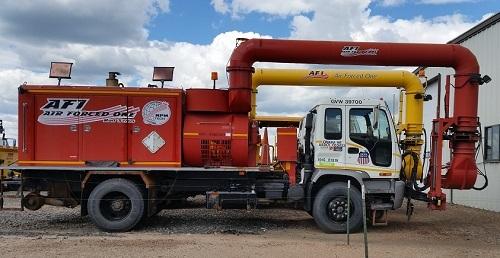 "Over the last 20 years, we've worked to perfect a fire-prevention process," Wickersham said. All railroad crews are required to take fire prevention training. Before any welding or hot work can take place, the welder must complete a fire risk assessment, which takes into consideration 13 variables, to establish the level of risk. This process has been validated by external fire consultants and CalFire.
"The best way to ensure safe and reliable track is to work on it and maintain it," said Wickersham.
"Our employees in California, our trainmen, are diligent. If they see anything suspicious on or off our right of way, they report it," said Wickersham, who's counting on the men and women of Union Pacific to keep his community safe. "I'm not worried," he said. "I live 1,000 feet from the main line, and I'm not moving. We have professionals maintaining our line."