"Come on and walk with me," Union Pacific Hazardous Materials Manager Michael Villa-Real said to the crowd of news media gathered next to a small fleet of high-tech equipment assembled outside the California State Railroad Museum. "This equipment is all part of our recovery mission."
The Feb. 24 event brought together safety experts, railroad officials and oil and chemical industry representatives to discuss rail safety and emergency response programs associated with moving crude oil by rail.
Representatives in attendance came from Union Pacific, BNSF Railway, and the Western States Petroleum Association, a non-profit trade association that represents companies that account for the bulk of petroleum exploration, production, refining, transportation and marketing in Arizona, California, Hawaii, Nevada, Oregon and Washington.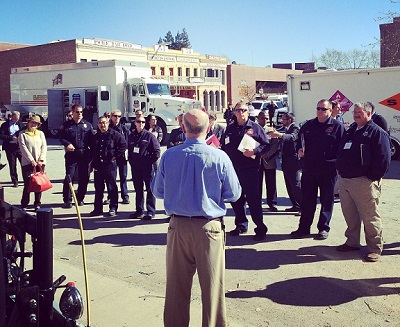 Among those on hand were state and local officials like Freddie Rodriguez from District 62 of the California State Assembly. "It's very important that we see this and get to know and learn from one another," Rodriguez said. "There are a lot of different agencies working together. We have our local first responders here, which is very key."
Rodriguez said first responders are becoming better prepared and have better access to more information. "This is the first step, getting everyone together at the table to see what we have available and how we can work together," he said. "We know where to start and who the key people we need to talk to in case an emergency occurs."
Kathy Finney of the Roseville, California, Fire Department said the event was a good example of industry coming together with public safety.
"We're here today to make sure we do have a plan and that we're working toward to where our response capabilities are seamless," she said. "Are we there right now? Probably not, but we're getting there, we're making that effort, and it's going to be a regional effort. It can't just be UP, it can't just be the fire department. It's got to be a regional response."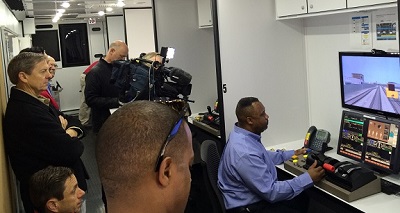 The recent surge in domestic oil and gas production is reshaping America's energy landscape. The increase has brought the nation closer to energy independence, created economic growth opportunities, renewed the country's manufacturing sector, reduced costs for consumers and businesses, and introduced stability to the U.S. energy market.
This U.S. energy renaissance and the railroads' role in it wasn't lost on Rodriguez. "Today shows me that (railroads) are working together making sure these goods are being transported safely and effectively throughout the United States and most importantly what they have available to offer in case an incident does occur."