Caroline Eggert has accomplished something only a little more than half of young adults her age impacted by autism can boast about: She got a job.
Subscribe to
Inside Track
The 29-year-old works for a nonprofit called WEAVE, which repurposes clothing for domestic violence and sexual assault victims. She developed her passion for fashion in a textiles class she took at Meristem, a Sacramento-based non-profit school that provides young adults with autism the opportunity to develop life skills that can transition to a work environment.
"My proudest accomplishment was knitting a pink beanie for my sister – complete with ribbed stitching at the bottom," she said.
Autism is a nervous system disorder with a wide variety of symptoms that vary in severity, but commonly include difficulty with communicating and social interaction, as well as obsessive interests and repetitive behaviors. Early recognition and therapies can help reduce the symptoms.
Meristem's program was inspired by a United Kingdom effort that has successfully served thousands of students on the autism spectrum for more than three decades. Beginning in 2014 with only six students, Meristem's class size grew to 60 in just four years.
The program focuses on four key goals for students: building a strong sense of self, mastering basic life skills, such as problem solving, collaborating and meeting resistance, enhancing social capacity and preparing to enter higher education and the workforce.
The 3-year program serves students ages 18-28. Just minutes from downtown Sacramento, students can either commute or reside on Meristem's private 13-acre campus.
When Eggert told her class she got a job during the school's morning staff and student announcements, the room was abuzz. "There was a lot of excitement," said Meristem President Jonathan Finestone. "That's what everyone wants to hear."
Finestone said young autistic adults have a low rate of employment at just 58 percent; while 42 percent of young adults with autism have never worked for pay in their early 20s.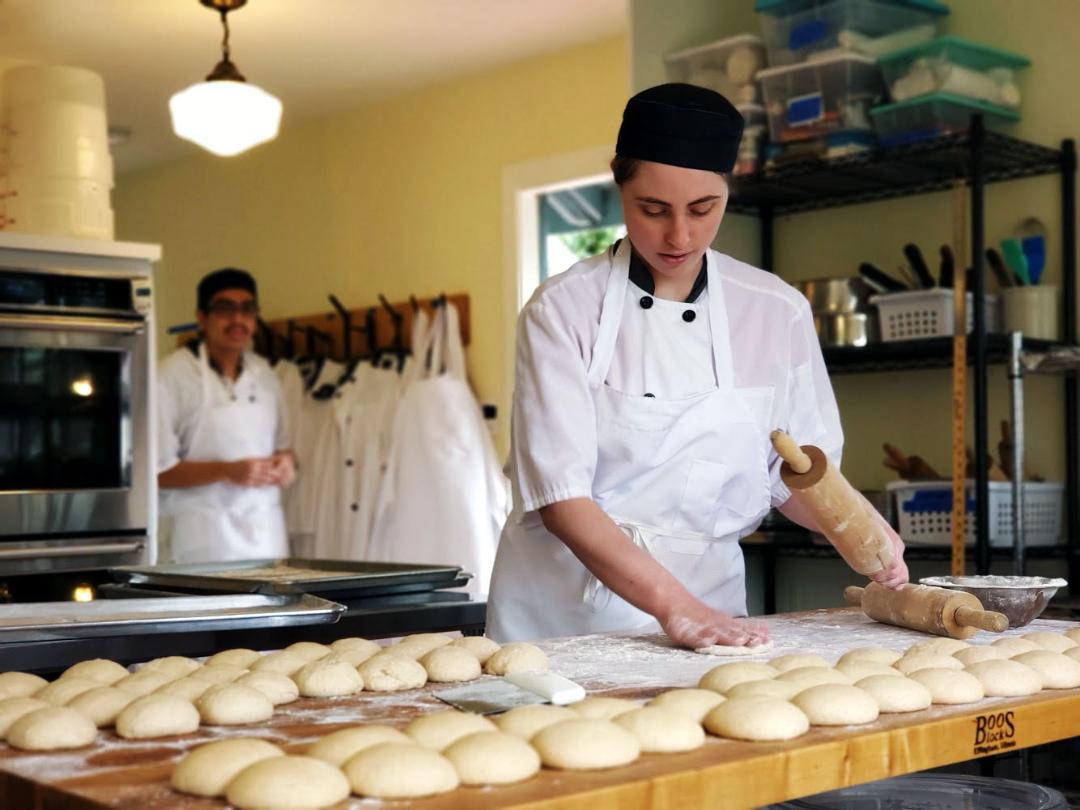 Meristem offers practical arts classrooms, an organic farm, a farm-to-fork café, bakery, bookstore, theater, dormitories and apartments. Students have the opportunity to work on campus in the café, bakery or herbal arts.
"Those kinds of skills empower our students for success," Finestone said. "We're building students' confidence in their ability to work with others."
With help from partners like Union Pacific, who provided Meristem $30,000 in 2018 through its Community Ties Giving program, the nonprofit continues to support its students well into their careers.
Some Meristem graduates participate in a self-leadership year, which assists students in their year after graduation, or participate in a Self Advocacy Program where they work with businesses on how to employ young adults on the spectrum.
Eggert was among Meristem's first class of graduates. "Meristem taught me how to work independently, but also how to ask for help when I need it," she said.
She called her experience at Meristem "transformative," and advises interested students to take a leap of faith and enroll. "There will be times of struggle, but more times of joy and growth. You will be so proud."