It was a dirty job, but someone had to do it, and a small but mighty team of eight from the Union Pacific Railroad Museum and Union Pacific answered the call May 12 as part of Clean Sweep Council Bluffs, Iowa. The clock was ticking; the team had 90 minutes to scour their assigned stretch of highway in search of litter and roadside trash as part of the annual clean-up that kicked off a weeklong "Celebrate CB" calendar of events. Council Bluffs is the site of milepost 0.0, the starting point of the transcontinental railroad and Union Pacific.
"Clean Sweep Council Bluffs has been a part of the Celebrate CB festivities since the '80s," said Shannon Meister, education coordinator - Council Bluffs Recycling Center. Annual festivities have included barbecue competitions, fireworks, and a parade, though this year's inclement weather put a damper on the fireworks. But the weather was perfect for the clean-up, and a crowd of more than 250 turned out, garbage bags in hand. "It's a fun time, and a great way to get volunteer hours for students who need them," Meister said. "It's truly an event where people can come have fun and help make our city look great."
Teams congregated at Bayliss Park in the center of downtown Council Bluffs at the end of clean-up period for music, food and awards. Council Bluffs Mayor Matt Walsh, members of the City Council and members of the Celebrate CB Board served up hot dogs and chips, and awards were presented for team spirit, most unique item found, and most litter collected.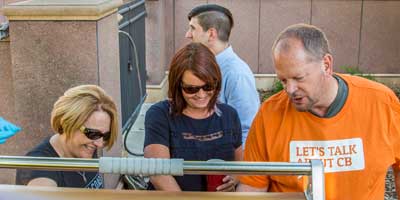 Almost 1,600 pounds of trash were collected from 35 different areas of the city, with the award for "Most Trash Collected" going to the Union Pacific Railroad Museum team.
The Union Pacific Railroad Museum is located in the heart of downtown Council Bluffs, just across the street from Bayliss Park. "This event is a great way for us to support the community and help to get the city ready for our annual Celebrate CB events that take place all around the museum," said Patricia LaBounty, manager of the UPRR Museum and collections.