Local elected officials, community representatives and first responders learned about and discussed emergency response, training programs for first responders and technology at the railroad during recent Hazardous Materials Safety Days at two Union Pacific yards.
Chicago is home to the world's largest rail center. Main line tracks from St. Louis traverse the state of Illinois, headed for the metropolis and an east-west transcontinental main line terminates at Union Pacific's Proviso Yard in the suburb of Northlake. With six of the seven Class I railroads accessing the region, nearly 1,300 trains can pass through Chicago each day.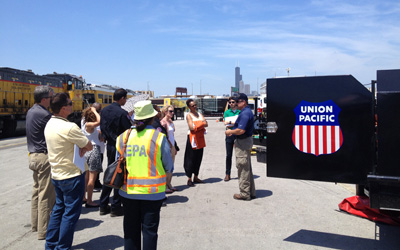 Members of UP's Hazardous Materials Management Group (HMM), experts in Hazmat transportation safety, securement and response, hosted the event. The group gave the local representatives a hands-on, realistic look at what can happen on the railroad, said Matt Thompson, manager-Hazmat Field Safety.
On display was UP 2530, a 4,300 horsepower locomotive, and a Genset switching locomotive. The Genset switcher uses up to 37 percent less fuel compared to older switching locomotives and reduces emissions of oxides of nitrogen by 80 percent.
Other equipment included a converted boxcar classroom and a tank car; the Positive Train Control training trailer; one of UP's two track geometry inspection vehicles; and the UP foam trailer — designed to augment emergency responder capabilities in the event of a liquid fire involving rail equipment.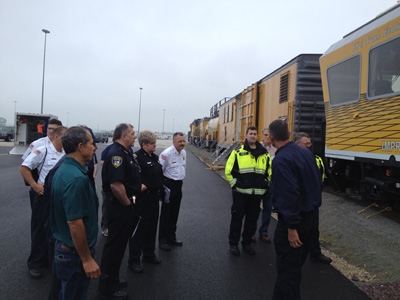 "We do this in the communities where we operate to show we are prepared in the unlikely event we would have an incident," said Tim O'Brien, director-Environmental Operations, Hazmat.
Representatives from Illinois EPA, Chicago DOT, the Villages of Barrington and Lombard, various Chicago Aldermen and local State Representatives, and multiple emergency response agencies attended. "It was great to learn about some of the new technology available to first responders," said Village of Barrington Mayor Karen Darch.
Technology included AskRail, a near-real-time mobile application produced by the Association of American Railroads (AAR). UP's HMM team works with local emergency responders to grant access to the AskRail app, which supplements the existing response process the HMM group uses to collaborate and communicate with emergency responders during a hazardous materials-related incident. Also mentioned were the Federal Railroad Administration (FRA) Crossing Locator Application and their GIS mapping tool.
Training with the railroad is important, said Chicago Fire Chief Glen Lyman, adding, the Chicago Fire Department undergoes training on a yearly basis through Transcaer (Transportation Community Awareness and Emergency Response). "The more you do it, the more you'll remember it. "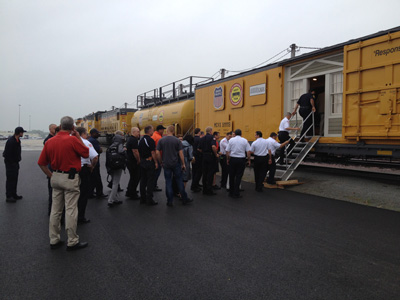 UP trains almost 2,500 local, state and federal first responders annually. The railroad has trained nearly 38,000 public responders and almost 7,500 private responders (shippers and contractors) since 2003.
The training is very important not only for the first responders but for the railroad, too, said Lyman. "An incident is not the time for a first face-to-face meeting. Now, when we do have an incident, we've got a personal relationship."
Local elected officials increased their understanding of Union Pacific's work to keep their communities safe.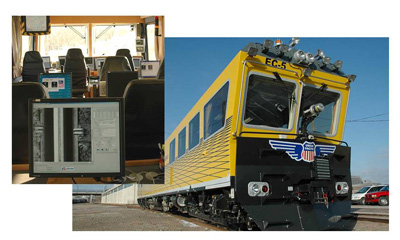 On display and of special interest to the participants was the rail inspection truck, which uses the latest digital 48-channel ultrasonic technology to test rail stability. Traveling along the surface of the track, the rail inspection truck aims ultrasound at the rail steel at various angles, pulsing and then listening. The return "echo" is monitored, checking for patterns or inconsistencies.
What Illinois State Representative Elaine Nekritz learned will help her communicate to her constituents in the 57th District what is being done on their behalf, she said. "Understanding the efforts the rail industry is going through to promote safety and to protect our communities has really been enlightening."