Like many teenagers, Hauwa Muibi didn't know what she might eventually do for a living, or even what she'd major in when she went to college. She loved math, and after reading some course catalogs, decided Computer Engineering sounded interesting. With her parents' blessing, 15-year-old Hauwa traveled more than 5,800 miles from Lagos, Nigeria, to Wilberforce University in Ohio to study.
There was culture shock, to be sure. And too much snow, she said. With the help of her mentor, Tjioe Kwan, Muibi learned to turn "ordinary math" into real-world application. She interned at Ohio State University and helped build a disaster relief system as an intern with the National Nuclear Security Administration, before graduating with a degree in Computer Engineering.
Now, one month from receiving her graduate degree in Management Information Systems (MIS) from the University of Nebraska at Omaha (UNO), Muibi is a Business Analyst intern at Union Pacific and wants to help other young women become more aware of the depth of opportunity in the fields of Information Technology.
That's where "Code Crush," an annual immersion experience for middle- and high-school girls at UNO's College of Information Science and Technology (IS&T) comes in. The program is designed to introduce girls to information technology in a secure, friendly and engaging environment. Sponsored by the University of Nebraska Foundation's Women in IT Initiative, Code Crush is one component of an overall plan seeking to double the number of women enrolled in IS&T programs and help fill the IT workforce deficit in Omaha.
Union Pacific has been one of the sponsors of the Women in IT Initiative since its inception in 2013, as well as sponsoring Code Crush since 2014.
"Code Crush is a great opportunity to pique the interest of students who may not have thought about a career in the technology field," said Lynden Tennison, Union Pacific senior vice president and chief information officer.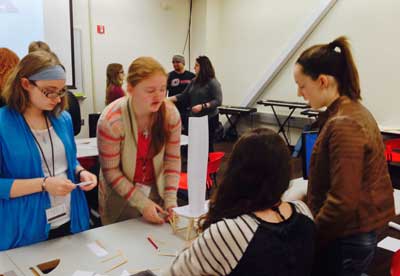 Middle-school girls from across Iowa and Nebraska streamed into the Peter Kiewit Institute on UNO's south campus recently, wide-eyed and anxious to learn about robotics, bioinformatics and cybersecurity. The girls and their teacher-mentors had the opportunity to program robots, create android mobile applications, and learn from current students and alumni what it's really like to be a student in IT.
A lunchtime panel of IT students included Muibi, Cassi Tucker and Kat Slump.
"In high school, I wanted to be an English major," Tucker said. "I didn't find that I wanted to do IT and that I enjoyed it until my sophomore year at UNO." With encouragement and guidance from Dr. Deepak Khazanchi, Information Systems and Quantitative Analysis professor, Tucker is pursuing a major in IT Innovation, an interdisciplinary degree program that brings together aspects of Computer Science and MIS with other disciplines.
"You are lucky," Muibi told the audience. "You're at a program that's all about technology. I never had the opportunity to do what you are doing here today — seeing IT in action, getting a more grounded view — not everyone gets that."
One teacher in attendance, Janelle Jack, Gifted Coordinator at ESU 11 in Holdrege, Nebraska, said the experience was eye-opening. "If more teachers were able to attend things like this, it would be great," she said. "We have computer classes at our school, but it's keyboarding and Microsoft Word, not coding." Jack said she had no idea of the variety of opportunities for kids. "I almost wanted to be 16 again, so I could do these things," she said. "Every person we visited with, it wasn't just about majoring in IT or being the smartest. It was about hard work and being willing — and that girls can do it."
Jack was teacher-mentor to Anabelle Sanko, whom she met last summer during the Educational Service Unit #11's Summer Honors Program. Sanko said her first session on IT Innovation as "awesome," but liked the panel discussions best. Her interest in cybersecurity had her leaning toward a career with the FBI, but hearing from the panels redirected her focus to all IT, Jack said.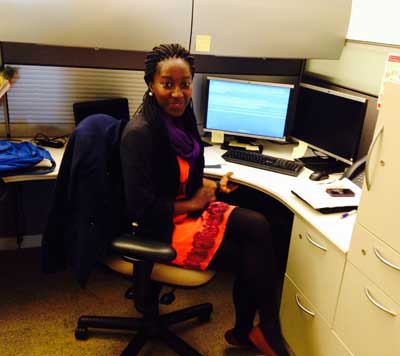 Questions about "being the only girl" in IT classes sparked interest from the crowd. The panel agreed there can be a fine line between feeling special and feeling disconnected when there may be only two women in a class with 25 men.
"At UNO, there is a huge amount of respect for women in IT, and we have a lot of initiatives like Code Crush to show it," said panelist Slump. "It's more like being in first class on an airplane — that kind of special — instead of being set apart."
Muibi agreed and stressed the support of foundational classes. "There's no assumption that you arrive knowing everything," she said. "The introductory classes help build your understanding and help you figure out what you like and what you want to do. The field of IT is just too broad to say, 'It's not for me.' There's a path for you."
Providing opportunities for students through this initiative can work as a recruiting tool, UP's Tennison said. "We're always on the lookout for the future best and brightest engineers, computer scientists and technical professionals. But more importantly, it helps to break down the myth that women aren't or shouldn't be interested in technology."