One of Union Pacific's values is to work as a team, in part by embracing diversity and creating opportunities for all people. Recognizing October as National Disability Employment Awareness Month (NDEAM) is one way to bring that value to the forefront.
Subscribe to
Inside Track
NDEAM takes place each year as an opportunity to appreciate the contributions people with disabilities have made to workplaces across the country. It's also a time to reflect on the importance of this group having access to employment.
One of the ways UP works to empower people with disabilities is through its partnership with the Omaha Public Schools Transition Program. The program prepares secondary students with disabilities to move from high school into the adult community via work-based learning to develop occupational and related social skills.
Each morning and afternoon, a group of students from the program arrives to work at the UP Cafe in the Omaha headquarters building.
Students like Alex Dick get straight to it – sanitizing kiosks, stocking coffee creamer and condiments, and emptying trash containers.
"And then of course, at the end, we all work in the dish room," he said. "We're all one big team, and we work together that way to finish our shift."
Dick explained he has epilepsy. His condition brings added challenges to his life, but having an opportunity like working at the UP Cafe gives him joy.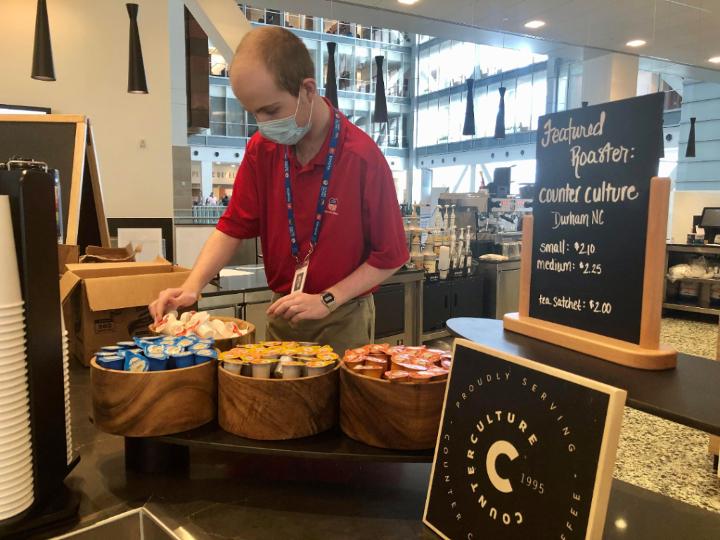 "Being here is exciting for me because I never know what I'm going to be faced with," he said. "It's just excitement, you know? It's an adrenaline rush. I just like working here. Most medically challenged people don't get the experience that I do, and I feel like if I didn't come here, I wouldn't get the experience and guidance."
Jordan Turner, president of the UP Employee Resource Group for disability awareness and inclusion, EASE, said one in four adults have some kind of disability, one in five care for someone with a disability and 5.6% of workers in the transportation industry are classified as disabled.
"No matter how you analyze it, these statistics mean UP has a large percentage of employees impacted by disability in some way," said Turner, general director, Tech. "Also, disability is something that crosses all social and demographic boundaries. It can impact anyone at any time. National Disability Employment Awareness Month helps bring awareness to the forefront and celebrates the many accomplishments of those impacted by disability."
Turner said if you'd like to learn more about supporting employees or others affected by disabilities, it's easy to get started.
"Open yourself up to learning something new," she said. "You can do this by talking to someone about their experience, reading a new book or watching a documentary. Learning something new will change your perspective. I started this journey with the book by Lorraine Cannistra called "More The Same Than Different." It is a quick read and a fantastic collection of tips for anyone on how to empathize and interact with someone with a disability."