Driving along California's scenic I-5 corridor, there's a good chance you'll see a whole new breed of locomotive pulling heavy freight along Union Pacific's main rail line.
Except for the fresh paint job, the locomotive looks much like any other modern diesel-electric workhorse built by General Electric. The difference is hidden under the hood.
Dubbed the GE Evolution Series Tier 4 Locomotive, the first production models of these massive machines began appearing on Union Pacific railroad property in fall 2015. The 432,000-pound 6-axle behemoths have 4,400 traction horsepower and can reach a maximum speed of 70 miles per hour pulling thousands of tons of freight.
The most impressive statistic has to do with the air you breathe.
"Tier 4" refers to a U.S. Environmental Protection Agency (EPA) emission-level standard that went into effect for new locomotives Jan. 1, 2015. It's the most rigorous air quality standard to date for new locomotives, and one that locomotive manufacturers were struggling to meet in time for the EPA deadline.
With the Evolution Series, GE met the standard, producing a locomotive that ultimately reduces emissions by more than 70 percent vs. their previous best Tier 3 locomotive.
To give you an idea just how clean these locomotives are, Tier 4s produce more than 90 percent less particulate matter and oxides of nitrogen (collectively known as NOx, a major ingredient in producing smog and ozone) than locomotives produced 15 years ago.
It's a big deal, especially in California, which has some of the worst air quality and some of the most stringent environmental standards in the country.
"We all have in our history the seeing a train going down the track, right?" asked Larry Greene, who heads the Sacramento Metro Air Quality Management District, one of the larger districts in California. "Well, you can be assured that what's coming out of the stack is even cleaner than you can imagine."
The ABCs of DEF and ERG
What makes GE's Evolution Series locomotives even more impressive is how they reduce emissions. When Tier 4 standards loomed on the regulatory horizon in 2008, railroads were concerned about manufacturers using an emissions control system that required use of Diesel Exhaust Fluid — or DEF.
All heavy-duty over-the-road truck engines in service since 2010 use an after-treatment technology called Selective Catalytic Reduction, which mixed DEF with the engine's exhaust gases. The urea chemical in DEF mixes with the NOx and breaks it down, forming harmless nitrogen gas, a small amount of carbon dioxide and water.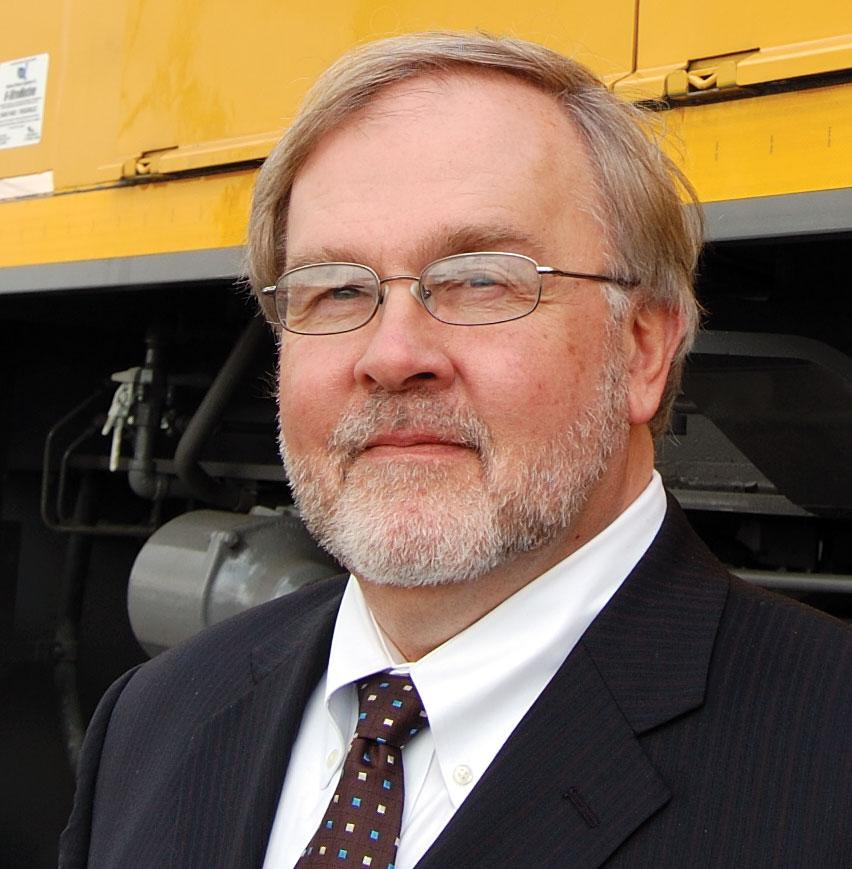 "The next time you see a new large diesel truck, take a look either below or just behind the cab. You'll see a tank with a light-blue cap," said Union Pacific's Mike Iden, general director-Car & Locomotive Engineering, who in addition to leading Union Pacific's locomotive technology efforts has a unique flair for explaining the most technical subject matter. "That tank holds the DEF. If GE had used a similar after-treatment system as trucks do, there would have been an equivalent reservoir on board the locomotive."
Iden said Union Pacific would have had to find a way to supply millions of gallons of the DEF and a process to ensure locomotives never run out of it. "If you've got a locomotive designed to have DEF fluid in use and the tank runs dry, legally you have to shut the locomotive down, you can't run it," he said. It would have meant an added layer of infrastructure and maintenance costs.
GE's solution was a system called Exhaust Gas Recirculation — or EGR. Here's how it works:
"You take about 10 percent the exhaust coming out of the locomotive's engine, you clean it to remove particulate matter, you cool it, and then you pump it right back into the engine," Iden explained. "It's kind of like breathing partially into a paper bag. Every time you exhale and breathe back in you breathe less oxygen. By recirculating some of the locomotive's exhaust gases that are cooled and cleaned, you're reducing the output of NOx."
That's not the only thing happening under the new locomotive's hood. Iden said GE's fuel injection system reduces particulate matter formation to meet Tier 4 requirements.
GE's Challenges and Risks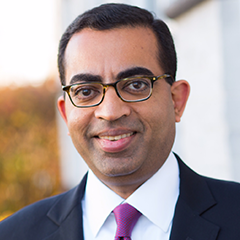 Yuvbir Singh, vice president of Global Locomotive Operations-GE Transportation, said the EGR system was one of the biggest breakthroughs during GE's Evolution Series Tier 4 locomotive development. "The locomotives have new turbochargers, too," he said, "as well as a different power assembly, which produces more power and increased firing pressure, and a new control system for the engine. Those are the main innovations that made this locomotive possible."
"There were technical risks in developing this locomotive, but there was a relationship risk as well," said Dennis Peters, heavy haul locomotive platform leader-GE Transportation. "As the premier locomotive provider in North America, we felt we had to be ready when customers like Union Pacific needed us. When the dust settled, we got orders for more than a thousand Tier 4 locomotives."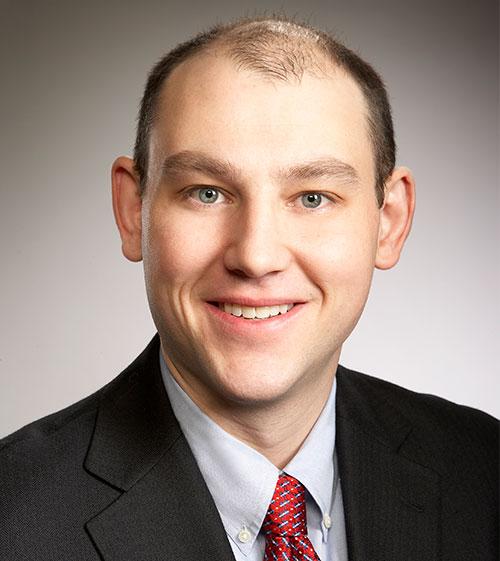 Peters said GE's investment in developing the Tier 4 locomotive was "north of $600 million." The company, which was co-founded by Thomas Edison a couple decades after President Abraham Lincoln created Union Pacific, took a NASA-like approach to organizing the engineering effort needed to make breakthroughs.
"We set up mission-based teams with key leaders from different initiatives and literally pushed them together in the same room day after day," Peters said. "It helped us move faster. Whether it was service issues in the field as we launched our pre-production locomotive or when we moved into production, working so closely together allowed us to solve engineering challenges quickly."
The Customer Connection
GE's customers also played an important role in development. Peters said GE spent time with all seven North American Class 1 railroads "to understand their needs and priorities, but also as we were thinking through the design."
And, of course, the railroads helped drive the testing process. Iden said Union Pacific put five GE Tier 4 test units through rigorous workouts. "We ran them in Powder River Basin coal service; we made sure they were run up over Donner Summit through Tunnel 41," Iden said, describing the iconic railroad landmark. "We ran them along the Sunset Route across the desert — high speed, low speed, just a whole battery of running criteria."
GE delivered Union Pacific's first production Tier 4 locomotives in November 2015. They looked almost like the Tier 3 units in which they were based, but inside were the biggest advancements in locomotive design in decades.
"They took the previous Tier 2 and Tier 3 Evolution engine and stretched it, making it 14 inches longer," Iden said. "The Tier 4 has two turbo chargers instead of one because of the exhaust gas recirculation. For this size engine, it has the largest cooling system GE has ever put on a single engine of a locomotive. It's all part of their recipe for reducing NOx and particulate matter."
Iden said the new Tier 4s have more waste heat coming out of the radiators than coming out of the exhaust stack — "the complete opposite of the older Tier models" — an indicator of the radically cooler combustion process.
"It's a more complex locomotive," Iden said of the GE Tier 4, "but that's what you get with these kinds of improvement initiatives. And the more complex you make something, the more unreliable it can be. That's always a challenge for the locomotive manufacturer that designs and builds the locomotive, and for the railroad that will operate and maintain that locomotive for the next several decades."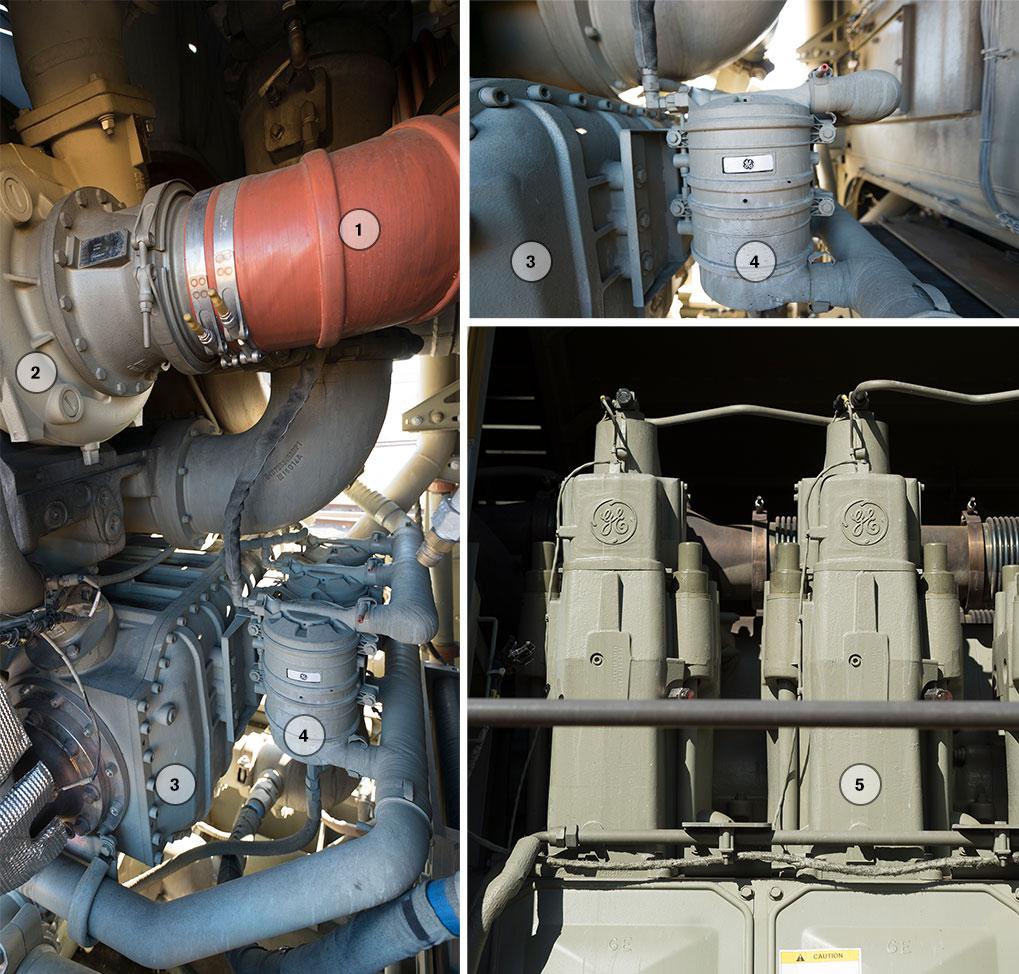 So far, the new units have been getting good grades from the mechanics. "In terms of reliability, the GE Tier 4s are performing very well," Iden said.
As for the crews behind the controls of these new locomotives, Iden said they won't see any significant change in how the Tier 4s operate compared to other Tier models, and that's by design.
"One of our goals is to have a transparent transition from model to model," Iden said. "You don't want the engineer or the conductor to have to operate radically differently than they did with the older models."
California Dreamin'
A large number of the Tier 4 units operate on Union Pacific's mountainous and heavy-grade "I-5 corridor" between Los Angeles, Sacramento, Portland and Seattle/Tacoma, helping the railroad reduce its environmental impact in southern and central California, the greater Los Angeles area and through California's Central Valley.
For California, Union Pacific's GE Tier 4 locomotive deployment is the logical next step in a decades-long effort to strike a balance between regulatory requirements and the railroads' efforts to operate the cleanest fleet they can while at the same time meeting safety and business requirements, said Kirk Marckwald, founder and principal of California Environmental Associates. Marckwald has spent nearly 20 years working with regulators, community groups and the railroads to fashion reduction programs around locomotive emissions.
"One of the biggest challenges has been getting regulators to understand there's a difference between a technology that is theoretically available and a proven technology that is ready to meet the railroads' operating environment and safety requirements," Marckwald said. "I wouldn't say it's a struggle, but it's a really important piece to get right."
"In the course of 15 short years, new locomotives have seen a 90 percent reduction in NOx and a 91 percent reduction in particulate matter. That's impressive."
Kirk Marckwald, founder and principal of California Environmental Associates.
He said the first locomotive standards proposed by the EPA in the mid-1990s went into effect in the year 2000. "In the course of 15 short years, new locomotives have seen a 90 percent reduction in NOx and a 91 percent reduction in particulate matter. That's impressive."
For Larry Greene, whose organization takes local, state and federal money to create incentives for companies (including Union Pacific in the past) to upgrade to newer, cleaner equipment, GE's Tier 4 locomotives are a major step forward.
"Operating a Tier 4 locomotive is the equivalent of eliminating 12,000 cars on the road and installing particulate filters on 200 school buses," Greene said. "It's about eliminating 21 tons per year of NOx and 12,000 pounds per year of particulate matter from one engine. That's a big deal for us."