Ethan Falk can't move his arms or legs, but that doesn't stop the 13-year-old from riding horses.
A smile creeps across Ethan's face as volunteers at the Heartland Equine Therapeutic Riding Academy (HETRA) in Gretna, Nebraska, help him mount a chestnut mare named Rainbow. His mom and several volunteers clap and cheer as he lifts his head.
"Eight minutes is his record so far," said Kim Falk, Ethan's mother, referring to how long Ethan's been able to sit up without his walkers holding him.
Ethan suffers from severe spastic quadriplegic cerebral palsy. The hippotherapy, or horse therapy he receives at HETRA, is a great alternative to hospital therapy, Falk said. "In the hospital, Ethan just lays there while the therapist gently pulls on his legs to stretch out his muscles. At HETRA, he's stretching out his muscles over the barrel of the horse. It's much more fun."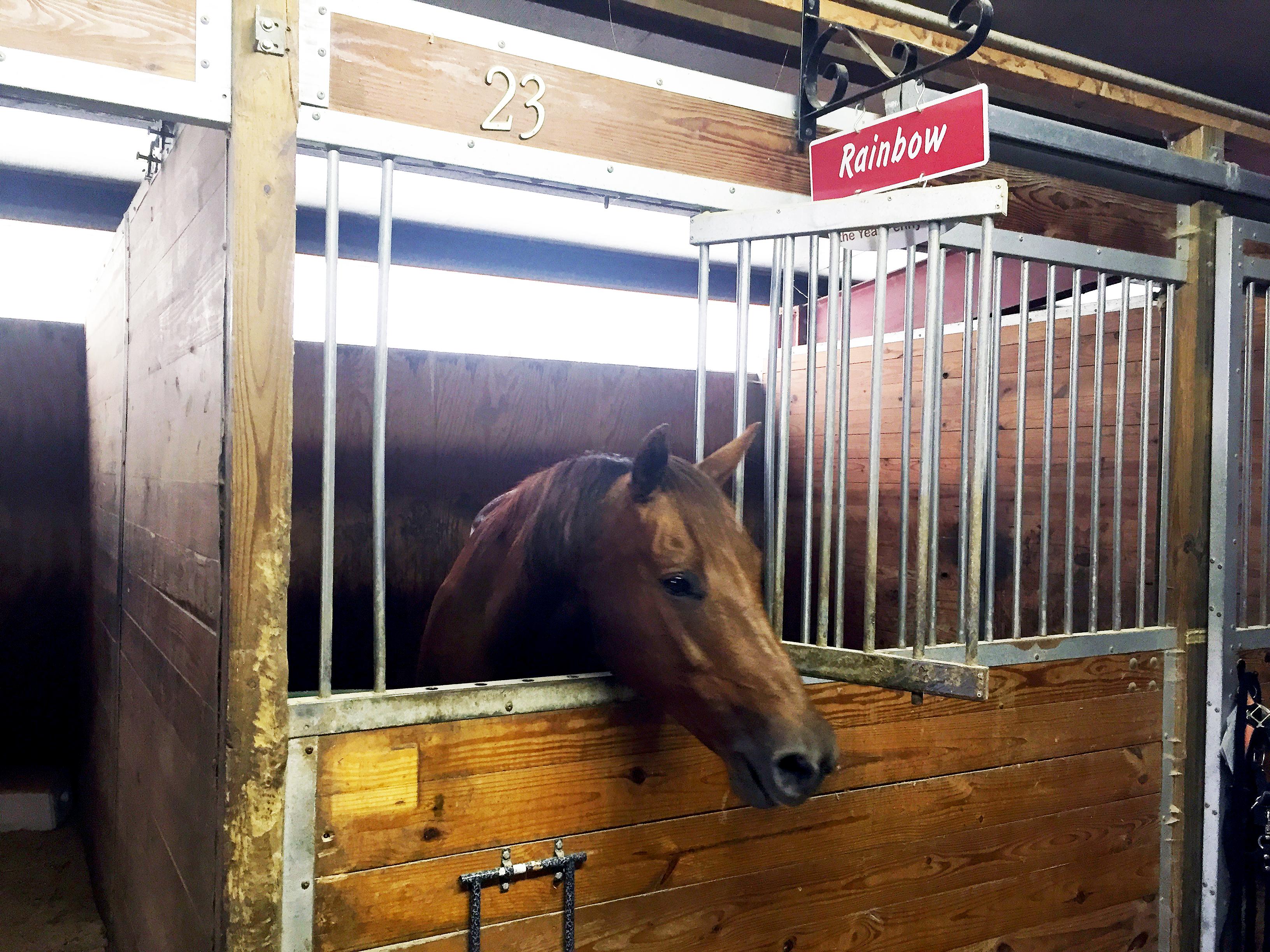 In addition to physical benefits, the training provides a lot of cognitive stimulation. "They ask him to find letters and numbers around the arena, identify different colors," Falk said. "He uses his reins to steer left and right."
Learning the difference between left and right prepared Ethan to use a power chair.
"He also kisses at Rainbow to go, and says 'whoa!' to get her to stop," Falk said. "So it also improved his speech. Plus, he loves it. When we pulled in today, he said 'Yay!'"
Registered Occupational Therapist Edye Godden, HETRA executive director, says the organization serves a wide range of people with disabilities, not just kids.
"Some people think we only serve children, but the youngest we've had in the program was two, the oldest 92. We even have a program for veterans."
People with cerebral palsy and autism are the two most common groups HETRA serves.
Steve Wozniak, a Union Pacific systems engineer, has identical twin boys – Jonathan and Alex – who are regulars at HETRA. The 5-year-olds were diagnosed with autism shortly after they turned one.
"Both Jonathan and Alex are nonverbal," Wozniak said. "The small moments for most people are the big moments for us. We might get a word here and there. Things like just saying the word 'milk' when they want milk are the big moments."
Wozniak attributes a lot of his sons' progress to HETRA. "It's really about communication," Wozniak said. "They're starting to let us know when they want something, and we're getting cues when they're tired. We can have them take a nap; they're not just falling asleep. They go through colors, numbers and foods pretty easily now, too."
HETRA was founded in 1989 by Steve and Janet Henthorn of Omaha, Nebraska, with one student, one horse and three volunteers. "Steve saw there was a need in the community for a different type of therapy for at-risk individuals with disabilities," Godden said. "The Henthorns did research and started the organization in someone's backyard."
Godden joined the program in 1991 while finishing Occupational Therapy school. "I grew up showing horses," Godden said. "Horses have been a huge part of my life. When I realized I could help people using horses, I was pretty much all in."
HETRA has grown significantly under Godden's watch. "When I started, it was all volunteers," she said. "We had no paid staff, but we had a vision, and some very good people have come along the way to help get to where we are today."
Today, HETRA has 19 therapy horses, 21 Professional Association of Therapeutic Horsemanship (PATH) certified instructors, more than 350 volunteers and about 115 students. It is the only PATH Premier Accredited therapeutic riding center in Nebraska.
"We've grown through the support of our community and a lot of hard-working, passionate people within this organization," Godden said.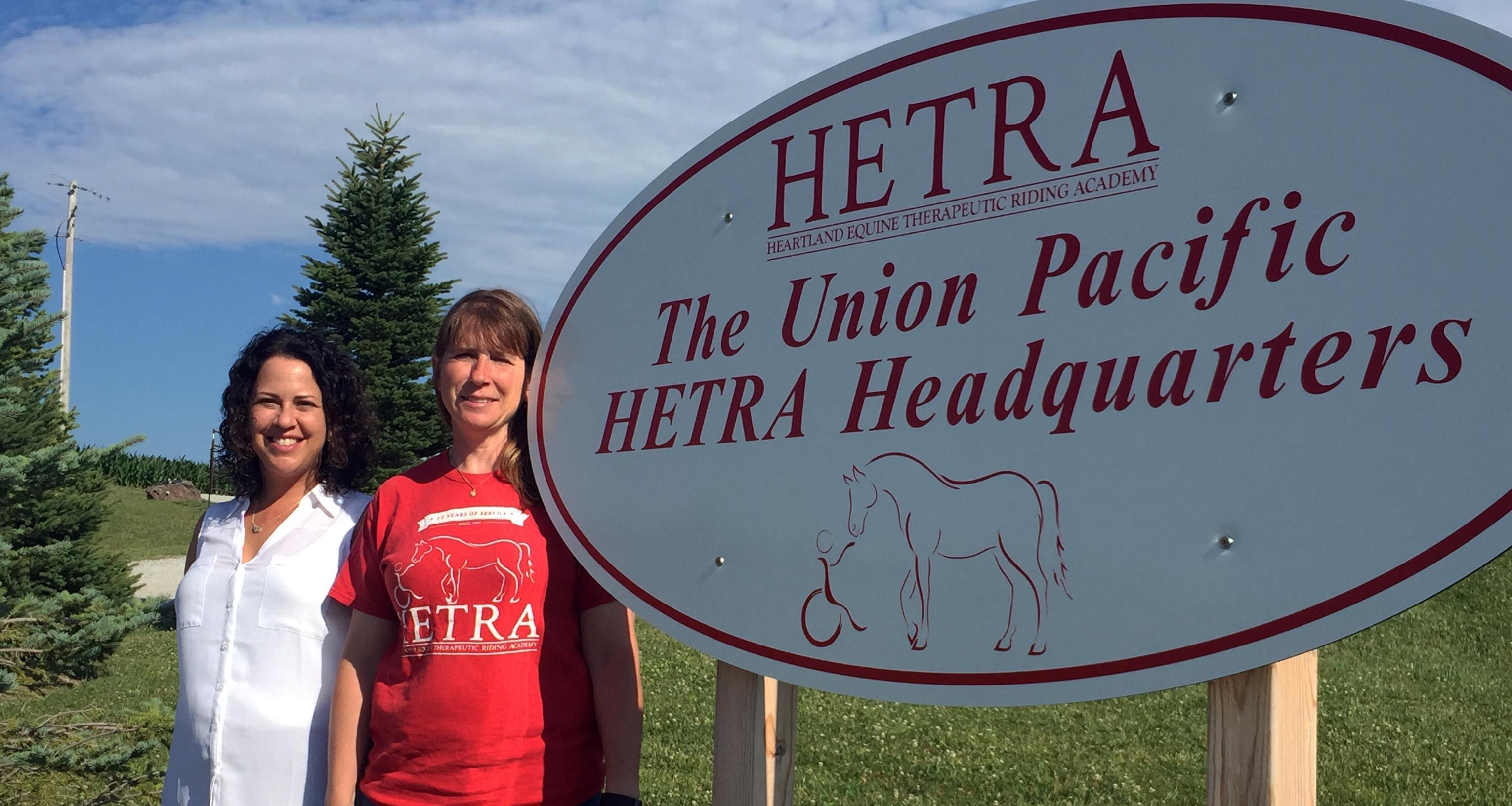 HETRA has been awarded more than $75,000 in Union Pacific Foundation grants since 2010. Godden says without support from the community, HETRA's doors would not be opening. The organization subsidizes 70 percent of every student session.
"Union Pacific has supported our program expansion campaign, which enabled us to move to our current location," Godden said, adding that many changes had to be made to the property to make it handicap accessible and safe for horses. "There were so many projects that had to be done within a very quick period of time to get our programming up and running," Godden said. "We just could not have done it without Union Pacific's support."
Godden currently has four therapy patients; one of them is Wozniak's son Jonathan. "Jonathan usually says things that are not relevant to what we are doing," Godden said. "He will sing songs, or sometime's he'll say 'roar' if I point out the lion. But he doesn't talk very much."
Recently, as Godden was ending her lesson with Jonathan, she was delighted when he asked to play basketball from the back of the horse using a Little Tykes hoop – part of their usual session.
"He spoke an entire sentence! The big milestones someone achieves are certainly exciting, but it's those little moments I catch in the barn that cause me to say, 'Yep, I'll be back tomorrow.'"