More than a dozen horses, donkeys and dogs live at the end of a winding dirt and gravel driveway in Glenwood, Iowa. They are well cared for now, but all have at some point been severely neglected or abused. Once nursed back to health some will be adopted. Others, too traumatized from years of abuse and in need of round-the-clock care, will live out the rest of their lives on a peaceful 10-acre animal sanctuary called Hooves & Paws Rescue of the Heartland.
The animals are fed, groomed and lovingly cared for by scores of volunteers. Among them is Suzan Caylen, a team leader in Union Pacific's Crew Management Services department in Omaha, Nebraska.
Caylen has volunteered at Hooves & Paws since shortly after it opened nearly a decade ago. "I saw a story on the local news about how the shelter had rescued three draft horses and just thought I'd take a drive out there to visit," she recalls.
That casual inquiry blossomed into an all-consuming passion for Caylen, one that allows her to help bring healing to animals that have endured cruelty.
The Heartbreaking Part
In addition to the hours she spends each month volunteering at the shelter, Caylen also often accompanies Hooves & Paws' founders, Genea and Bill Stoops, and law enforcement officers when necessary, to forcibly remove animals from horrific living conditions.
"It's very difficult, I'm not going to lie," she says. "I'll cry when we're moving these animals out, but I've learned to be okay with that."
One of the most heart-wrenching rescues she has experienced took place two summers ago, when 13 dogs were left in a house trailer.
"There was no running water and the owner would just come by and put one bucket of food in there for all of them," she said. "The dogs were so hungry they were chewing holes in the walls."
By the time Hooves & Paws discovered the situation, most of the dogs were malnourished and suffering from mange and other skin diseases.
"It was an all-day event trying to corner the dogs and get them out, they were so scared," Caylen says, adding that two additional animal rescue organizations had to be called to help complete the task. Some dogs were taken to Hooves & Paws and other area shelters, while the rest required more serious medical care. The dogs' owner was eventually charged with a crime, fined and spent several months in jail.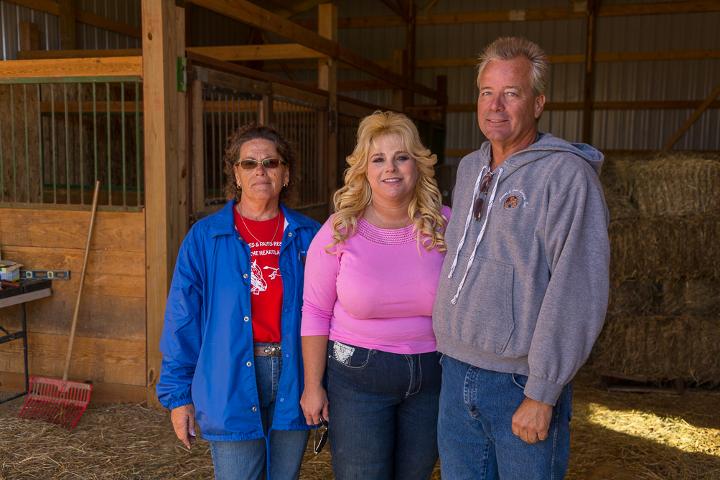 A Place to Heal
Back at Hooves & Paws, there's little doubt the animals are living a better life. Under a brilliant blue sky, horses and donkeys roam the grounds, occasionally stopping for a drink of water or a kiss on the nose from Genea Stoops, the shelter's president. Stoops knows all their names, quirks and habits, and talks to them as if they're her kids. "You're my sweet baby, aren't you?" she asks Zeus, a 20-year-old donkey whose hooves were so neglected and mangled when he arrived that he'll spend the rest of this life recovering.
The cost of food, hay, medical care and the farriers – the people who come every six weeks or so to care for the animals' hooves – adds up quickly, says Caylen, who sits on the shelter's board of directors. When donations are lean, she and the Stoops kick in their own money to make ends meet.
When a 5-acre plot of land next to the shelter came up for sale in 2008, Caylen bought it for $45,000 and donated it to Hooves & Paws so that it remained available for the animals to use.
As she gently strokes River, one of the draft horses living at the shelter since it opened, Caylen reflects on the work the shelter does and the role she plays in its mission.
"I can't tolerate anyone who neglects or in any way abuses animals," she says firmly. "I always tell people at our fundraisers that abused animals can't speak up for themselves. Hooves & Paws works for those who have no voice. Because of this place, for whatever time these animals have left on this earth, they will know somebody, someplace cared."