The first signs of fall are evident – a tinge of red on leaves, pumpkin-flavored treats lining grocery store shelves and students are back in school, reminiscing about summer vacation. The smell of the ocean, the thrill of riding the waves and burying their toes in the sand is still fresh in their minds.
Every year, roughly 8 million people flock to Corpus Christi's beaches, stretched out along Padre and Mustang islands. Money spent making memories generates $1 billion for the region. A little further up the coast, tourists swarm Houston's Johnson Space Center, boat tours on Buffalo Bayou and countless museums. Take away those vacationers, and Houston is the nation's fourth largest city with 2.2 million residents, trailing only New York City, Los Angeles and Chicago.
But there's a problem not listed in any vacation brochures – the region is stone-starved. And quality rock, such as granite or limestone, is the key ingredient in building and maintaining highways, the foundation of homes, underground pipes and columns that support buildings.
Building America's Infrastructure
"Dig a hole in Houston, and you'll hit sand and some rock that's not as high quality construction material," said Chance Allen, regional vice president and general manager of aggregates at Martin Marietta's Central Texas Aggregates District. "But dig in San Antonio and you'll only go about 4 inches before hitting limestone."
San Antonio and communities along the I-35 corridor lie on the Balcones fault line, a major limestone deposit, responsible for supplying the rock needs in Houston and south Texas. Fulfilling that demand – more than 200 miles away – is possible due to freight rail.
"It would be difficult for trucks to deliver the massive rock quantities needed for sustaining growth," said Steve McGill, business director at Union Pacific. "The only way to feed that is establishing a logistics system, like Union Pacific and Martin Marietta have done."
Martin Marietta is a leading supplier of aggregates - sand or crushed stone that when mixed with cement and water make concrete. After more than a decade in the works, the company opened its newest quarry 40 miles west of San Antonio in January, dubbing the massive facility Medina Rock and Rail.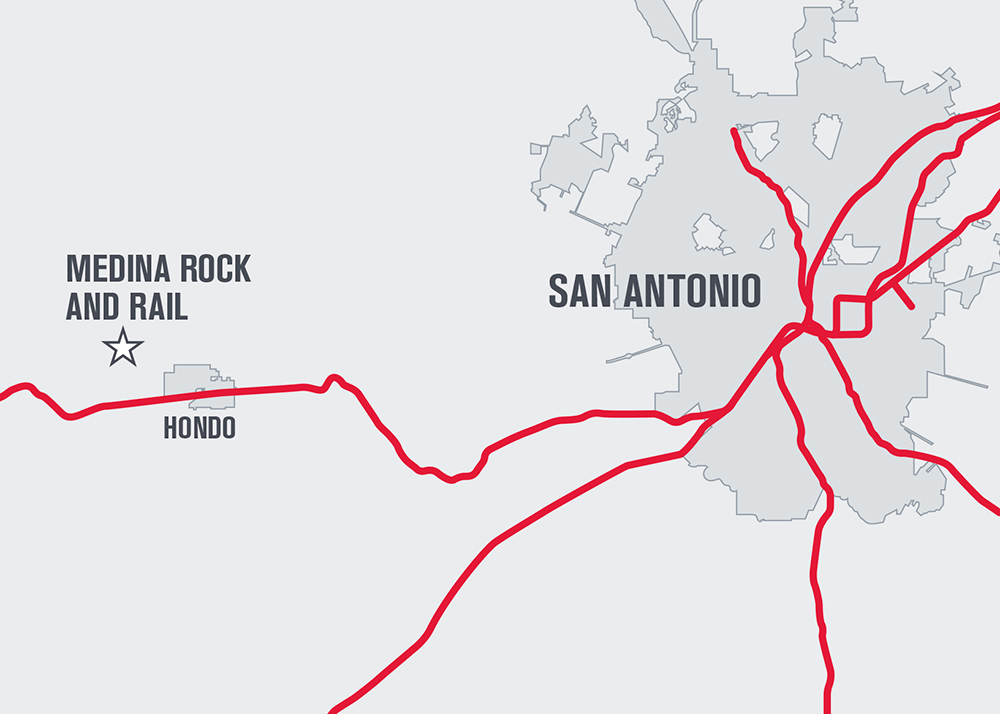 Chance Allen is among those responsible for bringing it to life. While the location of the fault line determined the general location, exploration wasn't without a few surprises. Allen laughs as he recalls surveying the property, miles away from the nearest town. The Missouri native says he was so intent on soil samples that, at one point, he looked up and found himself face-to-face with a Texas longhorn. Terrified, he ran, until the sound of laughter from a colleague caught up to him. That colleague and the longhorn hadn't moved an inch.
Finding a new home for that steer was one of many "to do" items, along with determining how to bring in power and water. But to Allen, nothing was more important than deciding on a trusted rail partner to distribute the rock.
"We have to be competitive against ships and trucking, and we have to know that our partner is going to help us survive the $168 million investment it will take to do this," Allen said.
Martin Marietta's trusted relationship with Union Pacific dates back decades. While Martin Marietta is one of Union Pacific's largest volume customers, Martin Marietta also is Union Pacific's largest supplier of ballast, which is used to form the bed of railroad tracks.
As the name implies, Medina Rock and Rail was built to be served by rail only. The highest quality limestone dictated its exact location 11 miles from Union Pacific's mainline. Martin Marietta installed 57,300 track feet of rail, enough to make it one of the largest privately funded rail projects in the United States.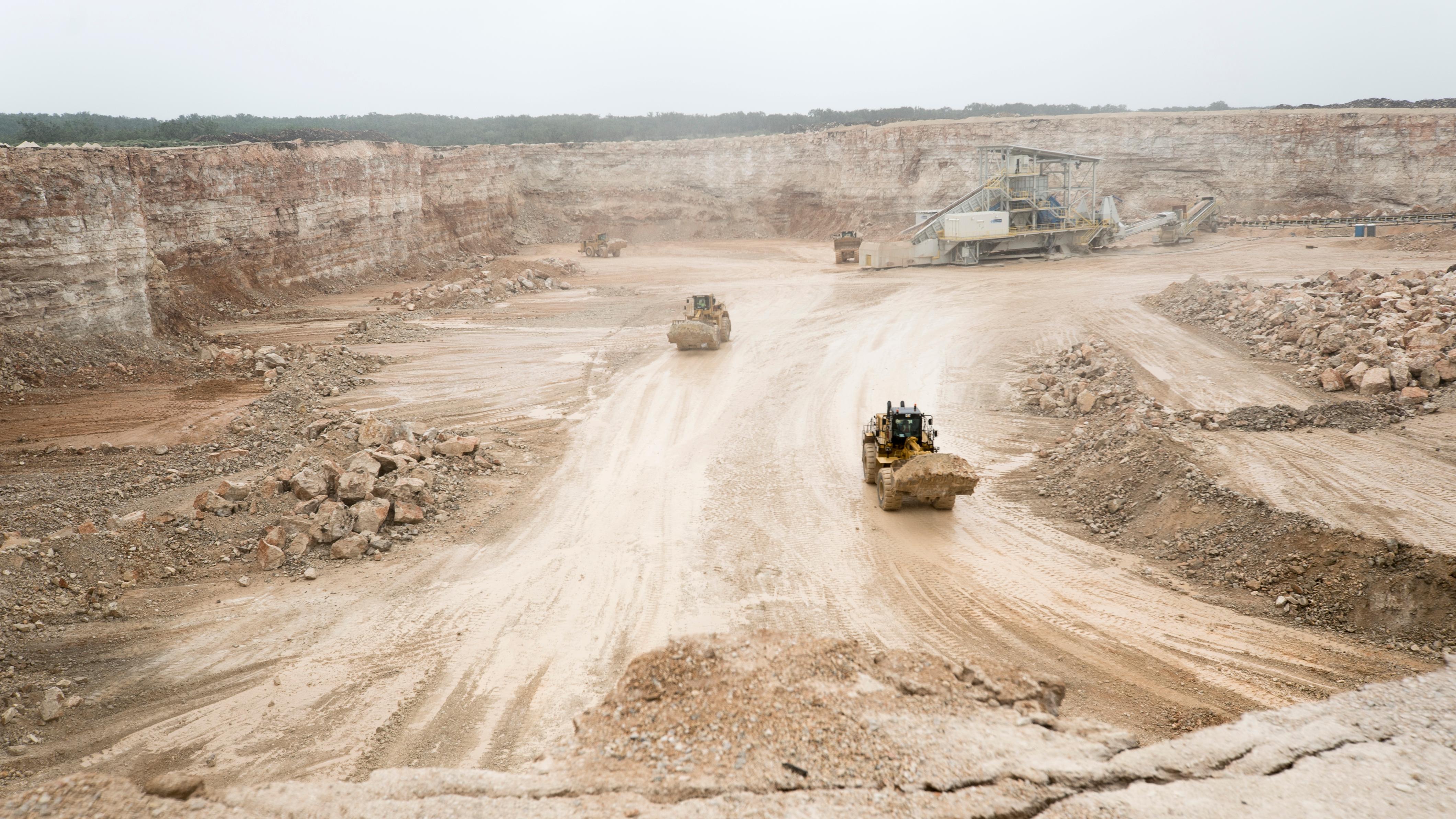 Making Big Rocks into Little Rocks
Ask Allen or his Martin Marietta colleagues, and they'll tell you their job is making big rocks into little rocks.
The process starts by removing top soil to find quality limestone and drilling holes in a pattern, leaving piles of sand, much like the surface of Tatooine in Star Wars. Next, explosives are planted to break up the rock. Technology has come a long way since Wile E. Coyote found himself on the short end of the fuse. Explosives are now triggered by an iPad from a secure location, the timing within milliseconds to control breakage.
Giant excavators scoop up rocks, often as large as Volkswagon Beetles, and load them into a two-story primary crusher with "feet," capable of "walking" 18 inches per step. The portable crusher allows the mining operations to run efficiently. So much so, rock the size of a car can be turned into sand in less than 10 minutes.
But sand often is a byproduct. A series of crushers, conveyor belts and screens allow Martin Marietta to customize rock size according to customers' needs. Much like a recipe, rocks are fed into a blend tunnel that runs more than 1,000-feet underground. Stackers reach over the tunnel, roughly 150-feet in the air, and create massive piles of rock, ready to be loaded into rail cars.
"When I look at the stone, I'm seeing sand and large one-inch material. That's asphalt and concrete," said Plant Manager Jason Jones. "Everything has a purpose; it's not just a pile of rock."
Loading rail cars is much like an assembly line. A conveyor belt feeds rock into what's called the Kanawha, a two-bin weigh system. The top bin gathers material until it reaches a specific weight, then dumps into the one below. As rail cars are placed in position, the bottom bin fills the car while the top is preparing for the next car. The Kanawha system's efficiency cuts load time in half, allowing 135-car trains to be completely filled within six hours.
While a short line railroad manages the train's movement inside Medina Rock and Rail, Union Pacific employees get back on the train when it's fully loaded, handling transportation to one of Martin Marietta's rail distribution yards in south Texas or Houston.
"The smooth transition requires daily communication," said McGill. "We discuss where every train is going, when it will be emptied and where it will go next."
Depending on the type of distribution yard, excavators scoop material from the top of the car, or rock is dumped from the bottom onto a conveyor belt for sorting and storage. On-site customers make products like ready mix concrete that can be used at construction sites immediately; however, timing is critical. Concrete's shelf-life is only about an hour. Other customers use trucks to collect their order, taking it to off-site plants for mixing and use.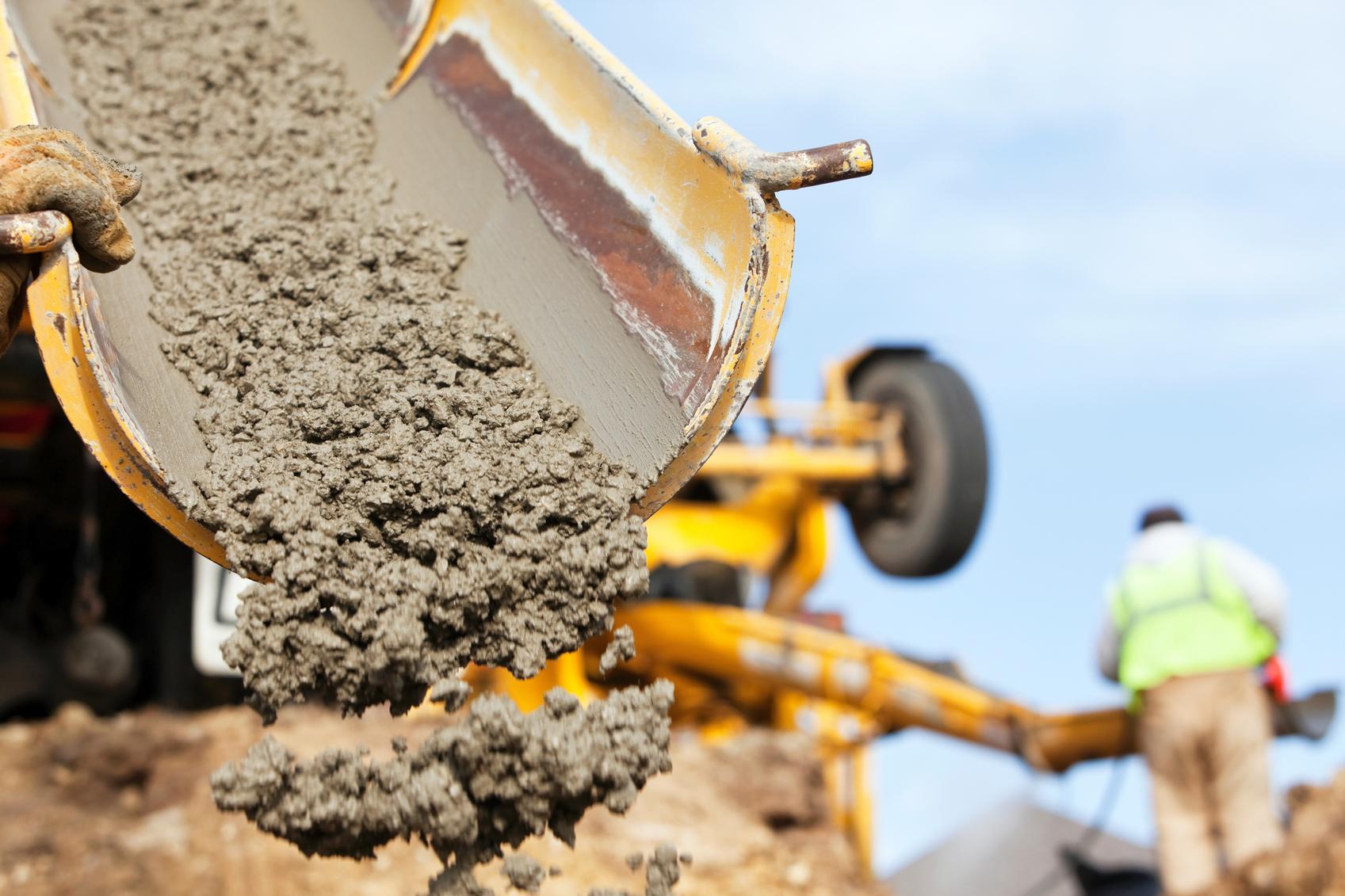 Half-Century Opportunity
Building and replacing roads is a perpetual process, especially in Texas where the Department of Transportation is repairing crumbling infrastructure, while trying to get ahead of projected growth. For example, 12 miles of I-69 in Rosenberg, a Houston suburb, are currently under construction, requiring more than a half million tons of aggregate. That material will travel to the area from Medina Rock and Rail on a Union Pacific train, a feat that without the unique partnership would require 25,000 trucks.
Described as a "half-century opportunity," Medina Rock and Rail is equipped to support the southern Texas region for the foreseeable future, placing Union Pacific and Martin Marietta in an important position.
"People don't think about the fact that we are a critical element of what's going on in their lives, and so is Union Pacific," said Martin Marietta Chairman, President and Chief Executive Officer Ward Nye. "Without our products and Union Pacific delivering them, life doesn't go on in the fashion we're accustomed to."