With the help of his aide, six-year-old Rocco inches closer to the edge of the tracks at the Nevada State Railroad Museum in Boulder City.
He smells a faint whiff of diesel fuel from the train that arrived moments ago. He reaches out – the tips of his fingers make contact with a cold, massive expanse of gritty steel. He carefully brushes his fingers across the surface to feel the bolts, rivets and welding seams that hold the monster together.
Rocco is experiencing a train for the first time thanks to the summer camp program at the Nevada Blind Children's Foundation.
The foundation is one of the few organizations in the Las Vegas area that caters to the visually impaired, and it's the only organization that has programs specifically designed for children. The Union Pacific Foundation has donated over $17,000 to the organization since 2013.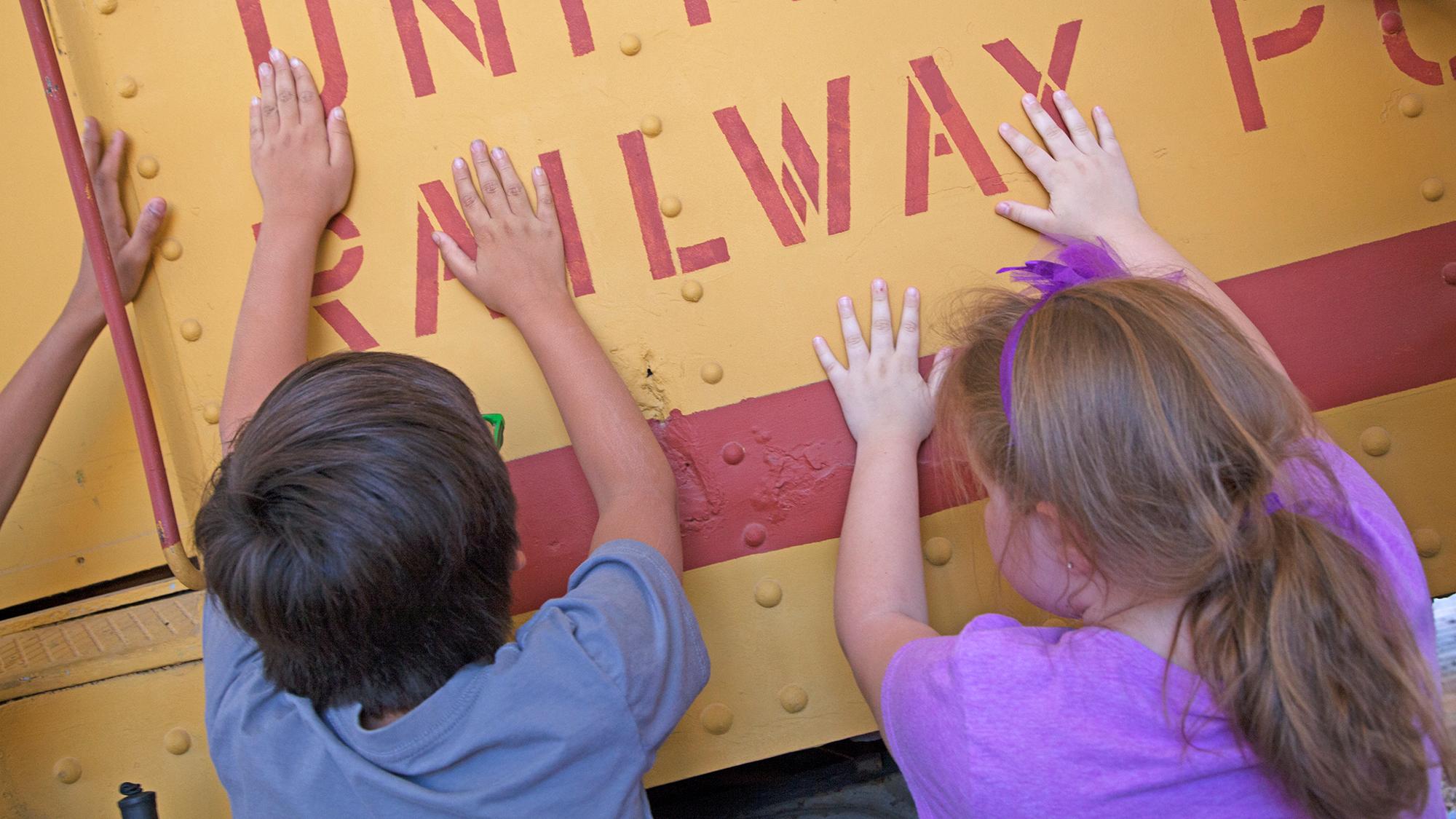 "All of our kids attend schools within the Clark County School District," said Emily Smith, the executive director of the Nevada Blind Children's Foundation. "Often, they are put in mainstream classes or they end up in special education programs, depending on their individual abilities. It makes it really difficult for our kids socially. Think about recess, for example. The typical kid goes out to recess to play football or kickball. That's not really an option for our kids. Our programs provide kids with a safe place to get together and do things like play sports and watch movies. We provide normal kid activities, the activities are just adapted."
One of those activates is summer camp, which some would argue is an important rite of passage. "We decided to offer a summer camp because most typical day camps are not equipped to handle a visually impaired child's needs," Smith said. "We take typical day camp activities and we adapt them. For example, a lot of summer camps offer archery lessons. Ours does too. To teach the children archery, we just put a beep box behind the target. Instead of aiming for the target, the kids learn how to aim for the sound."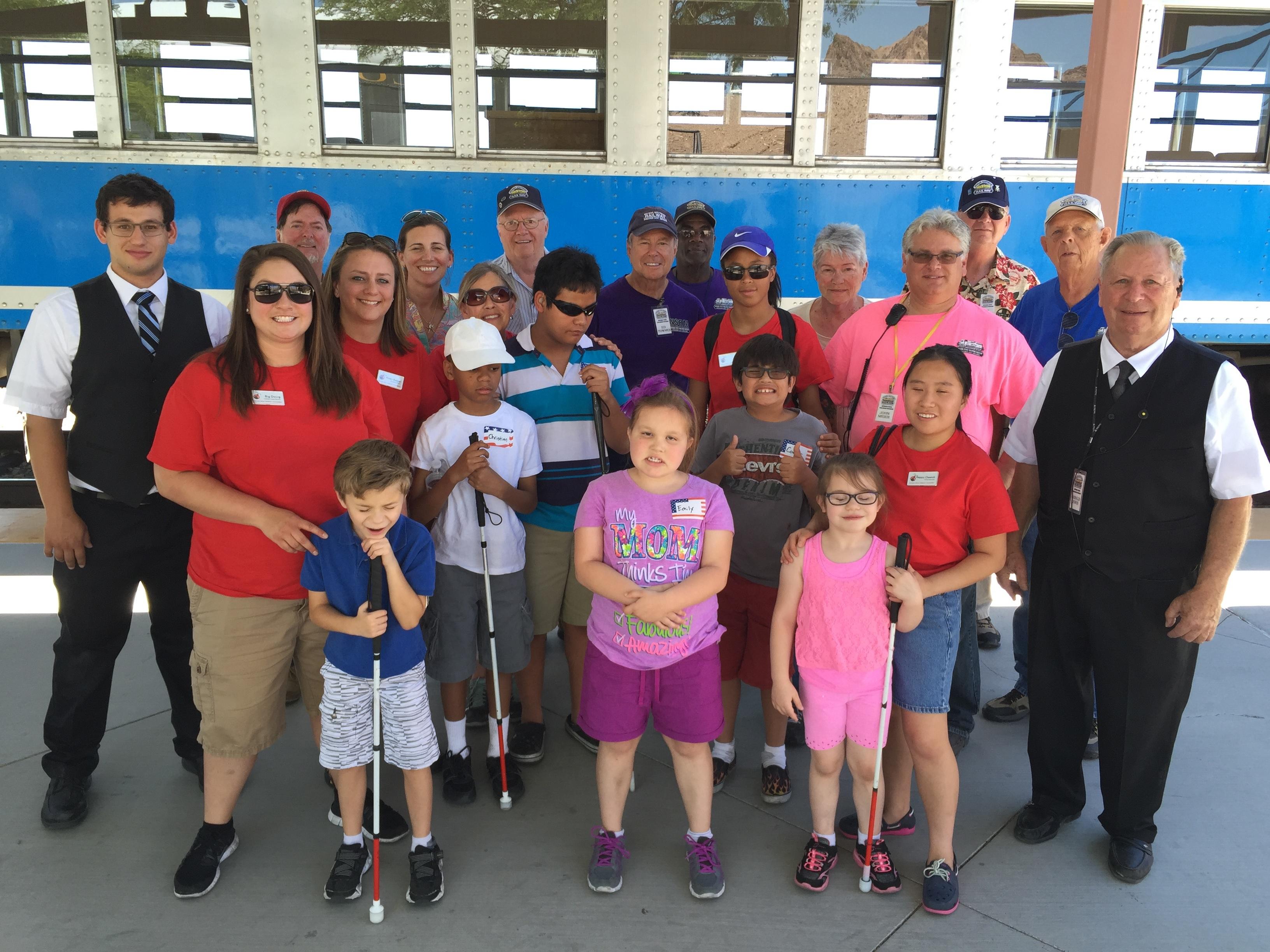 In addition to typical camp activities like sports and arts and crafts, the group is always looking for unique opportunities to take meaningful field trips. "We like activities that can make an idea a reality for our kids," Smith said. "You hear about trains in books and movies, but how do you explain the magnitude of how large they are to someone who can't see? Well, you do it through the other senses, by experiencing the train in-person."
That's where Kate Hemingway and her volunteers come in. Hemingway is the acting museum director for the Nevada State Railroad Museum. She coordinates field trips and volunteers for many groups that travel from all over the country to visit the museum.
"In the past, I worked for a nonprofit in New York that worked with the blind and visually impaired. We had preschools for visually impaired children, so I had some experience," Hemingway said. "I know how important it is to get these kids out and about, to expand their horizons. I wanted to do something more than just let them hear the train. I wanted them to really see the train in their own way."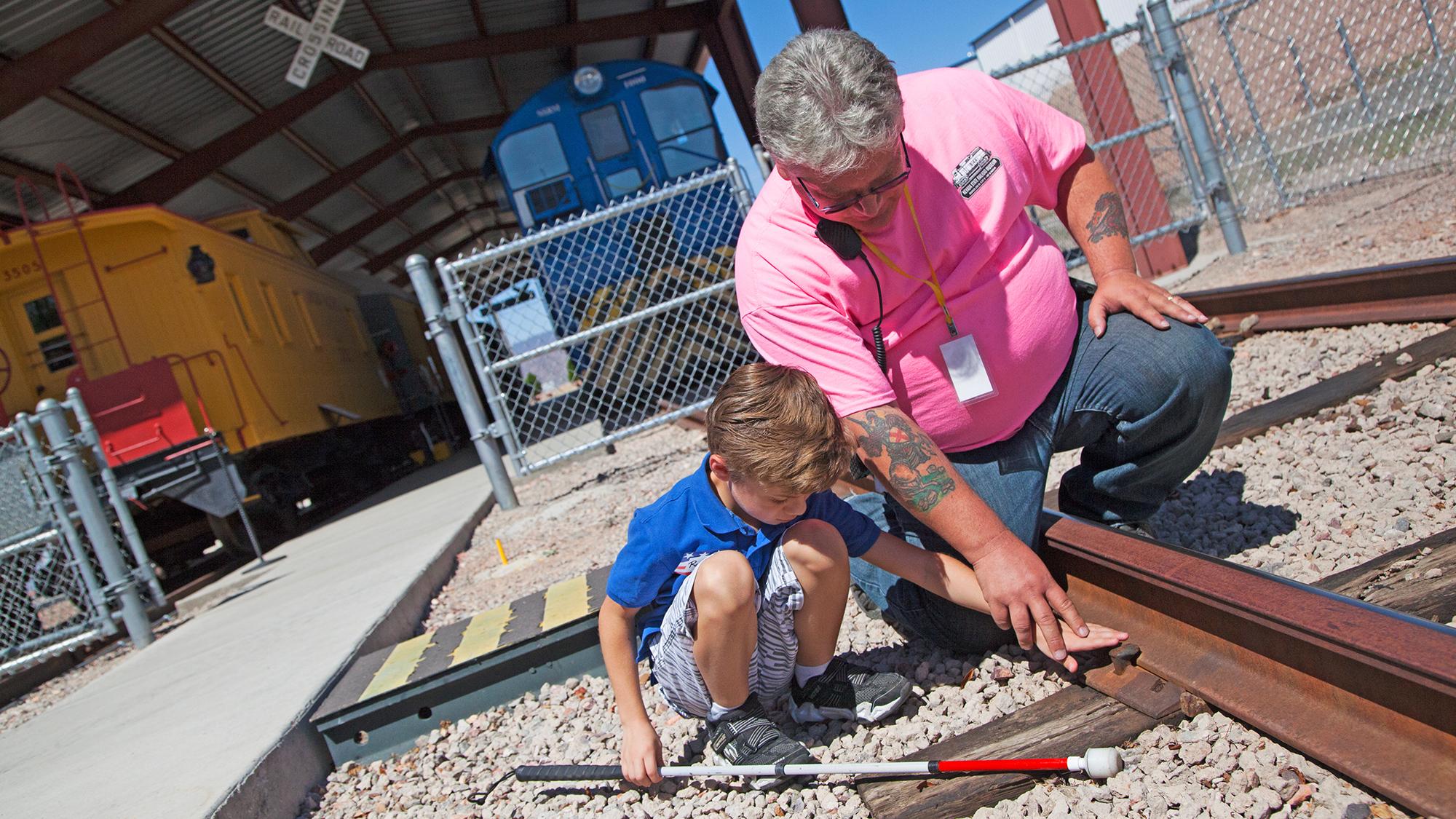 Hemingway worked with her large staff of volunteers to design an experience for the children. "We talked about doing things that are really tactile. We also focused a lot on the order of each activity," Hemingway said.
"For example, for one activity we walked the children around several tables, putting items in their hands, letting them feel and understand each object," Hemingway said. "The objects were things like spikes, ballast, sanded-down ties and small pieces of equipment, things that could provide them with a mental image. It was a careful, progressive presentation."
All Aboard!
After having plenty of time to explore the outside of the cars pulled by Union Pacific diesel locomotive No. 844, Rocco and his fellow campers climbed aboard. They were met with rows of plush velvet seats in one of the museum's historic Pullman cars. "The train had several passenger cars, a dining car and an open-air car to allow the children to really touch, smell and hear every moment of the journey," Hemingway said.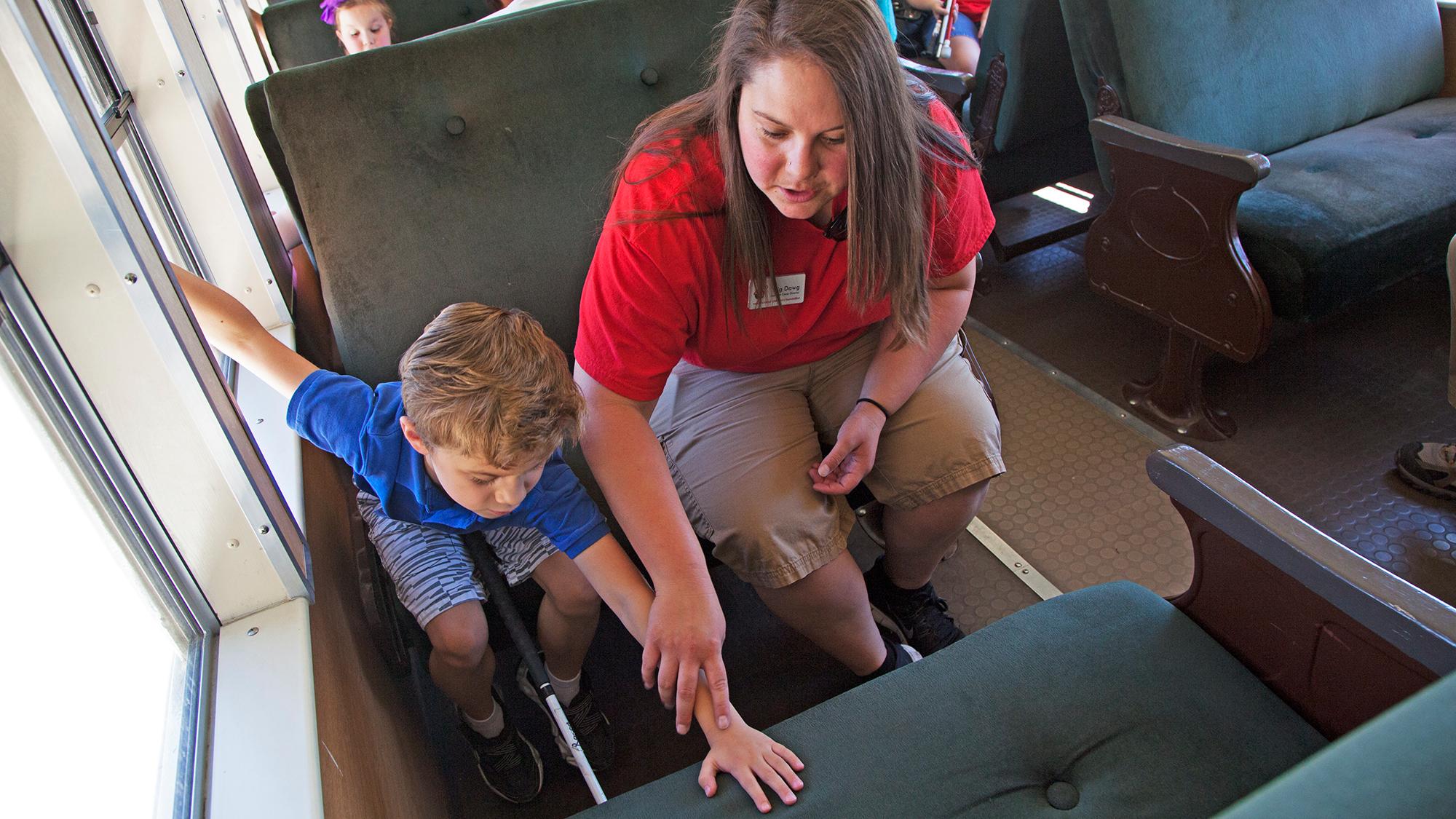 The kids were delighted. "When we took the kids out for a ride on one of the trains, they were so excited," Smith said. "They could feel the fabric of the seats, hear the clinking of the dishes and learn -- through touch -- how the dishes were held safely on the moving train."
The tactile experience is exactly the sort of activity Smith likes to plan for the children. "How do you explain a train to somebody that can't see?" Smith said. "It's so large. It's difficult to wrap your brain around that. For us, this was an opportunity to establish that picture in their minds. They were able to get a spatial idea of what the word "train" means. Opportunities like this allow us to find ways to make childhood normal for our kids."
The average person probably doesn't stop to consider what a big deal it is for a visually impaired child to understand the world around them. For Smith, that's largely what her organization focuses on. "Today was a huge win for our kids. These experiences are so important to their social development," Smith said. "Now our kids can go back to school and say, 'Hey! Guess what I did this summer?'"