Halloween 2016 was no trick-or-treat moment for Mark Simon, Union Pacific's assistant vice president of intermodal marketing and sales. That was the day he learned Japan's three largest ocean carriers – MOL, NYK and K Line – would merge to become ONE: Ocean Network Express.
Subscribe to
Inside Track
Simon says the news was a surprise, and one of the best-kept secrets in the industry. Widely speculated about for years, it was suddenly reality, and it meant Union Pacific's third-largest customer's business was all up for grabs.
To keep the business, Union Pacific would have to fortify its relationships with all three customers from top to bottom.
"Each customer has a different need," Simon said. "We had to go to all levels of all three organizations and work to satisfy their needs. It required a significant effort and involved a small army of Union Pacific talent across multiple departments."
Simon says ONE went through a comprehensive evaluation process not only to identify the best practices within each of the legacy companies, but also to choose a railroad service provider.
"They scrutinized everything from our communication practices to our rail services," said Creighton Reinhard, Union Pacific senior manager of Marketing and Sales. "Innovation was a priority for them."
Reinhard began touting Union Pacific innovations like SmartETA, an app that uses GPS signals to locate shipments and predict arrival times, and UPGo, a mobile app designed to reduce time spent at intermodal terminals.
"Union Pacific's investments into technology tools and services that drive efficiency and reliability helped ONE make its decision," he said.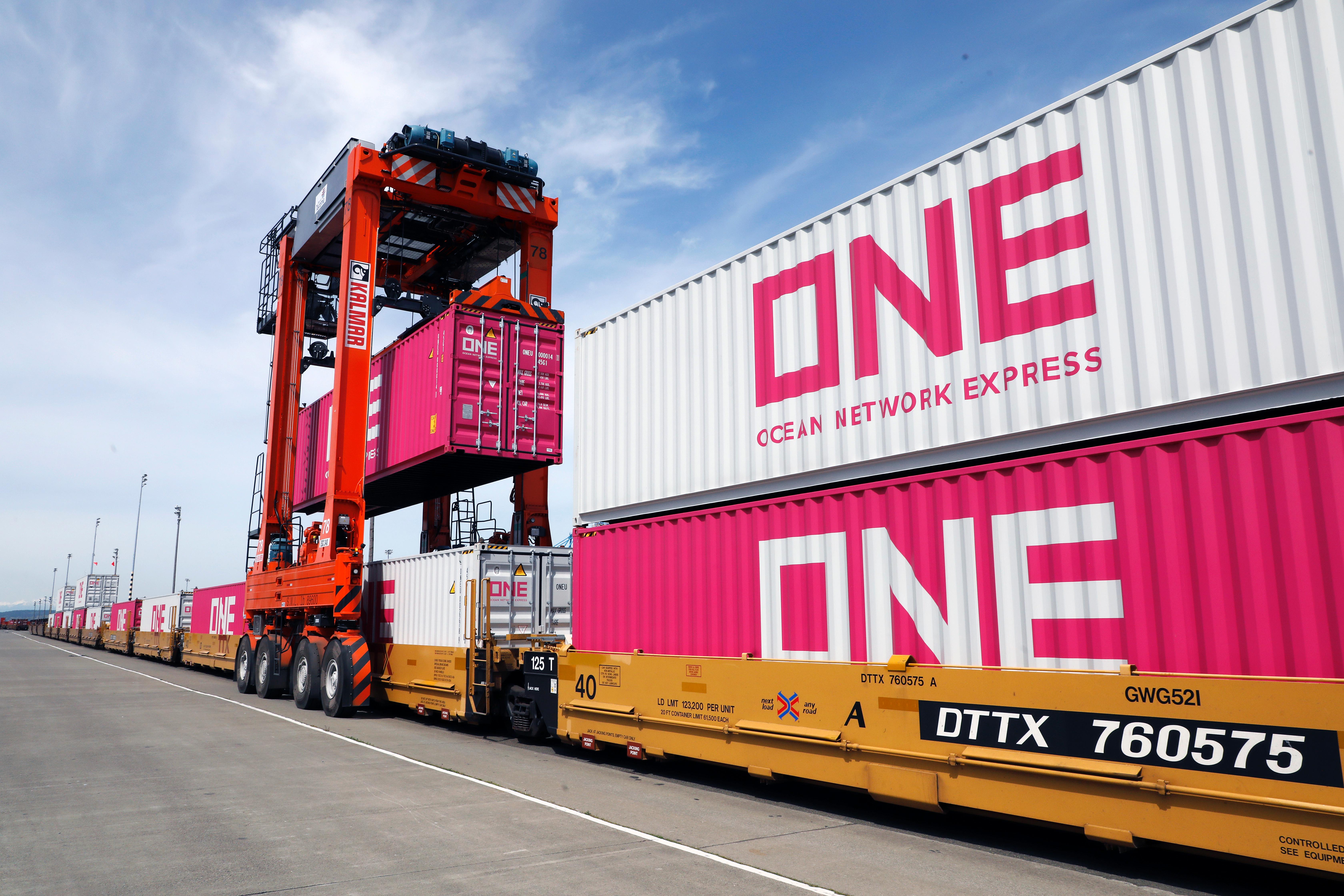 After a year and a half of efforts to demonstrate Union Pacific's value, the hard work paid off. ONE awarded Union Pacific all its U.S. West Coast business.
"There was just an incredible feeling of joy," Simon said. "I felt good about maintaining the business we originally had with K Line, but to get it all speaks volumes about Union Pacific's service quality and the overall spirit of collaboration throughout the company. Our customers' choice demonstrates the trust and confidence they have in Union Pacific to help build their reputation well into the future."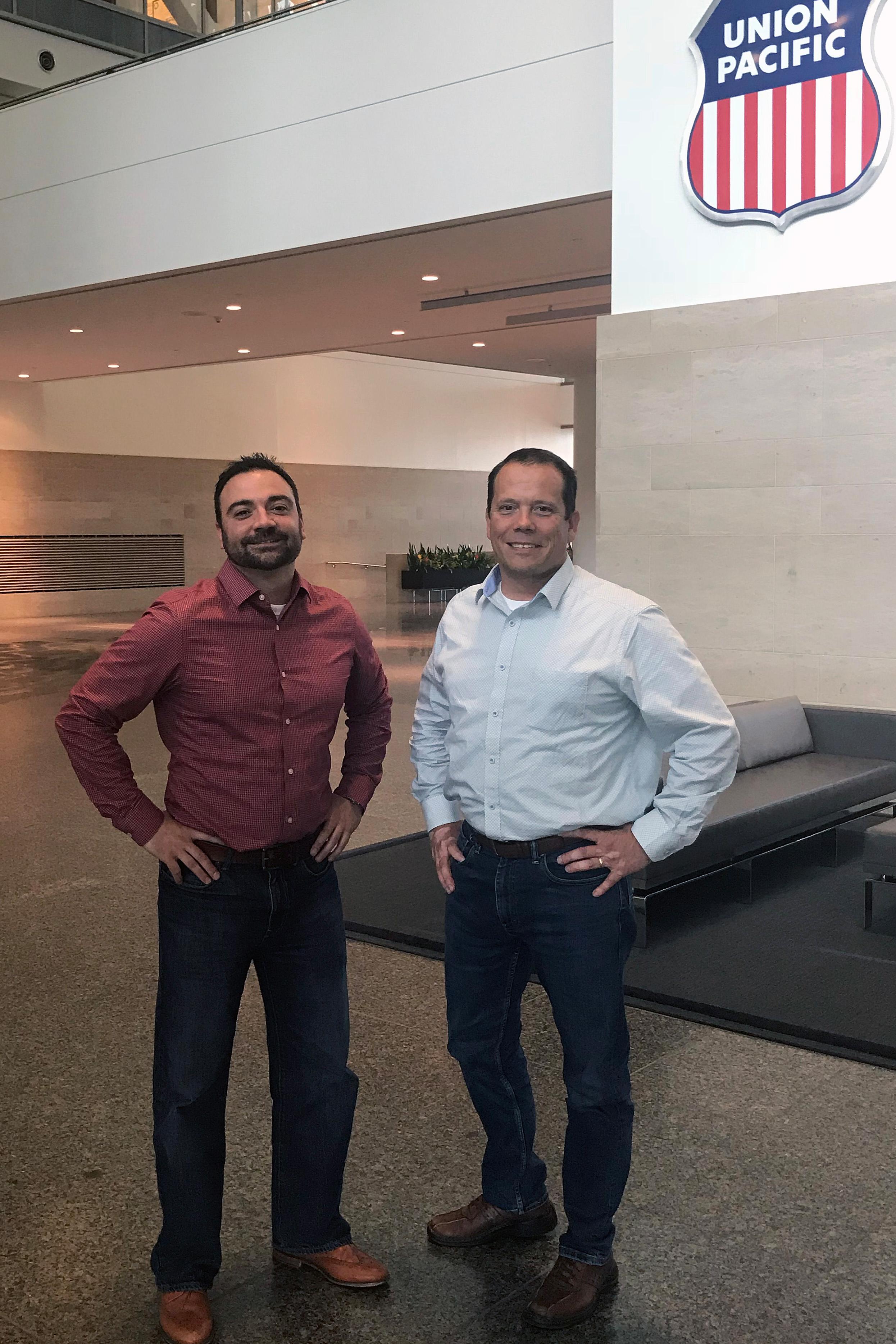 Union Pacific will haul all ONE containers from the U.S. West Coast ports inland for years to come. Stacked end-to-end, the enormous number of containers moved by Union Pacific in a year could build a vibrant magenta-and-white bridge from Los Angeles to Tokyo.
Reinhard, who manages ONE's account for Union Pacific, coordinates internally among more than 10 departments and hundreds of people.
"Union Pacific employees have handled ONE's onboarding heroically," he said. "Working with ONE is extremely exciting. It's a start-up; they're the new kids on the block. Everyone at Union Pacific understands what ONE's needs are, how critical their business is, and we're all working together to do the right thing as quickly and as seamlessly as we can to help minimize disruption to their customers."
ONE is treading new ground with this merger. "There has never before been a merger of three equals to create a new company," Simon said.
ONE is now the largest intermodal shipper in the transpacific trade, and one of Union Pacific's largest customers.
"ONE's business aligns with Marketing and Sales' strategy of making sure Union Pacific is aligned with winners," Simon said. "This merger move positions ONE to be present in the ocean carrier industry for many years to come. We are privileged to grow alongside the biggest inland shipper on the West Coast."