Union Pacific Locomotive Engineer Harry Stewart was pulling himself off the cab floor when he heard a knock on the locomotive door. "I saw it all," said the man standing outside the cab. "That truck pulled right in front of you."
Union Pacific Locomotive Engineer Harry Stewart was pulling himself off the cab floor when he heard a knock on the locomotive door. "I saw it all," said the man standing outside the cab. "That truck pulled right in front of you."
"Well, then," Stewart replied, "I'm going to need your name and contact information. And then, I'm going to need you to take my conductor back to the crossing to see what there is to see."
Stewart and his conductor had just experienced what is referred to as a "critical incident."
Moments earlier, the train had passed through a small town in East Texas and was traveling adjacent to a two-lane highway. Both the engineer and the conductor saw the truck as it slowed and began its turn into the path of the oncoming train. Stewart blew the horn and threw the train brakes into "emergency."
"Are we going to hit him?" the conductor asked.
The Track Incident Recorder(TIR), a small video camera mounted inside the cab of most UP locomotives, looks down the track, providing the train crew's point of view.
There are three major aspects of a critical incident, Stewart explained: the realization that it's going to happen; the moment of impact; and then, the aftermath.
"I guess this guy was blessed," Stewart recalled. The tractor-trailer was cut in half, and pieces were thrown onto the highway, but when the conductor got back to the crossing, he found the driver still sitting behind the wheel, alive.
"I never saw the train," the driver told the conductor. "Where did you come from?"
The conductor pointed down at the rail where the remains of the truck sat. "This is where we came from," he said.
Once every three hours a person or vehicle is hit by a train, reports Operation Lifesaver, an organization dedicated to preventing accidents on and around railroad crossings.
From 2003 to 2013, Union Pacific reduced grade crossing accident rates by 15 percent. The railroad has a goal of zero incidents - because even one is too many. But people continue to use railroad property as a short cut, or they make bad decisions at crossings. They don't think through what they are doing; what could happen. And, unfortunately, they don't think about the people their decisions affect.
"People who have experienced a tragedy tend to think that no one else knows what they are experiencing," said Mark Jones, director-Employee Assistance and Support Services. "Through Peer Support, they realize they are not alone, and that's a driving force here."
Union Pacific's Peer Support program is similar to programs used by police and fire departments and the military. Members of these groups often are exposed to critical incidents over which they have no control.
In addition to sadness and frustration, employees also may experience anger. "Of course it made me angry," Stewart admits. "For many years as an engineer, it made me angry - and I wasn't the only one. There were so many incidents it was unreal. Don't people realize? Train personnel shouldn't have to worry every day if they'll come home alive."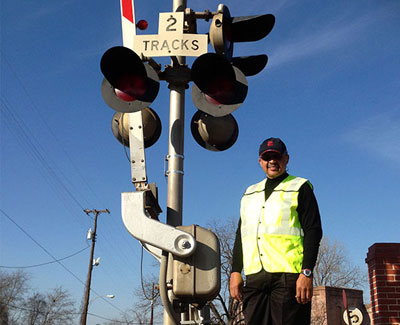 Years after that critical incident in East Texas, Stewart now is a manager-Employee Support Services as well as a Peer Support trainer, coordinator and volunteer. He describes the program as a precursor and continuing component of UP's Courage to Care philosophy - that every employee go home safe. "It comes from the desire to help someone else," he said. "It's all about looking out for your fellow employees.
"I am my brother's keeper," Stewart said. "We have so many success stories, and helping someone recover who was so thoroughly traumatized, that's the best thing."
"Just as you have volunteers trained in CPR and First Aid, Peer Support volunteers are trained in psychological first aid," Jones said. "It's like the first line of triage for train crew, with basic comfort and relief. It involves a lot of listening and helping to try and normalize the incident. It's not counseling, but our volunteers can help point their peers in that direction, if that's what they need or want."
Peer Support is not just for train crews or those who have been involved in a crossing accident. The program stems from a family tragedy in North Platte, Nebraska, in 1988.
A Locomotive Engineer's Plea
UP Locomotive Engineer Johnnie Williams was involved in a critical incident in 1990. As a result of his experience, he wrote an essay, "A Locomotive Engineer's Plea." Here is an excerpt:
"A moving train is a lot bigger than you think. Its size may fool you into believing it's moving slower than it really is.
It's also heavier than you may realize. A loaded coal train hitting your car has the same weight ratio as your car running over an empty pop can.
Trains can't stop on a dime. I can't change the laws of physics. It takes a mile or more to stop a train after I hit the brakes.
I can't swerve out of the way to miss you. I don't want to live with the memory of your death – even though it isn't my fault … Keep this note in your car. In the time it takes you to read it, I'll be on my way, and so will you. Believe me, I want you to live."
The daughter of an employee at UP's Bailey Rail Yard was involved in a devastating automobile accident. She was on life support and not expected to survive. After her death, when her father came back to work, fellow employees wanted to console and support him, but didn't know how. And so, many did nothing.
Hoping another employee would not have to go through that same grief, confusion and frustration, the father helped form the model for today's Peer Support program.
"Tragedy can happen anywhere," Jones said, about the effort. "It only made sense for us to build on and formalize an otherwise informal support system."
Local volunteers are one of the program's most important elements. "It helps to see a familiar face in the break room, or just to know someone is close by," Stewart said. "Our volunteers are the cream of the crop at the railroad. They are stupendous."
Today's railroad demographics are changing, and the volunteer network now reaches across generations.
Involvement in a critical incident is a heavy burden, Stewart said, "but each time you share, you lose some of that baggage. You will never lose it all; you're never going to forget. But with Peer Support, we aim to help you cope."