Business is booming in Texas.
Between 2014 and 2040, freight moving in Texas is projected to nearly double, from 2 billion tons to more than 3.75 billion tons. A state advisory committee warned that such an extreme increase could worsen an already congested state highway system, and alternative modes -- such as rail -- will be more important than ever if the state is to remain economically competitive.
It's a message heard loud and clear at Union Pacific. The railroad has invested more than $2.8 billion in its 6,310-mile rail network in the Lone Star State since 2009. Current UP construction projects include improvements at Houston, the Dallas/Fort Worth area, San Antonio and further south to Eagle Pass.
But one of the biggest projects, announced last month, is in Laredo, where UP operates one of the only intermodal facilities that services business on both sides of the U.S./Mexico border. "Intermodal" literally means goods traveling by multiple modes of transit -- in this case truck and train. Intermodal facilities are large, multi-acre rail-served complexes where freight containers are loaded onto or off of trains or truck chassis.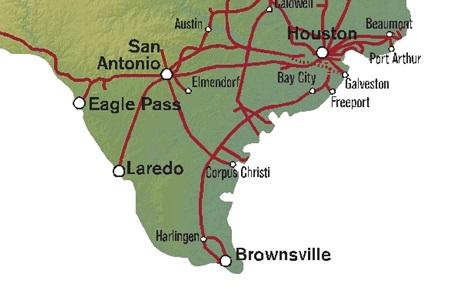 About $280 billion in U.S. trade with Mexico annually crosses through the Laredo Customs District, making Laredo the main port of entry along the U.S.-Mexico border and the No. 2 port in the United States, according to Ivan Rodriguez, vice president-Laredo Development Foundation.
Needless to say, Union Pacific's Port Laredo Intermodal Ramp sees a great deal of that traffic. So much so that Union Pacific is investing $90 million to expand the facility.
In the first phase of the two-phase project, which is already under way, a new, state-of-the-art entrance is being built that allows for secure, 24/7 operation. Phase two involves increasing the facility's footprint by more than 37 acres -- essentially doubling its size -- and in turn, doubling the number of truckloads Port Laredo can handle.
UP will watch how customers use the facility during the project's initial phase and will apply those observations during the expansion phase in an effort to make Port Laredo more efficient
UP's Port Laredo improvements coincide with Laredo's overall business expansion. According to Rodriguez, international trade in Laredo increased by 10.5 percent from 2013 to 2014, and is only expected to grow more this year.