Officials from the Federal Railroad Administration, Pima County Arizona, the Port of Tucson and Union Pacific were among those who celebrated the completion of a $5 million expansion of the Port of Tucson's rail infrastructure and container export facility May 12.
The port is located in the City of Tucson adjacent to Union Pacific's Sunset Corridor main line -- the rail corridor that connects Los Angeles to Texas. Since 1996, the port has provided a transportation and logistics center to help businesses in southern and central Arizona as well as northern Mexico with access to rail and intermodal container transportation options.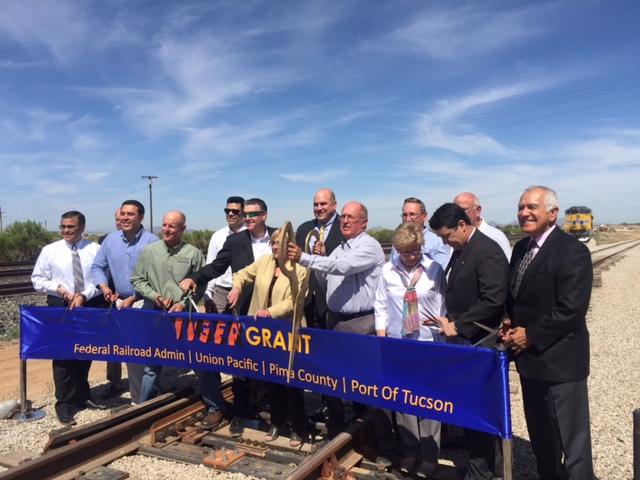 With its proximity to the U.S.-Mexico border, the port stimulates trade and business on both sides of the border. It also enables the region's businesses to access the Asian Pacific seaports through the Port of Los Angeles and Port of Long Beach, as well as private facilities.
The project, funded with a $5 million federal TIGER 2013 grant, includes a number of infrastructure enhancements including extension of sidings, installation of high-speed powered switches to eliminate the need to slow and stop arriving trains, and installation of a new main line switch to increase flexible operations at the site.
"The Port of Tucson is an impressive facility that is a full service inland port that services multiple steamship lines, warehousing services, transloading, cold storage, bulk and wind and energy components," said Wes Lujan, Union Pacific VP – Public Affairs, Western Region. "Most importantly, the Port shares our commitment to safety, reducing traffic congestion and running environmentally responsible operations."