Union Pacific has been aggressively working to achieve lower emissions switchers over the past 16 years.
Subscribe to
Inside Track
The Sacramento Metropolitan Air Quality Management District and the Bay Area Air Quality Management District recently awarded approximately $15 million in grants to repower 10 diesel-electric switching locomotives into new Environmental Protection Agency (EPA)-certified Tier 4 single-engine switching locomotives.
Switching locomotives operate within rail yards, assembling and disassembling trains. They do not move trains over long distances. Because they remain in a concentrated area, improving switching locomotive emission levels can improve the air quality regionally.
Funding for this initiative was made possible through California's Proposition 1B: Goods Movement Emission Reduction Program, a partnership between the California Air Resources Control Board and local air districts. This is a program aimed at incentivizing freight-moving equipment owners to upgrade to cleaner technologies.
"Union Pacific has been a great partner," said Kristian Damkier, an air quality engineer with the Sac Metro Air District. "We've been working together since 2004; we have an excellent working relationship."
The new locomotives will reduce particulate matter and nitrogen oxide emissions by more than 90 percent. Union Pacific is the only Class 1 railroad operating Tier 4 Genset switchers, and is the first Class 1 to pursue Tier 4 single-engine repowers.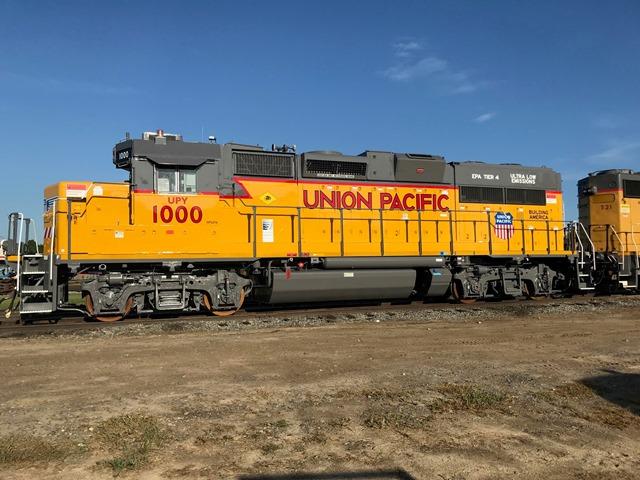 This isn't Union Pacific's first group of Tier 4 switchers, but it is the company's first group of Tier 4 switchers with one engine. A single engine means the locomotives should be more reliable and easier to repair.
The company pioneered the Genset switching locomotive concept in 2002, creating a marketplace for Genset technology with a $72 million investment. Multi-engine Genset switchers are used by railroads throughout the world. It's taken about a decade for technology to mature enough to achieve a Tier 4 single-engine switcher. Through this partnership with the Sac Metro Air District, Union Pacific hopes to create another new marketplace for single-engine Tier 4 switchers.
Union Pacific's old diesel-electric switchers are currently being stripped down and rebuilt, or repowered, into the new Tier 4 switchers. The first revamped switcher was delivered in October. Three more will be delivered by the end of the year, and six more in 2019, for 10 total. The new switchers will operate exclusively in California.
"We're proud of our partnership with both air quality management organizations," said Clint Schelbitzki, Union Pacific general director of public affairs for California and the Pacific Northwest. "As we move forward, we'll continue to look for opportunities to partner with community organizations to ensure we're staying focused on a more sustainable future."
Damkier says people living near the rail yards using the new switching locomotives will see an immediate benefit. "The use of this technology will improve air quality, and in the long-term reduce regional ozone levels," he said.
In the future, when Union Pacific buys additional ultra-low-emission switchers, the company hopes to pursue the single-engine approach.
"Union Pacific is stepping up to the plate and working with us to make these projects happen," Damkier said. "In the future, we're hoping railroads focus locomotive replacement efforts on California to improve the air quality in the areas that need it most."