I've solved business problems involving technology for four decades in multiple industries. Standing on both the business and research sides of the fence has given me a unique perspective on the evolution of technology.
What may surprise you: I rarely see new core technology introduced, yet I frequently see a dramatically expanded use of technology on a much more comprehensive array of business problems.
I worked with production touch-screen systems in 1979 and Google-like context-based full-text search systems in 1983 -- 15 years before Google was formed. One of the first production speech-to-text and artificial intelligence (AI) based solutions for medical transcription was deployed in 1987. A Nebraska-based medical facility ran all patient care systems in the "cloud" in the '80s, decades before computing "clouds" became ubiquitous.
While hardware costs have dropped and performance has increased dramatically, software costs haven't. Writing software is still a human-centered endeavor, and today more software layers are being "reused" by developers to save coding time. What's the result? Well, in 1980, the University of Nebraska Medical Center had over 2,000 computer terminals and printers running applications with 5,000 different application screens running on 2Mb (2 million characters) of computer memory. My Apple watch has 32,000MB (32 billion characters) of memory – that's 16,000 times more memory but it does fewer functions. But it is far cooler, and costs hundreds of dollars vs millions!
Subscribe to
Inside Track
My point: Software development lags hardware development and represents one of the most significant areas of opportunity and challenge in the future.
The reuse of software helps "close the gap" on the relative productivity improvements vs hardware and has given rise to "open source" software. This is shared by many programmers in addition to new solutions served on a shared basis to multiple businesses via the internet. Most non-company-specific software will be delivered this way in the future, due to its tremendous cost advantages. Companies will need to focus their relatively limited internal IT resources on company specific and differentiating solutions to remain competitive.
When it comes to railroad technology, we are blessed and cursed with our sheer scale and length of existence. Union Pacific is a combination of many merged railroads, each having varying standards on everything from locomotive configurations to how they designed wayside signaling. World War II forced railroads to ration electrical components, which remains a real constraint today. These industry- and history-specific constraints often kept railroads from taking full advantage of advancements from other industries and consumer markets.
When designing our Positive Train Control system, one of our goals was to have all our railroad assets speak a "common language," regardless of brand, vintage and configuration. This change allows us to stay current with advancements in communications capabilities (e.g., 3G, 4G, and later 5G) that are made in the broader industrial and consumer spaces.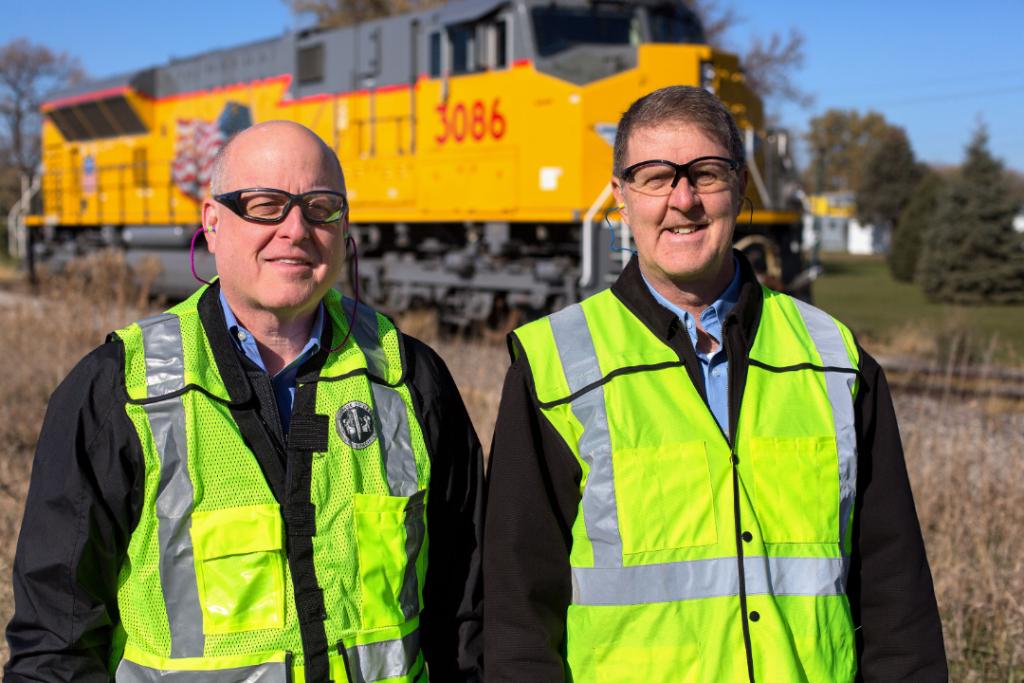 Normalizing railroad-specific technologies to integrate with more extensive industrial and consumer technologies will provide many economic and business benefits to Union Pacific. For example, our CIO, Rahul Jalali (and team) is expanding our standard interfaces to connect our business systems and processes with our customers, using a language common to the larger industrial market -- APIs. This integration's synergy and value-creation potential far exceeds anything we might do on our own.
By moving toward standard interfaces and focusing on fewer internally developed systems, Union Pacific will take advantage of the broader business and consumer market technologies, permitting it to focus more on actual company-specific challenges and technologies.
The next decade will be one of rapid acceleration and expansion of our role in our nation's supply chain. The transformation of the technologies necessary to support this will come from an increased capability to leverage what is available in the broader market, plus a laser-like focus on creating company differentiating solutions.
Note: Mike retired from Union Pacific after a long and successful career developing and implementing technology for the railroad.