To celebrate a 21st birthday, some people head to Las Vegas. Ben Salo marked the occasion by doing something very different. As a volunteer firefighter in Central Sacramento Valley, he ended up battling the hottest house fire he'd ever encountered.
It was 9 p.m. on a Friday, recalls Salo. The fire was ripping through a 2-story Victorian home in a rural stretch of Sutter County, sending up flames visible a mile away.
"I was sitting in the back of the engine as we pulled up," said Salo, now 35 years old. "The heat was so intense it felt like a sunburn on my face." He remembers being concerned about "exposures" on the grounds, including a propane tank, and the fact that there were no hydrants. "We had to call in trucks from all over the county to put enough water on the fire."
Today, as a Union Pacific manager of hazardous materials, Salo thrives on the emotions he felt back in Sacramento: adrenaline, esprit de corps, and the desire to protect lives. But his job today is mapped out on a much larger scale. His bailiwick spans 23 states and 31,800 miles of rail, portions of which carry barrels of crude oil that are fueling America's energy renaissance.
Crude-by-Rail
Hazmat disasters are rare on the U.S. rail system. According to the Association of American Railroads, 99.997 percent of hazmat shipped by rail reach their destination without a hitch. Indeed, rail incidents, overall, have fallen by 50 percent in the past 10 years. And while rail shipments of crude have become a lightning rod in the media, the paucity of pipeline capacity leaves few other means to transport the precious fuel.
According to the Association of American Railroads, 99.997 percent of hazmat shipped by rail reach their destination without a hitch.
Determined to keep crude-by-rail incident rates at or near zero as total daily shipments have soared from 800,000 barrels in 2012 to 1.4 million in 2014, the U.S. Department of Transportation (DOT) last year directed railroads to expand their joint training programs with local fire departments. The goal is simple: to ensure that, in the unlikely event of a derailment, leak or fire, first responders in communities across the country will know exactly what to do.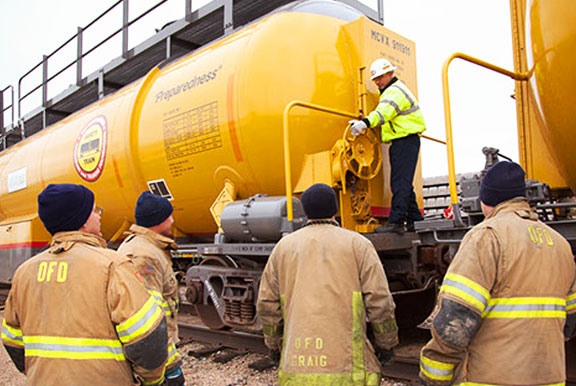 Part of Salo's job is to provide precisely this type of critical training. DOT's 2014 directive prompted Union Pacific and other railroads to beef up existing training programs carried out by the privately funded Security and Emergency Response Training Center (SERTC) near Pueblo, Colorado. Last spring, Salo coordinated Union Pacific's participation in the 3-day crude-by-rail security courses in Pueblo, including hands-on training in how to douse a flaming tank car with foam. This is no trivial matter, considering a train may be carrying upwards of 1 million gallons of potentially flammable crude.
"In 2014 we trained more than 300 firefighters from all throughout the 23 western states," Salo said. He and his team will participate in five more courses in 2015, with UP covering all the costs for the curriculum, as well as the firefighters' transport, lodging and most of their meals.
Protecting Citizens
Many emergency responders in cities and towns are technicians or operations people, explains Ken Collins a lead instructor with SERTC in Pueblo. "Most of them are not familiar with rail cars. They haven't been trained to tell the difference between, say, a pressure container versus a general service car," he said.
In the first two days of the Pueblo course, participants dive into these matters, learn to read shipping documentation, and get an overview of tank car fittings and construction. They also become familiar with cutting edge tools, including smartphone apps to help first responders ID the contents of a rail car at a glance, so they'll know what level of protective gear is required. On Day 3 of the program, trainees don special gear and learn how to safely battle a live oil blaze.
After the three days, "we'll be able to protect our citizens better," said Jimmy Maxwell, a fire department captain from Little Rock, Arkansas, who recently participated in the training. Understanding what's in the cars, and what resources UP can provide in an emergency, "we develop an action plan for what could possibly happen," he said. "Then we can plan ahead and be flexible about getting UP people in, and bringing in other people we need."
Rare as they are, accidents can happen. DOT's nationwide call for heightened preparedness came in the wake of North America's worst-ever train derailment involving Bakken crude in July 2013 that claimed 47 lives in downtown Lac-Megantic, in Quebec Province, Canada. A report released last summer blamed a host of mechanical and procedural issues affecting the 74-car train, which was operated by the Montreal, Maine and Atlantic Railway, a small regional railroad.
To rail operators, the infrequency of such events is no cause for complacency. At UP, "we have a slew of systems in place, from track programs to operating practices," Salo said. "Every department in the railroad is focused on preventing this kind of thing from happening."
"It Chooses You"
Salo has no trouble expressing what first drew him to public safety and emergency response. "It was the feeling that every day was new," he explains in rapid diction that sometimes clips the beginnings and endings of his words. "It is not what people imagine. There's no glory. It's often dirty, or it's cold, or it's hot. It's physically and mentally taxing, but you do it because it's in your blood." Hearing himself say this, Salo apologizes for "going down the rabbit hole." Then he adds: "You don't choose this. It chooses you."
"It is not what people imagine. There's no glory. It's often dirty, or it's cold or it's hot. It's physically and mentally taxing, but you do it because it's in your blood."
Salo recognized the magnetic pull of public safety when he was a teenager serving as a sheriff's cadet. "In a neighboring department, a deputy lost his life in the line of duty and we all attended the funeral," Salo said. "There was a 200-vehicle procession, with pomp and circumstance. A mentor of mine asked if I still wanted to do this for a living, and all I could say was 'yes, more than ever.'"
For the next 10 years, Salo worked in many different emergency settings, from ambulance services to forest fires. The environments differed but the camaraderie and urgency of the mission were consistent. "You were using your brain and thinking on your feet," he said. Then, Salo started to consider how to take this experience to the next level. "In the technical challenges, the scale of damage you can prevent, and the number of people you can help, managing hazmat was the logical next step."
His opportunity arrived in 2006. Salo was working as an emergency responder for the Mooretown Rancheria in Butte County, California, when a position for carman opened up at the railroad. He took the job but continued his volunteer and part-time work. His years as a volunteer made up for his young age and lack of railroad experience when, in 2008, a major position came available in Roseville, California, managing hazmat for Northern California and Northern Nevada.
Salo got the position and became member of UP's 20-member hazmat team. For the next three years he worked out of Roseville, the world's second-largest classification railroad yard after UP's Bailey Yard in North Platte, Nebraska. His next stop was UP's Omaha Headquarters, where Salo divided his time among cross-functional administrative duties, training assignments and field response.
Hot Tap
Most of the field calls turn out to be non-events, ranging from a few drops of oil leaking from a tank car to a whiff of gas detected in the air to a corn release in a water way. Other times, however, it takes all of the team's skills and ingenuity to bring a situation under control. Such was the case in the summer of 2011, when Salo and four other hazmat managers were rushed to Lincoln, California, a fast-growing city of 45,000 near Roseville, to help local firefighters prevent a propane explosion at a plant.
In this unusual case, a 29,000-gallon tank car filled with liquid propane had accidentally caught fire at a UP customer's rail yard with half a million gallons of gas in storage. The only course was to drill a hole in the burning tank car using special emergency gear, insert a pipe in the still-pressurized tank and siphon the gas into a holding pond, where it could be burned off in a controlled blaze.
Before attempting this procedure, called a "hot tap," a mandatory evacuation order was placed by government officials on 4,800 homes and businesses within a 1-mile radius of the plant. Firefighters, working with the UP team, then set up five hefty water hoses and started cooling the burning tank car by soaking it with 5,000 gallons of water per minute. "Let's just say there is no room for a mistake here," California Fire Department spokesman Daniel Berlant was quoted saying in news reports. Without this kind of expert mitigation, Berlant said, there could be a risk of "a massive explosion causing structural damage… throughout the area."
"This was the largest incident I ever responded to," Salo recalls. Bringing in specialized contractors, "we were able to help the local firefighters extinguish the fire and put life back to normal, with only minor injuries to people in the plant when the fire broke out."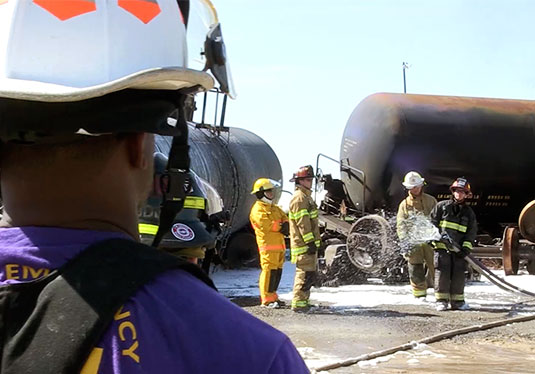 Family Affair
Firefighting was the gateway for Salo, but today he's a rail man all the way. His wife works in UP's environmental division. "It goes beyond work," Salo said. "We met on the railroad. It's a family affair."
He's hardly the first to jump from fire fighting to hazmat control. "Half our team is former fire service personnel, from volunteers up to fire chiefs," he said. "Being able to speak that language helps me tremendously in all the trainings." In many cases, he adds, coping with the crisis involves the same mental and physical drill. Only the time spans differ. "In a typical structural or house fire, every 15 or 20 minutes you check your status. If you're not making progress, you re-evaluate your tactics. The difference is time. In the hazmat world, it takes you 15 minutes to put on your boots."
The differences dissolve when it comes to personal commitment, Salo said. "Your colleagues are your family. You'll be putting in 16-hour days together. Sometimes you're up all night. Whether you're working for a trucking company or a fire department, or Union Pacific Railroad protecting hazardous materials, the focus is public safety, and you're there for each other," Salo said. "It's a calling."