In railroading towns across Union Pacific's 23-state network, our employees are dedicating their time, talents and resources to supporting local nonprofits and community groups this holiday season. In the spotlight today are railroaders showing community pride in De Soto, Missouri; Fort Worth, Texas; and Omaha, Nebraska.
De Soto Car Shop Large-Scale Adopt-A-Family Efforts Bolstered by Year-Long Fundraisers
Subscribe to
Inside Track
This holiday season, De Soto Car Shop employees from the Mechanical and Supply Chain departments focused outward in support of their local community by jumping in to support Missouri Adopt-A-Family efforts. The shop 'adopted' 13 local families, including an impressive 49 children from five local counties.
"There is an amazing amount of support and generosity coming out of De Soto," said Bob Griffin, carman, Mechanical.
De Soto hosts several fundraisers throughout the year with two goals in mind: supplement their Adopt-A-Family effort and provide a donation to Union Pacific's nonprofit Friend to Friend Network. Past fundraisers have included donation drives, raffles and a golf tournament.
"Our De Soto team members really stepped up," said Lacey Kavan, senior director-Planning and Operations Support, Mechanical.
Their most recent fundraiser was a friendly food drive competition generating nearly $5,000, triple the previous year's totals. Four work groups led the competition with each group raising more than $600.
1st Place: De Soto's Maintenance work group with a $1,500 donation.
Notable mentions: Track Six, Laborers, and Old Paint/Scrap and Wreck.
Food drive funds were donated to a local school backpack program and dedicated to purchasing grocery store gift cards for their Adopt-A-Families.
"To see parents get emotional, that's why we do this and should continue to participate," said Brad King, carman, Mechanical. "The De Soto Car Shop brought a lot of happiness to people this month."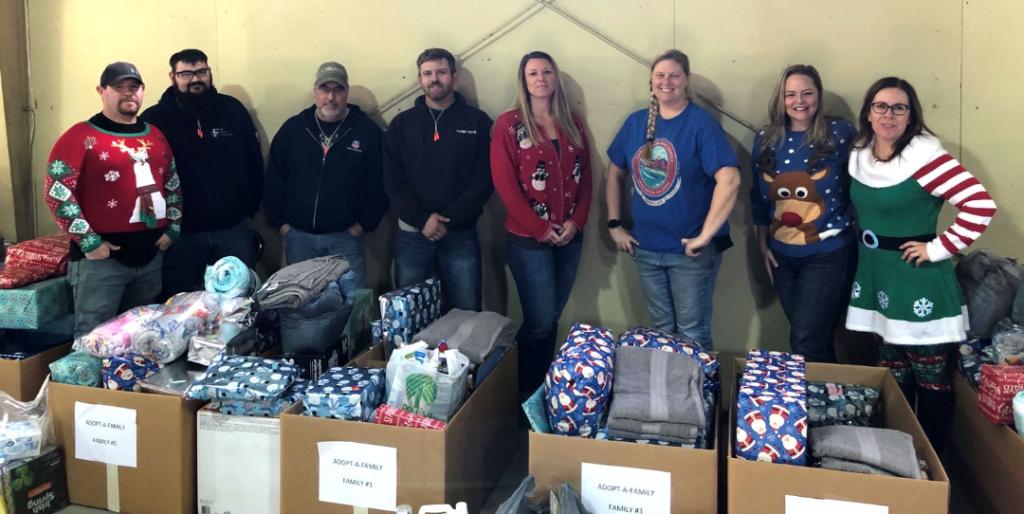 LEAD's Texoma Service Unit Chapter Encourages Fort Worth Family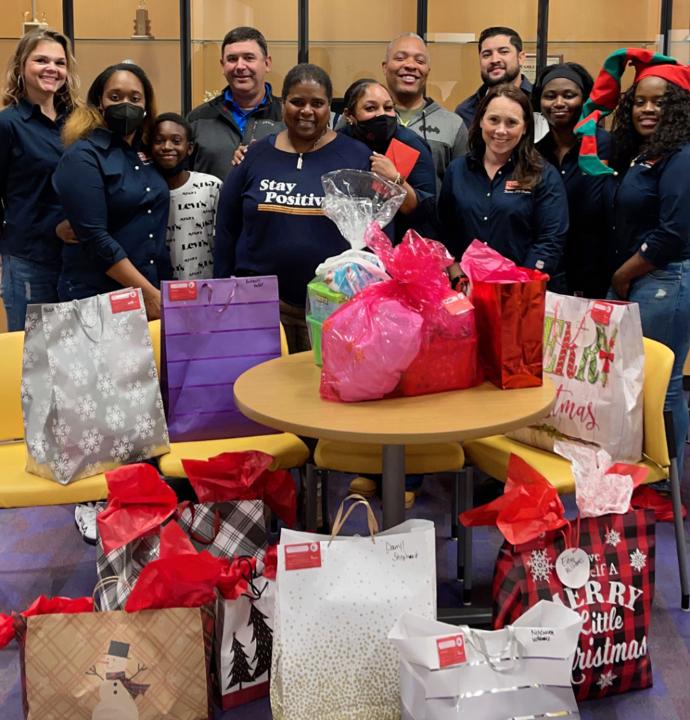 Members of the Texoma LEAD chapter are making a big impact with two local families in need of a little boost this holiday season. LEAD is an employee resource group, creating networking, development and engagement opportunities for Union Pacific employees.
"We're excited to be active participants in our local community," said Nekenya Moreland, manager-Field Operations Support, Transportation, and president of LEAD's Texoma Chapter. "When the Como Community Center reached out – we leapt into action."
UP employees helped gather clothing, coats, socks and toys to send the family warm wishes.
"This single dad is doing the best he can to ensure his kids are going to be successful in the world today," Moreland said. "The children, ranging in age from 1 to 14, participate in a variety of programs at the Como Community Center from sports to educational programming, and everything in-between.
"We want to do our part and help this family reach their goals."
Texoma's LEAD chapter received donations from a variety of sources including local Fort Worth railroaders and the Law Department's Compliance Team at Union Pacific Center in Omaha, Nebraska.
"With the extra funds donated, we were able to ease the burden for another single parent by providing holiday gifts for her three children," Moreland said. "It's been a hard year for everyone.
"The event was heartwarming and so were the smiles on the children's faces."
Omaha Finance Department's Adopt-A-Family Outreach
Union Pacific Center's Finance Department participated in LEAD's annual Adopt-A-Family event, partnering with two local families to assist 11 children from Field Club Elementary school during the holiday season.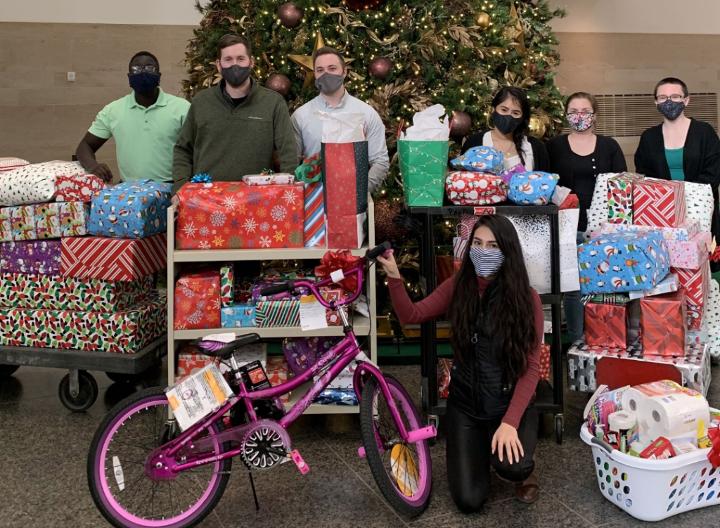 "It was a true Finance TEAM effort!" said Tammie Evans, executive assistant, Finance, and LEAD coordinator.
Finance employees worked together to purchase family-requested gifts, wrap and deliver them in a timely manner, with kids none-the-wiser.
"We were able to purchase every item wanted, and needed, from clothing and toys to food," Evans said. "We filled a gift basket with necessities like toiletries, paper towels, cleaning supplies, hair care products and coloring books.
"But we weren't done! We were also able to provide more than $1,000 in gift cards to each family."