Americans love shrimp. The fascination with prawn even extends to pop culture – think Bubba's long list of shrimp options in "Forrest Gump" or Jim Carrey's famous "Dumb and Dumber" line, "Put another shrimp on the barbie." But to enjoy these delicacies on dinner tables nationwide, shrimp producers need a logistics plan. For decades, shrimp arrived at ports and was trucked to destination; however, an experiment with frozen shrimp in the middle of the desert is providing a new opportunity.
More than 90 percent of seafood consumed in the United States is imported, and shrimp is the leading fresh or frozen product in that category, according to the National Oceanic and Atmospheric Administration (NOAA). In fact, NOAA data suggest the average consumer eats four pounds of shrimp annually.
"There's huge demand for shrimp in the Northeast, but getting competitive truck rates during peak season, September through December, is difficult," said Executive Vice President of Operations at Port of Tucson Matt Levin. "When customers come to us [Port of Tucson], we find solutions, and some are creative."
Subscribe to
Inside Track
Their creative solution was a collaborative effort between the Port, Union Pacific, CSX Transportation and the customer, Acción Acuícola. Acción Acuícola wanted to transport shrimp from the Baja Peninsula in Mexico to Pennsylvania using the efficiencies and cost benefits only rail can provide. The problem: Although there was cold storage available at the port, it wasn't rail accessible.
"The customer's biggest concern was maintaining the frozen temperature and integrity of the load, which is difficult in the extreme heat of the Arizona desert," said Union Pacific's Senior Business Manager Nick Langel. "Our first challenge was to figure out how to keep the cold chain intact."
Once shrimp enters the U.S., in this case at the Port of Nogales, Arizona, it travels by truck about an hour north to the Port of Tucson, where UP's reefer cars are waiting. These "rolling refrigerators" are satellite-controlled to maintain a specific temperature. However, melting and refreezing are a risk during the transfer process from truck to rail. The innovative solution was a mobile cross dock – a temperature-controlled shed the same height as a truck trailer and rail car. Once the cross dock reaches the necessary temperature, a door on each side opens, creating a frozen bridge, giving workers opportunity to transfer cargo without exposing it to the desert air.
In addition to solving the cold-chain problem, UP needed to figure out how to efficiently pack shrimp into a reefer car.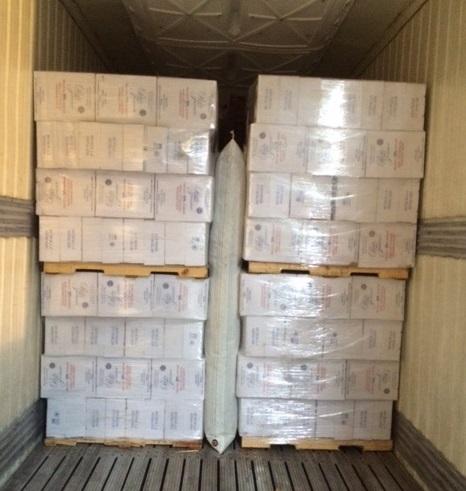 "We got the pallet dimensions and noticed a lot of empty space," said UP's Senior Business Manager Nicole Ostertag. "Our Shipment Quality Team worked with Acción Acuícola to change the configuration and improve the shrink-wrap process, reducing risk of product damage."
In summer 2016, both solutions were put to the test and proved successful. UP transported its first-ever load of shrimp to East St. Louis, interchanging with CSX, who delivered to the final destination. Plans now are in the works to support the shrimp industry during its upcoming peak season.
"Through this collaboration, we offered the customer a more economical solution," said UP's Business Director in Mexico Eugenio Leal. "People tend to write off the desert when it comes to cold commodities, but its proximity to Mexico makes it a good long-term fit for rail."
It's also a win for Mexican produce growers, who can take advantage of this service to export fresh fruits and vegetables into the U.S.