Each day, when 14-year Brakeman Taylor Morel straps on his steel-toed boots, raises his tinted safety glasses and plugs in hearing protection, he brings experience, accountability and sharp focus to the job.
Subscribe to
Inside Track
As a result, Morel's peers elected him as one of the Gulf Coast Service Unit's Total Safety Culture (TSC) facilitators. Morel provides safety insights to a portion of Louisiana's TE&Y employees, stretching from Beaumont East to Avondale Yard in Union Pacific's Southern Region.
Since hiring on as a brakeman in 2007, Morel said safety in the yard became second nature, but it was time for a new challenge.
"I felt like I wasn't really doing as much as I could in regard to safety," Morel said. "When I saw what the facilitators were doing, touching on that safety component at every single terminal from Beaumont to Avondale, I realized the reach was more than just my own little world."
During his term as facilitator, Morel hopes to celebrate positive peer habits and use them as teaching moments to underscore the "why" behind certain railroad procedures and processes. By putting a process in the context of safety and the reason behind it, he believes employees can better understand the importance of doing tasks the right way every time.
"We want employees to care about one another, so if they see someone doing something potentially unsafe, they can stop the line," Morel said.
Morel emphasized that another critical core of safety on the railroad begins with UP's pledge - Courage to Care.
"When it comes to relationships, personal accountability and being accountable for others, that whole idea of safely working as a team were ideas that I had been living in the military," Morel said. "Those two worlds melded together when I joined the railroad."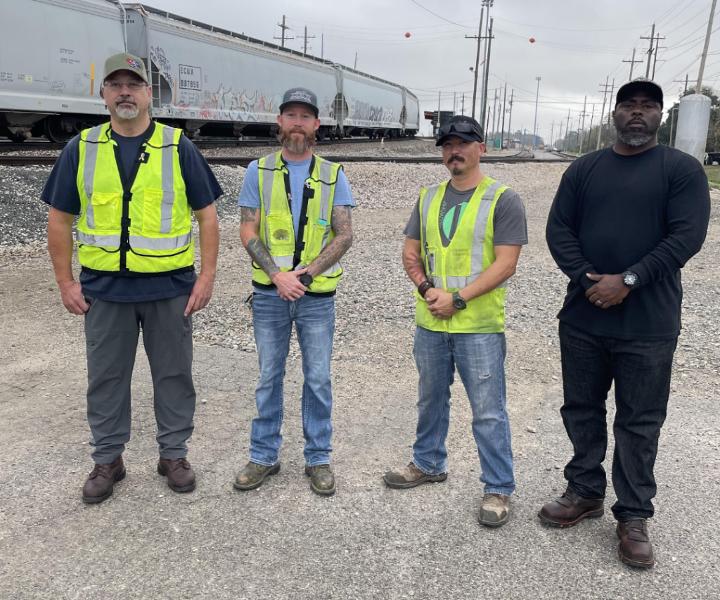 The U.S. Army National Guard member recently retired from military service after a 21-year career. The Sergeant First Class deployed to both Afghanistan and Iraq, and trained soldiers bound for overseas duty.
When Morel submitted his TSC application, he drew on his military experience and included a plan referred to in the military as an After Action Review (AAR). Essentially, it works like a mission debrief and he believes it can also improve railroad safety.
"I remember AARs being a huge tool in identifying and addressing one's strengths and weaknesses," he said. "And I think it can really help benefit safety for our railroaders."
Morel recommends that employees who want to grow with fellow railroaders should look into one of UP's Employee Resource Groups.
"There are people who go their whole lives without exposure to diversity of culture or religion," said Morel, a member of UPVETS. "But ERGs welcome anybody and promote community outreach, they are inclusive of everyone. They allow a person to immerse into a group they may not know much about."