T'áá 'ahąąh.
Subscribe to
Inside Track
In the Navajo language, it means "together." Connection and togetherness – integral to the Native American culture – were central themes at the first-ever CONAH conference recently held in Omaha.
One of Union Pacific's Employee Resource Groups, CONAH (Council of Native American Heritage) was formed in 2008 to assist the railroad with recruitment, retention and development of employees with Native American heritage and to build bridges to the Native American community.
One example of bridge building is CONAH's critical role interacting with the 26 tribal nations that are among the communities in which Union Pacific operates, said UP Chairman Lance Fritz.
"CONAH is helping keep our history alive," Fritz said, addressing the conference. "You help us understand and learn about Native American culture – both then and now. You help us tell our true, authentic story, and help us connect and support our current communities."
Strengthening the bonds with communities is a natural part of CONAH's mission said the organization's president, Desrié Valdez. "We want to promote cultural understanding, and how to better connect and serve our communities," she said.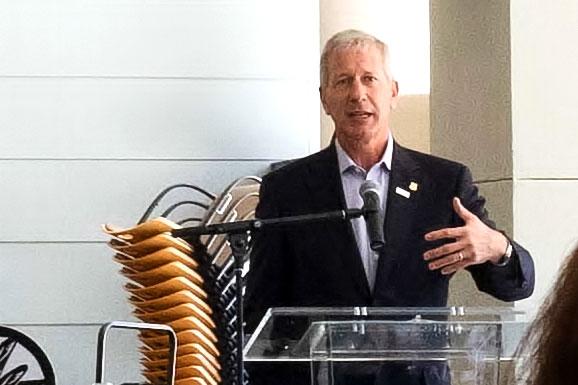 Valdez kicked off the conference with a traditional land recognition – a statement acknowledging "the land we stand upon is, and has always been, held in reverence by several First Nations: the Pawnee, the Omaha, the Ponca, the Otoe-Missouria, the Winnebago and several Sioux tribes. We preserve that place here today out of respect and continuing recognition of the profound impact of the railroad on native people."
A third-generation railroader, Valdez shared with attendees the story of her father, who retired in 2017 after serving 38 years as a UP track laborer. She recalled how other tribe members looked up to him upon his return to the reservation after completing a project with his Engineering gang. "They saw his pride and security," said Valdez, manager-Design, Workforce Resources, an 11-year employee. "I wanted to carry on that legacy."
The CONAH conference included a panel Q&A session featuring the Rev. Mark Beran, director and pastor of the St. Augustine Indian Mission; Reed Robinson, manager of tribal relations and Indian affairs at the National Park Service; and keynote speaker Patricia LaBounty, Union Pacific Museum curator. Topics included historical tidbits, UP's relationship with tribal governments, education and cultural traditions.
In addition to CONAH, Union Pacific has eight other Employee Resource Groups – employee-led groups that promote a diverse and inclusive organization by playing a critical role in the development of the company's workforce, its culture and the marketplace. ERGs are open to all and are made up of employees from traditionally underrepresented groups, allies who support these groups and people who share a common interest and purpose.
Among CONAH'S recent activities is the organization's involvement in "Railroads in North America," a three-day symposium this past September that discussed the railroads' significant impact on Indian Country during the transcontinental railroad's construction. The Union Pacific Railroad Museum, the National Park Service and the University of Nebraska Omaha collaborated on the project, bringing together scholars, artists, musicians, tribal members and tribal government representatives.