A Union Pacific train crew from Wichita, Kansas, recently took a break from its usual routine for a moment to do a kind gesture for a young rail fan.
Subscribe to
Inside Track
Bobby Hare, 12, regularly visits the Union Station in Wichita, safely waving from a distance as crews pass, hoping they will blast their horn.
"Every night, maybe since early to mid-January, there has been a little boy standing out behind the fence where the old Union Pacific passenger station was south of here on the hub," said Daniel Bechtel, brakeperson. "He's out there every night right about the time we go past. I don't know when he gets there or when he leaves, but he's always giving us the fist pump, honk your horn type of thing, and we always oblige him."
Bobby's mother, Melissa Maser, says her son was diagnosed with DiGeorge syndrome, a genetic disorder resulting in poor development of several body systems, according to the Mayo Clinic. He's had three heart surgeries.
"We come out and he likes to watch the trains come through; he loves to make them honk," Maser said. "That's his favorite thing, but he will talk to anybody coming out here. He will talk to the locomotive engineers."
Maser says they live nearby and usually arrive around 5 p.m. and stay until 8 p.m. — and some days until 10 p.m. if Bobby doesn't have school the next day.
Bechtel, Conductor Brian Freeman and retired Locomotive Engineer James Spillman thought Bobby might like some Union Pacific swag. One night when they were passing through, Bechtel and Freeman spotted Bobby near his usual spot. They came to a stop and detrained so they could speak with Bobby and offered him Union Pacific hats and some other goodies. They introduced themselves and told Bobby they spot him almost every day they are working.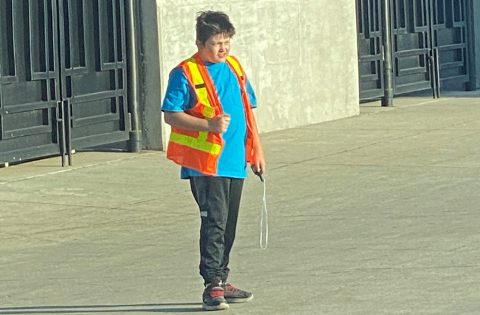 "Brian and I walked up to him, and he stuck his hand out and said, 'Hi, my name is Bobby.' You can tell that was the highlight of his day," Bechtel said. "You could see that his eyes kind of lit up and he got a little bit of a smile on his face."
Maser says the day the crew talked to Bobby was a memorable experience for her son.
"He was a little flabbergasted and went out and talked to them," she said. "They gave him two hats, a flashlight and a water bottle. He was very ecstatic and wouldn't even sleep that night. He loves them – they are so good to him."
Before they parted ways, Bobby asked them to take a picture with him as well as perform a train horn salute – and they gladly obliged.
Recently, as Bechtel and the crew passed the Wichita Union Station, they spotted Bobby wearing the hat they had given him.
"I'm a rail fan and like the trains so much that I come up here almost every day," Bobby said.