For those too young to know the true cost of war, The National WWII Museum is a place to experience the unsettling sights and sounds all too familiar to those who lived through it.
Just a few steps inside the museum's main entrance, beneath the soft click of a replicated railroad split-flap display, visitors find themselves standing in a 1940s-era train station. They're encouraged to use their digitally enabled dog tags to listen as veterans recount their war experiences.
As they wait to board the rail car replica, visitors are asked to choose a service member to follow into war. The rail car they are about to board, named "The North Platte," is a nod to the iconic North Platte Canteen that fed and comforted millions of service men over the course of the war.
"The train took our fighting forces away from their loved ones and sent them to war," said Dr. Gordon H. "Nick" Mueller, president and CEO of the National WWII Museum. "This train station gives our guests a feel for these poignant leave-takings that occurred in every corner of the country."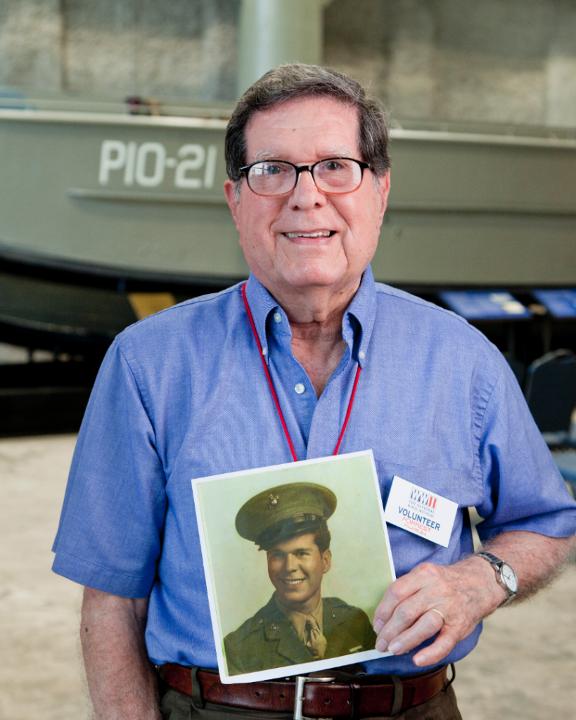 The true-to-life rail car experience is just one way the museum vividly communicates stories from World War II. As visitors come across detailed accounts of the brutal four-year-long war that changed the world forever, emotions often overflow.
Helping bring history to life are the museum's volunteers, many of them veterans with their own stories to tell. One of them is Forrest Villarubia.
"I'd just turned 18 and I'd never been further than 20 miles from New Orleans when I found myself on a train going west to San Francisco," the WWII veteran said. "My mother, girlfriend and sisters saw me off. I was more excited than scared in the beginning."
Villarubia, a Marine who served in the Pacific, vividly remembers his return home on a train. "The picture I have in my head is coming over the Mississippi River Bridge," he said. "I went outside to look, and I was overwhelmed that I had made it back to New Orleans. To be honest, I did not expect to come home."
During the war, U.S. railroads moved 90 percent of military freight and 97 percent of all military passengers. Almost 44 million troops – as many as 4 million every month – rode the nation's railroads between 1941 and 1945. Union Pacific is the only major railroad from the WWII era that continues to operate under its original name, which was established when President Abraham Lincoln signed the Pacific Railway Act of 1862.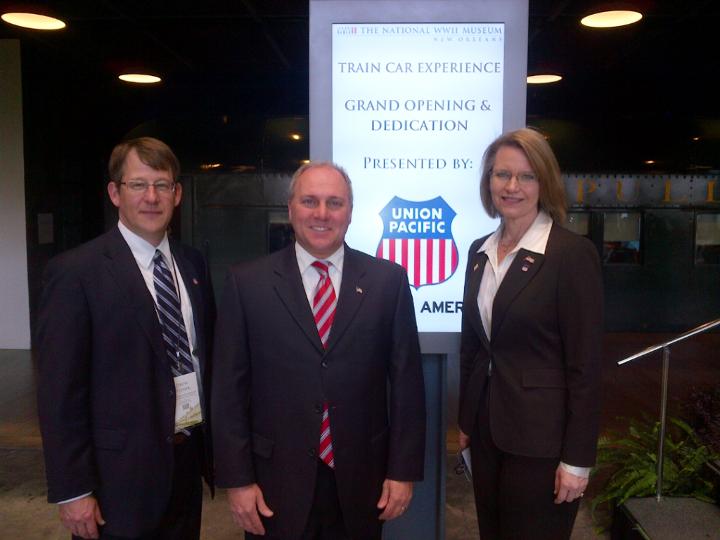 To assist in the creation of this touching exhibit, Union Pacific donated $250,000 to The National WWII Museum. "We supported the rail car experience because of our connection," said Union Pacific's Brenda Mainwaring, vice president of Public Affairs- Southern Region. "Union Pacific's history is so closely intertwined with the history of World War II."
UP continues to have a longstanding connection to the U.S. Military. Veterans are a large, important part of our employee base. "To this day we have dozens of employees who can trace their history with the railroad back for generations," Mainwaring said. "That's part of what makes Union Pacific special: We remember and value our heritage. It's treasured."
Preserving the history of WWII is critical to remembering who we are as Americans. A key element of The National WWII Museum's mission is to carry the sacrifices of WWII veterans into the future so new generations will understand the price of freedom.
Like Villarubia, many of the museum's visitors are veterans trying to share their past with their families.
"For them to be able to point to that rail car and say, 'I remember when I rode the Union Pacific,' it enhances that experience for them and their families," Mainwaring said. "When I think about the role the railroad played in the lives of all those people who were affected by WWII… I do get choked up. It's tangible evidence of how important that time was to our history. To be part of the story is special."
The National WWII Museum is located at 945 Magazine Street in New Orleans, Louisiana. It is open 9 a.m. to 5 p.m. daily. Plan your visit online at www.nationalww2museum.org.