Heavy Rains and Flash Floods in the Texas Gulf Coast Impacting Operations
Announcement Number: CN2019-63
Categories: General Announcements
Posted Date: September 19, 2019
To Our Customers,
Heavy rains and flash floods in the Texas Gulf Coast from Tropical Depression Imelda have caused service outages in the Beaumont and Galveston, Texas, areas. Last evening, the storm stalled over the Beaumont area, resulting in more than 10 inches of rain in a concentrated geography.
Road closures in the area are also impacting travel for crews and support staff and in some instances are restricting their ability to reach flooded areas. Customers with shipments moving through the impacted areas may experience delays between 48 to 72 hours due to these weather events. As a result of the flooding, Union Pacific is issuing embargoes for the affected areas. Please refer to the published embargo notices for the specific parameters.
Although Imelda weakened from a tropical storm into a tropical depression Tuesday night, the storm continues to bring heavy rainfall to areas of Texas, which could see another 5 to 10 inches of rain tomorrow. We will continue to monitor these areas and have positioned resources to react quickly to any additional service interruptions these weather conditions may cause.
Due to the flooding conditions in the area, customers who have been affected by flooding should also be mindful of AAR Interchange Rules. Rail cars damaged from flooding must go through a joint inspection with a Union Pacific Mechanical Representative and customer industry.
If you suspect or see that minimum water level has reached the "RED" line (see image below), take the following actions:
Report to Union Pacific all rail cars and location, including private, system and foreign-owned equipment.
Do not move rail cars until released by the Union Pacific Mechanical Department.
Report impacted rail cars by logging a Service Issue (user ID and password required).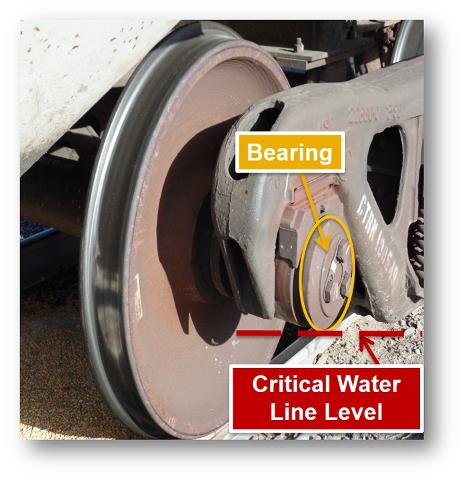 If you have any questions, please contact Customer Care & Support at 800-272-8777 or your Union Pacific representative.