Commercial Update from Kenny Rocker, EVP, Marketing & Sales
Announcement Number: CN2019-68
Categories: General Announcements
Posted Date: November 4, 2019
To Our Customers,
It's been a year since we began implementing Unified Plan 2020. In fact, October 1 marked the first year anniversary, and I'm happy to report we've made remarkable strides since that date.
Looking at September service performance, we're seeing continued improvement and a better service product for you, our customers. Now that service is leveling up, we can shift our focus to being hyper vigilant about helping you grow – and growing right along with you.
Specifically, here's where we stand on our key metrics:
Car Velocity (daily miles per car) — Compared to third quarter 2018, car velocity has improved 10% in the third quarter of this year — and October is holding steady.
First Mile/Last Mile (delivering and picking up rail cars to/from customer facilities per the train schedule) — We're keeping pace with the record numbers we reported last month, remaining at 93%, an increase from 80% in September 2018.
Car Trip Plan Compliance (on-time shipment delivery) — Improved train velocity and lower car dwell times have resulted in a 10-point improvement in the third quarter of this year over third quarter last year, and October car trip plan compliance is improving. We're seeing better on-time performance across all of our product offerings.
October's numbers are trending positive, too. Each month we're building on the progress we've made in the months prior — and the numbers show service looks better than it did a year ago, before Unified Plan 2020 was in place. Our strategy is working. We are gaining momentum, and as we get better and better, so does your service product. That's our goal!!
Removing Network Complexities
Part of our Unified Plan 2020 strategy is to look for ways to reduce "car touches." Recently, we curtailed operations at Neff Yard in Kansas City, Missouri, shifting switching operations to the 18th Street and Armourdale yards, which are located in Kansas City, Kansas. This will allow us to drive blocks deeper in the network. The result will be a more fluid network and a better, more consistent service product.
Removing network complexities like these has improved our service product. Today, we're operating at the strongest levels we've seen in the last three years. We've set the table, and now we're poised to help you compete — and win — in the marketplace.
Speaking of Improvements…
We're also taking other strides to improve your experience as a Union Pacific customer.
Pricing response times — One area on which we've been laser focused in 2019 is improving our response time for customers looking for pricing options for their freight. We've listened to your feedback to improve this process and have made doing so a priority. We've recently deployed process improvements that have dramatically reduced our response time to our customers by nearly 40 percent, and we're still working hard to get even faster and easier to do business with.
Application Programming Interfaces (APIs) — We recognize that you use data to make decisions and manage your supply chain. This year, we've invested in the development of APIs to introduce another way to connect, integrate and interact with the data in your rail network. APIs provide a new way for Union Pacific's systems to integrate with our customers and supply chain partners, reducing manual work and streamlining business transactions. In addition to the trace API pilot we launched in 2018, we've built an additional suite of API services that will be launched later this year. These services will tell you more about your shipments, provide account, location and equipment details, and serve as the building blocks for our supply chain data integrations. To learn more about Union Pacific APIs and get the latest information on their development, complete this form.
Track Record — I also want to make sure you know about Track Record by UP, an online magazine that helps transportation and logistics professionals like you keep up on industry tips, trends and insights. It even has a 101 section for those who are new to rail. We're not just talking about UP — we're talking about the subjects that matter in your world. If you're looking to up your transportation and logistics intelligence and learn ways to improve your supply chain performance, I think you're going to like Track Record. To get an email each week with the latest article, subscribe for free at up.com/trackrecord. You can also find Track Record on Facebook (Track Record by UP) and Twitter (@TrackRecordbyUP) for links to the latest articles and other bonus content.
We have a lot going on and we know you do, too. But I always want to take time to say this: Thank you for your business!!

Sincerely,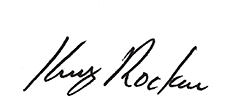 Kenny Rocker
Executive Vice President, Marketing & Sales