Commercial Update from Kenny Rocker, EVP, Marketing & Sales
Announcement Number: CN2020-2
Categories: General Announcements
Posted Date: January 27, 2020
To Our Customers,
2020 is here!! When we launched Unified Plan 2020 back in 2018, it seemed so far away. And yet, here we are with more than a year's worth of progress behind us.
As we roll into the "20" in Unified Plan 2020, I am happy to report we're seeing strong performance coming out of the holidays, and we're operating better today than we were at the end of 2019.
Performance Metrics
Here's a look at where we stand on our fourth quarter 2019 key metrics:
Car Velocity (daily miles per car) – Compared to fourth quarter 2018, car velocity has improved 5%.
Car Dwell (the amount of time a rail car spends in a Union Pacific rail terminal/yard) – We have seen a 13% improvement compared to fourth quarter 2018 — that's almost four fewer hours of dwell time compared to last year.
First Mile/Last Mile (delivering and picking up rail cars to/from customer facilities per the train schedule) – We continue to hold steady at 92% for first mile/last mile, up from 81% in fourth quarter 2018.
Car Trip Plan Compliance (on-time shipment delivery) – We continue to see better on-time performance across our network, and we ended last quarter up 9 points compared to where we were in the fourth quarter 2018.
These numbers are great, but I'm most excited that our customers are seeing continued improvement. The fact that you're receiving the positive effects of our operating changes is meaningful beyond numbers.
Building Technology to Improve Your Customer Experience
Last year I talked to you about the Application Programming Interface (API) strategy we were piloting with customers. Our API services give us the ability to exchange data between our systems and yours — giving you direct access to supply chain data. I'm happy to announce we have fully launched this strategy and our APIs are available to all our customers.
Our API platform will reduce your manual work and streamline business transactions between our companies. APIs currently available to you include:
The Shipment API, which provides real-time information on your shipment's location and ETAs.
The Action API, which lets you complete actions like releasing equipment and creating intermodal terminal reservations.
The Cases API (also known as a "service issue"), which alerts you when shipments are off course and may require your attention.
We plan to expand our API capabilities later this year, further enhancing the services and integrations available to you.
To get started, visit our Union Pacific Developer Center.
If you'd like to learn more about how APIs work and how they're changing the logistics landscape, check out this recent Track Record article.
The Future Is Now
The start of a new year is always exciting, with so many possibilities for an improved customer experience and growth ahead — both ours and yours. I'm especially excited by the ongoing progress of Unified Plan 2020 and the continued benefits you're going to see to your supply chain as a result. We strive to provide you the best service and customer experience possible.
Thank you for your business!!
Sincerely,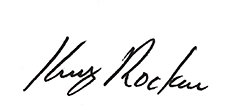 Kenny Rocker
Executive Vice President, Marketing & Sales