Status of the Railroad - A Message from Kenny Rocker, EVP, Marketing & Sales
Announcement Number: CN2020-58
Categories: General Announcements
Posted Date: October 28, 2020
To Our Customers,
As we round out the month of October, I hope you and your families are staying safe and healthy. Safety is our top priority, and we remain focused on our employees' well-being so they can provide you with a service product that is fluid and reliable.
Our network operations continue to perform at a high level — car velocity is improving, driven by faster train velocity and lower car dwell. Here are our key operating metrics for the third quarter:
Freight Car Velocity (daily miles per day) – Compared to a year ago, car velocity has improved 3%.
Freight Car Terminal Dwell (the amount of time a rail car spends in a Union Pacific rail terminal/yard) – We have seen a 3% improvement compared to this time last year.
Car Trip Plan Compliance (on-time shipment delivery) – Intermodal trip plan compliance was 77%, a decrease by 4 points. However, manifest/auto trip plan compliance improved by 5 points to 72%.
Intermodal trip plan compliance was impacted by the volume surge in the West Coast during the third quarter. Although we positioned equipment in Southern California in anticipation of the increased demand, we saw some imbalances following the first wave of freight. Our Operating team responded quickly with resource and transportation plan changes — and we improved our intermodal trip plan compliance to the low to mid 80s by the end of the quarter and through October. Going forward, we are working with customers to turn assets and equipment faster.
Enhancing Shipment Visibility and Event Reporting
We know how important it is for you to have visibility of your shipments, along with timely status updates. That is why we recently enhanced our Application Programming Interface (API) services. Our APIs allow information to be shared between our systems and yours, enabling them to "talk" to one another.
Most recently, we upgraded our Shipping API event reporting to include "Planned Union Pacific Events" and "Offline Events." We also added a new service that enables you to look up active waybills, in addition to an abbreviated "Track Shipments" application that provides critical shipping data to dray carriers and supply chain partners.
Looking Forward
I'm optimistic that the transformative changes we're making as a company are setting us up to help you compete and win in the marketplace. And speaking of changes, it was recently announced
Eric Gehringer
has been appointed executive vice president-Operations effective January 1, 2021. Eric and I both share a passion for driving innovation and performance, and I am excited to work with him and the Operating team to continue pushing UP to be the best service provider in the industry.
We appreciate your business and look forward to seeing what we can accomplish together!
Sincerely,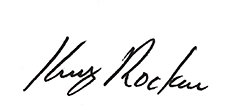 Kenny Rocker
Executive Vice President, Marketing & Sales