Status of the Railroad - A Message from Kenny Rocker, EVP, Marketing & Sales
Announcement Number: CN2022-15
Categories: General Announcements
Posted Date: April 11, 2022
To Our Customers,
As we continue to work toward resolving our service challenges, I want to provide another update to you. Over the last few weeks, our network has experienced some setbacks – including numerous service interruptions, crew shortages in select areas and delays to our network – as we have seen our operating inventory continue to climb over the past 60 days. This additional inventory has led to more congestion in yards, an imbalance of our resources, and further slowdown of our operational performance. You deserve transparency when it comes to our service, so I'd like to provide an update on where we stand today and the immediate actions we have and are taking.
Actions Taken
Locomotives Supply – We added 50 locomotives to our active fleet since January and are adding an additional 100 locomotives.
Crew Supply - While the current demand for crews is high, we are facing a tight labor market. As I've noted before, we are recruiting heavily to alleviate crew shortages in certain locations and have modified our recruiting strategies to attract more applicants. We are aggressively hiring and streamlined our onboarding process to get new hires on the job faster. We have 450 employees currently in training to graduate in early summer with more in the pipeline. Additionally, we relocated approximately 80 crew members to support crew demand in specific locations across the system.
Operating Inventory – We are removing 2% to 3% of UP-controlled cars from our network across multiple commodity groups. We are in daily dialogue with our unit train customers to maintain fluidity and reduce their inventories on our system. For intermodal, we are closely monitoring the inland ramps to make sure our supply chain partners have ability to dray their shipments off the ramps.
Next Steps
Despite the actions I mentioned above, the operating inventory levels continue to rise on a daily basis. We are now asking for your help to further reduce the number of active rail cars on our network. We have already identified and notified those customers who can help us manage the current congestion by reducing their rail car inventories. If we do not see reductions to the operating inventory through their voluntary efforts, then we will begin metering traffic after April 18th. This action, along with our other ongoing initiatives, will give us the ability to work through our backlog and improve the service for all our customers. We are actively monitoring the progress of our operating inventory levels and will remain in close contact with you to keep you updated.
Thank You
As always, thank you for your patience, your loyalty and your business. By working together, we will restore service to the level that you expect and deliver a more reliable service product to all our customers.

Sincerely,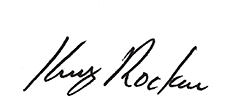 Kenny Rocker
Executive Vice President, Marketing & Sales