Service Interruptions in the Midwest; Northern California Outage Update
Announcement Number: CN2017-29
Categories: General Announcements
Posted Date: May 1, 2017
To Our Customers,
Recent severe weather in the Midwest is impacting several areas across our network. Flooding has caused mudslides and washouts along our rail lines between St. Louis and Poplar Bluff, Missouri, in addition to water over the track between Mt. Vernon and Chester, Illinois. Crews are working to make repairs where it is safe to do so. With additional flooding expected this week, service in the impacted areas will remain suspended until water levels recede.
Additionally, we are experiencing major power outages across a 100-mile area around Pratt, Kansas caused by ice. Crews are putting generators in place to maintain rail crossings, and we expect service to return to normal levels over the next 36 to 48 hours.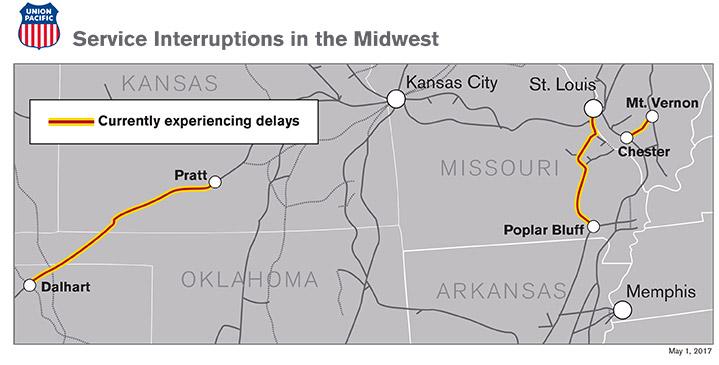 Northern California Rail Outage Update:
We continue to reroute trains around the main line outage between Redding and Dunsmuir, California. We estimate service along the impacted lines will be restored by the end of May. Customers may see their shipments diverted and can expect delays of three to four days on average.
Thank you for your patience as we work to restore service to the impacted areas of our network. Please contact the National Customer Service Center or your Union Pacific representative with any questions.