Update: Service Interruptions in the Midwest
Announcement Number: CN2017-30
Categories: General Announcements
Posted Date: May 2, 2017
To Our Customers,
Severe weather over the weekend and heavy rains this week across the Midwest continue to impact service across our network.
The Meramec River near St. Louis is rising rapidly, leading to additional flooding and cutting off rail access from St. Louis to Jefferson City, Missouri. Several areas of track are currently underwater, with water levels continuing to rise as additional rain is forecast for Wednesday and Thursday. We expect the outage along this corridor to last several days, and we will begin assessing damage when flood waters recede. Customers can expect delays as trains are being rerouted to avoid the impacted area.
Service remains suspended between St. Louis and Poplar Bluff, Missouri; and Mt. Vernon and Chester, Illinois. Work to repair damage caused by washouts and mudslides along these areas of track continues where it is safe to do so.
Generators are in place and electrical power has been restored to the area surrounding Pratt, Kansas. Service is returning to normal levels.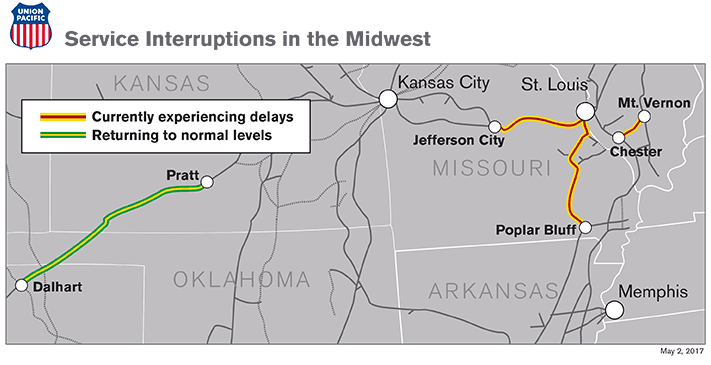 Thank you for your business. Please contact the National Customer Service Center or your Union Pacific representative with any questions.