Preparing for Winter Weather in the Western and Northern Regions
Announcement Number: CN2017-5
Categories: General Announcements
Posted Date: January 16, 2017
To Our Customers,

Service recovery efforts continue over our Pacific Northwest route in Eastern Oregon and Idaho, which has impacted through-service between Portland and Chicago and local service in the states of Oregon, Washington and Idaho. Another storm is forecast to hit the Pacific Northwest late today, bringing a threat of flooding to the mountains and valleys. Moderate icing is also expected east of the Washington Cascades. The storm will move slowly southward into the middle of the week, bringing a threat of flooding to much of Central and Northern California.

We also have a winter storm that brought ice to Kansas, Missouri, Nebraska and Iowa late Sunday, shifting up to South Dakota, Minnesota and Wisconsin today. We are enacting our winter plans and doing everything we can to mitigate the impact of these storms. Some of the steps we have taken include making adjustments to our crew base, pre-staging generators, and adding additional track and signal support in the soon-to-be-affected areas. As of now, the impact has been less severe than originally anticipated at this stage of the oncoming ice storm. We will continue to monitor movement for the Midwest as we move through the week.

As pictured below, ice and snow make it extremely difficult to keep routes clear for our main line and local service operations, as it takes hours and sometimes days to clear the affected areas. The weather in the Pacific Northwest has already elongated dwell time in many of our classification yards. Where processing would normally take 24 hours, it is now taking up to 72 hours to process shipments in places like Hinkle, Oregon. We can expect similar delays for the areas impacted by the ice storms affecting our operations this week.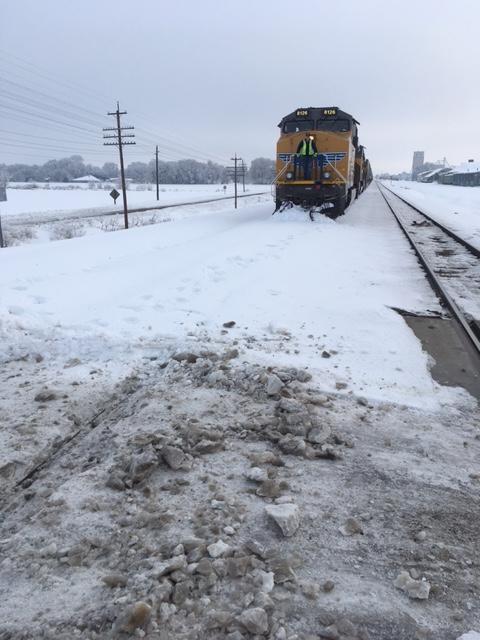 Service Recovery Efforts Continue in the Western Region
Our operation was restored in the Feather River Canyon near Portola, California Sunday morning, and we have started to shift traffic back to normal routing protocol. Our Maintenance of Way team will be working on this route throughout the week to remove all slow orders and fully restore the operation to a normal state. The "before" and "after" photos below demonstrate the magnitude of this event.
Before Work Was Completed: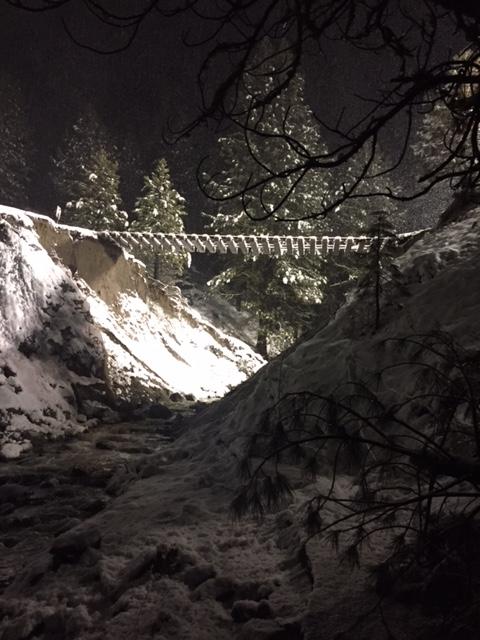 After Work Was Completed:
Operations remain suspended between Wallula and Spokane, Washington due to an interruption south of Spokane. We are currently rerouting traffic around the affected area on a limited basis. Due to the nature of the interruption, customers can expect shipment delays of 72 to 96 hours.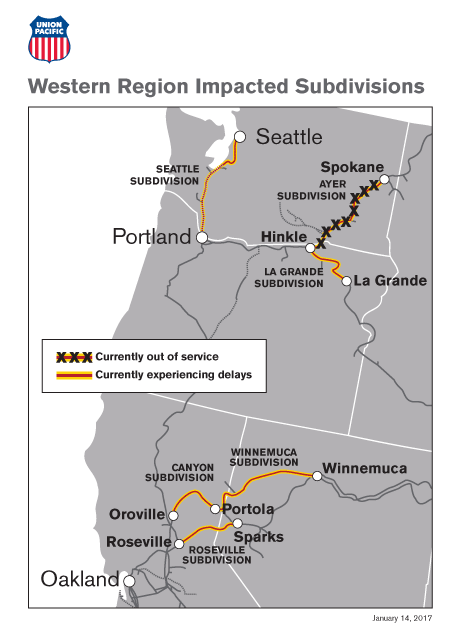 Thank you for your business. Please contact the National Customer Service Center or your Union Pacific representative with any questions.