Chicago Intermodal Simplification and Service Update from Kenny Rocker, EVP, Marketing & Sales
Announcement Number: CN2019-28
Categories: General Announcements
Posted Date: May 2, 2019
To Our Customers,
As you know, these last few months our network and service suffered at the hands of Mother Nature. Fortunately, we have begun to recover from the challenges we faced, and I am pleased to offer a more positive update this month compared to those past.
But before I share the latest on our service and some upcoming changes to our network, I'd like to acknowledge that the challenges our system faced do not compare to the personal losses many families — including some of you, our customers, as well as members of our Union Pacific family — encountered as a result of flooding and extreme storms. We have the benefits of crews and resources at the ready to quickly repair the damage done, but many of the individuals impacted were not as lucky and have a long road ahead. Our hearts go out to all of those affected as they continue to work toward restoring normalcy in their households.
Service Update
Turning back to our network, I am happy to report that service is improving. Thanks to the hard work of our crews to restore service following severe weather events and full implementation of the initial phases of Unified Plan 2020, we are seeing the following trends:
Train velocity has increased, meaning shipments are moving faster across our network.
Car dwell is down, indicating cars are spending less time sitting idle in yards.
Freight car velocity has increased as a result of the faster train velocity and lower car dwell, resulting in lower freight car inventory.
More trains are launching on time, which is indicative of more predictable, reliable service.
Seven-day car trip compliance has increased to 66 percent, which means we're making progress on keeping our commitments to customers.
In other words, the key metrics we evaluate to assess the health of our network and service are moving in the right direction.
Chicago Intermodal Simplification and Other Changes to Our Intermodal Network
Speaking of Unified Plan 2020, a key goal of this new operating strategy is to provide a more consistent, reliable service product. To achieve that goal, we took an end-to-end look at our intermodal network to find ways to simplify the supply chain. This assessment led us to identify three key changes we will implement in the months ahead:
Simplifying the Chicago Intermodal Complex. Currently, Chicago is home to six intermodal facilities, five of which are active ramps and one that acts as an equipment depot. Many of our ramps handle a mix of domestic and international business. Operating six facilities with a variety of equipment at each creates complexity for Union Pacific (equipment issues, additional switching), as well as our customers (complex drayage arrangements and vendor management), creating a greater likelihood of supply chain failure. Therefore, we will be idling the Global 3 (G3) Intermodal Ramp in early July, and the Canal Street Container Depot will follow shortly thereafter. We will also move international volume out of Global 2 (G2), allowing each facility to focus on a specific business segment: Global 4 (G4) will handle predominantly international intermodal shipments, G2 domestic intermodal shipments, and Yard Center auto parts and North/South shipments. As these changes go into effect, we will continue to evaluate the Chicago complex for opportunities to simplify and will keep you informed in advance of any further developments.

Assigning G4, G2 and Yard Center to specific business segments will allow us to roll out operational changes that yield significant operational improvements. For instance, we have already begun to make adjustments at G4 that have allowed us to strip and reload trains faster. These changes have dramatically reduced car dwell and should make a larger impact as they are rolled out fully at G4 and at G2 following consolidation. To support increased volumes at G2 and G4, we will invest capital to transform them into state-of-the-art facilities capable of accommodating even greater capacity than they do today.

While these changes to the Chicago intermodal complex allow us to streamline operations and offer faster loading and unloading of containers, they will also result in benefits to our customers. Currently, many customers must arrange drayage and pick up loads at multiple ramps. By condensing specific shipment types to a single facility, customers will likely benefit from fewer vendors to manage, simplified billing and, in some cases, reduced chassis repositioning costs. And of course, with all changes related to Unified Plan 2020, our intention is to provide you with more consistent, reliable and predictable service. We believe simplifying the Chicago intermodal complex will do just that.
Adding a Block Swap Yard to our Santa Teresa Intermodal Ramp. When intermodal containers arrive at our inland ramps, they often wait until sufficient density is available before a train is launched to one of 12 destinations in the Los Angeles basin. This dwell time ultimately adds cycle time to a container. By adding a block swap yard in New Mexico, containers from our inland ramps destined to Southern California will launch more frequently to the block swap yard, where we will promptly consolidate them to a train to continue moving toward their specific destination. This change will reduce dwell time and congestion, ultimately reducing transit time overall.
Extending Sunset Corridor Sidings. In an effort to improve network fluidity and complement our Santa Teresa investment, we plan to extend sidings throughout the Sunset Corridor. Doing so allows us to build longer trains and further leverage our prior investment in this corridor.
As with previous changes, we will be working with you through every step of this transition to make it as seamless as possible for your business. We trust the result of these changes will be a stronger, more reliable network that ultimately serves you better. If you have any questions, please reach out to your Union Pacific sales rep.
As Always, Thank You
Thank you for working with us as we transform our railroad into the high-performing network of the future. Please know that we appreciate your support and patience during this time.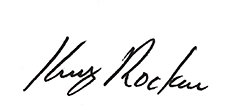 Kenny Rocker
Executive Vice President, Marketing & Sales