Service Update from Kenny Rocker, EVP, Marketing & Sales
Announcement Number: CN2019-47
Categories: General Announcements
Posted Date: June 12, 2019
To Our Customers,
Since my last service update in early May, Mother Nature struck her heavy hand again, this time to our Heartland Service Unit in our Southern Region – bringing severe flooding throughout Kansas, Missouri, Oklahoma and Arkansas and impacting one of our key North-South corridors. At any given time during the last week of May, we had up to eight subdivisions impacted by flooding.
I'm including a few images that speak volumes about the impact the flooding has brought to our network. In some places, the water was eight feet above the rail and even reached the second story of nearby homes.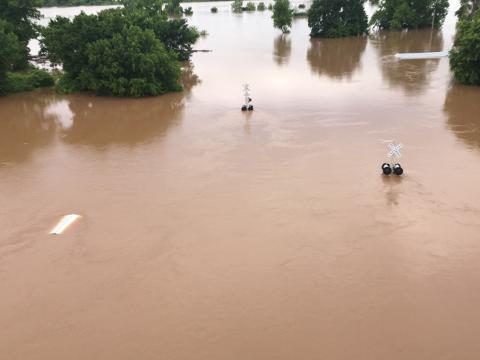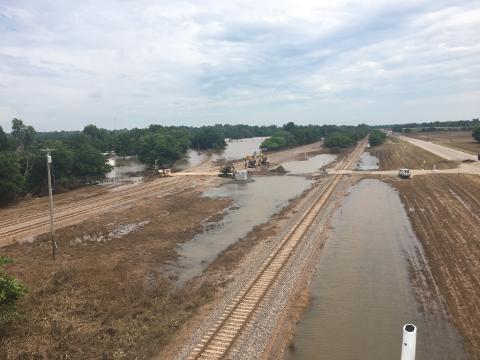 Note the top of the rail signals on the left, the right image is after the water receded.
Working around the clock, our Operating team has done a phenomenal job at assessing our track structure in the impacted areas. With resources staged strategically, we are making repairs as quickly as possible to return the lines to service.
As of today, I am pleased to report that we are down to only three impacted line segments. The estimated time to re-open these lines will be determined once the water levels have receded and we can safely assess any damage. We will continue to monitor several locations along the Missouri River in Missouri and Kansas and the Arkansas River near Pine Bluff, Arkansas.
Network Health
Despite the outages with the severe weather, our network remains agile and resilient. Our metrics slowed down in the latter part of May with the widespread flooding events, however, overall results for the full month of May improved from April.
Car Velocity – Daily miles per day is up four percent. We are moving cars faster.
Car Dwell – Down to 25.3 hours, April was at 26.2 hours. Cars are spending less time sitting idle.
First Mile/Last Mile Service – Currently hovering around 90 percent, this measurement illustrates our commitment to spotting and pulling rail cars to and from customer facilities per our local service schedule.
Car Trip Plan Compliance - Improved by three percent which gives you more predictable service.
We are encouraged that as we restore the network back to normal operations, our key performance metrics will quickly return back to the pace we were setting before the storms. Comparing these metrics to where we were at in 2018, we are still beating three of the four metrics shown above, which makes me extremely optimistic on how far we have come with the implementation of Unified Plan 2020.
We Appreciate Your Business
We truly appreciate your business and patience as we "weather the storm". We will continue to keep you updated on delays as we work to restore service to normal levels.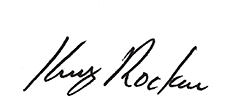 Kenny Rocker
Executive Vice President, Marketing & Sales