COVID-19 and the Status of the Railroad - A Message from Kenny Rocker, EVP, Marketing & Sales
Announcement Number: CN2020-11
Categories: General Announcements
Posted Date: April 1, 2020
To Our Customers,
As the COVID-19 pandemic continues, I want to provide a point of reassurance: Our network remains fluid and we are continuing to serve our customers. We are still here for you, and you can continue to count on Union Pacific to support your transportation needs.
The State of the Railroad
Despite the current challenges, operations remain solid.
The network is running smoothly. We have sufficient resources to operate, both in terms of crews and locomotives, and we continue to serve our customers.
We're delivering critical resources. Many of our customers are considered essential to the nation's economy, and we're positioned to serve them. I take pride in knowing we are supporting you while also doing our part to make sure people have access to essential supplies, like non-perishable items, soda ash to make soap, alcohol for hand sanitizer, and plastics used in test kits, medical gowns and surgical masks, as well as other critical resources.
We're working together. You have been doing an excellent job of collaborating with us to make sure we keep the supply chain moving as we help to deliver products that consumers need at this time. Together, we are making a big impact in supporting our communities. We hope you'll continue to communicate with us, submitting service issues if your facility is expecting any disruptions to its operations and communicating with your sales rep. Our sales and customer service teams are ready to help.
I am proud of the work we're doing to support you and to support the nation.
Keeping Employees Safe
As you know, safety is always our top priority. We continue to take precautions to protect the health and safety of our employees, as they play the most critical role in keeping operations up and running. The latest include:
Remote work. Employees who have the ability to work from home have been asked to do so through Monday, April 20. We will continue to reevaluate this date on a weekly basis. We are finding new ways to work together and support our railroad and its front-line workers during this national emergency. We are also engaging in more collaboration tools like video conferencing to stay connected to our customers. Your sales reps are accessible, engaged and ready to support your needs, so don't be afraid to reach out.
Mitigating potential exposures. In the instance an employee is exposed to the virus, we have a robust mitigation plan in place, and we are prepared to activate these protocols quickly. We are properly disinfecting facilities and equipment to protect employees, and employees who may have been in contact with any affected employees are being quarantined.
Working with the appropriate agencies. We are staying in constant communication with relevant federal agencies as well as state and local officials on evolving public health developments and efforts to contain the spread of the virus.
Let Us Know What You Need
During this time of uncertainty, we know things can change very quickly. As you experience shifts in your supply chain, please let us know. When you need a reliable partner to step in and help, we will be here for you.
Sincerely,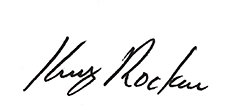 Kenny Rocker
Executive Vice President, Marketing & Sales