Status of the Railroad - A Message from Kenny Rocker, EVP, Marketing & Sales
Announcement Number: CN2021-65
Categories: General Announcements
Posted Date: November 23, 2021
To Our Customers,
This Thanksgiving, I want to share my sincere appreciation to you and your supply chain partners. We thank you for your business and want you to know that we never take it for granted. We recognize there have been challenges over the past weeks. We are committed to improve service consistency and provide the level of service you expect from us and we expect from ourselves.
Here is a quick look at our MTD 7-day metrics compared to October:
Car velocity fell by 3% to 194.
Car dwell is flat at 24.6.
Manifest trip plan compliance (on-time performance) dropped by 1 percentage point to 56%.
Intermodal trip plan compliance increased by 1 percentage point to 78%.
The Operating team is fully engaged and is actively working on several targeted initiatives aimed at increasing our network speed and enhancing our reliability, such as:
Increasing our TE&Y workforce — up 4% compared to a year ago and have taken the additional step to recall all remaining furloughed employees. This incremental action is intended to help offset higher than average crew layoff rates over the past weeks, due in part to COVID-related absences. We are hiring above anticipated attrition rates.
Transferring crew resources to targeted locations with increased volumes above original customer forecasts.
Returned more than 80 locomotives to the fleet since mid-October.
Added a Southern Region Command Center to have a dedicated support team to assist local operations.
Modified several transportation plans to speed up cycle times.
With your support, we are confident these initiatives will drive further improvement in our service metrics and enhance your shipping experience.
Thank You
As always, thank you for your business. I hope you and your families are doing well and will have an opportunity to gather and give thanks this week. I'm personally grateful for many things this year — my wonderful family, good health and college football — my team remains undefeated! Have a wonderful Thanksgiving holiday.
Sincerely,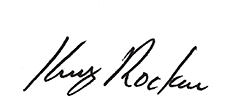 Kenny Rocker
Executive Vice President – Marketing & Sales