Status of the Railroad – A Message from Kenny Rocker, EVP, Marketing & Sales
Announcement Number: CN2022-34
Categories: General Announcements
Posted Date: June 9, 2022
To Our Customers,
I know the past several months have been difficult. Stored equipment has resulted in challenges for our customers across our Manifest, Intermodal and Bulk networks. The encouraging news is that more than 530 employees are currently in training and nearly 300 have graduated this year. As we head into the summer, maintaining a balance of resources will be critical.
We know what's top of mind for you is our plan to add cars back into the network. I want to assure you that our action plans are targeted at balancing the need to bring back cars as we increase car velocity and reduce cycle times.
We continue to closely monitor key Operating metrics as indicators of network fluidity and reported the following to the Surface Transportation Board (STB):

Progress April 16 through June 3
Operating Car Inventory: Removed 17,139 cars from our inventory, which reflects active inventory minus cars placed at customers' facilities.
Car Velocity: Increased from 177 to 193 miles per day.
Train Speed: Increased from 22.9 mph to 24.2 mph.

Last Week's Progress: May 27 through June 3
Operating Car Inventory: Removed 4,213 cars into inventory.
Car Velocity: Increased from 188 to 193 miles per day.
Train Speed: Increased from 23.8 mph to 24.2 mph.
Investing in Technology to Power Solutions
I am excited about some new tech initiatives kicking off. On Tuesday, we announced our collaboration with RailPulse, a coalition of railcar owners who are working together to accelerate the adoption of GPS and other telematics technologies across the North American rail network. The goal is to provide real-time information and sustained visibility of a railcar's status, location and condition to shippers, railcar owners and railroads. Increasing this visibility will improve safety and efficiency across the supply chain. We are beginning with a pilot as the technology platform is set to launch in late 2022.
We also launched a new Subscription Center and Track Maintenance notification at MyUPRR.com this week. For those who subscribe to various notifications, such as Shipment Notifications, Marketing Notifications and Price Notifications, the new Subscription Center dashboard consolidates everything into one place. Plus, we're adding a feature that notifies you when track work is scheduled within your facility's serving area. I hope you'll check it out and subscribe!
Thank You
As always, thank you for your patience, loyalty and business. We remain committed to restoring service to the level that you expect and deserve.
Sincerely,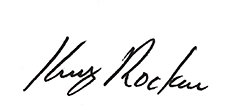 Kenny Rocker
Executive Vice President, Marketing & Sales