Status of the Railroad - A Message from Kenny Rocker, EVP, Marketing & Sales
Announcement Number: CN2022-4
Categories: General Announcements
Posted Date: February 4, 2022
To Our Customers,
As February begins, I'm encouraged with the progress our Operating team has made to improve our service to you. This is the second consecutive month we've seen positive improvements to most of our key performance metrics, despite being impacted by some crew shortages over the holidays and a few service interruptions, including harsh winter conditions in the Midwest.
Here is a quick look at January's key operating metrics compared to December:
Car velocity improved by 6% to 208.
Car dwell is down to 23.0 hours, improvement of 3%.
Manifest trip plan compliance (on-time performance) increased by 6 percentage points to 68%.
Intermodal trip plan compliance held steady at 78%.
We realize that there is still opportunity for improvement, in particular, for our bulk network as demand continues to be strong. We have repositioned locomotives and crews to support the increased bulk demand. In addition, we have significantly enhanced our crew hiring and recruiting strategies to further attract more candidates in locations with tight labor markets. We remain focused on these targeted initiatives to drive more fluidity throughout the network in order to provide you with a better service product.
Winter Storm Impacting the Midwest
Heavy snow, sleet and freezing rain are impacting operations from Texas northward through Kansas, Missouri and Illinois. Our 24-hour Weather Command Center is addressing service interruptions as quickly and safely as possible. We have additional resources positioned to aid in the recovery as needed. Our team will continue to provide updates to you as the network recovers from the storm.
Expanding Our Network Reach
We're excited about our recent acquisition of the Precision Components Inc. (PCI Reload) transload facility in Phoenix, Arizona. This investment provides our customers transloading, storage and trucking solutions to reach the growing Phoenix market. PCI Reload is a premier transload facility located in the heart of Phoenix. The 100+-acre facility will be managed by Loup Logistics and is the newest addition to their existing network of 17 bulk transload facilities and six wind distribution centers. If you are interested in learning more about Loup's Phoenix transload site, please contact your sales representative.
Amplifying Your Voice to Improve Your Experience
We truly value your feedback and rely on it when prioritizing actions and investments to improve your experience. We've taken your direct feedback to expand our API offerings, introduce specific proactive notifications regarding shipment delays, and developed a simpler onboarding process – to just name a few.
To understand your perspective more fully throughout all the steps of your customer journey, you can expect to receive more short surveys going forward. We appreciate your responses so we can hear about your experience and continue to drive meaningful enhancements.
Thank You
We remain committed to providing you with a safe, solid service product and look forward to growing the business with you. Thank you for choosing Union Pacific as your rail transportation partner, we appreciate your business!
Sincerely,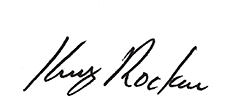 Kenny Rocker
Executive Vice President, Marketing & Sales