Status of the Railroad - A Message from Kenny Rocker, EVP, Marketing & Sales
Announcement Number: CN2022-43
Categories: General Announcements
Posted Date: August 18, 2022
To Our Customers,
It's hard to believe summer vacations are coming to an end and my daughters are headed back to school. It's been about a month since my last update and I wanted to share our network status with you. Volumes are up around 2% for the quarter to date as demand continues to remain strong. While we have seen volume grow in the past four weeks, the total operating inventory on our network has also grown. We've pulled almost 3,000 UP-owned cars out of storage and started to add more unit train sets to support customer demand.
We are closely monitoring our operating inventory level to make sure it's climbing at a comparable rate with our carloadings. Most of the volume growth is within our manifest network and it is important that we avoid excess rail car inventories, especially in our terminals.
We remain committed to improve network performance and provide the level of service you expect. To increase network fluidity, we continue to focus on the following areas:
Graduated 597 Train, Engine & Yard Service (TEY) employees so far in 2022, on track to meet the 1,400 goal by year-end.
Temporarily relocated more than 200 TEY employees for borrow out service to support demand.
Maximizing train length and improving crew utilization.
Reassessing the pace we return Union Pacific-owned cars back in service.
We are making steady progress on our service recovery. In order to keep momentum on this effort, we are asking you to avoid inserting excess rail cars on our network. By eliminating excess rail car inventory along with other resource initiatives, we gain the ability to improve service for all our customers.
We appreciate your attention to this request to address excess inventory in a timely manner.
Thank you for working with us, and as always, we appreciate your business.
Sincerely,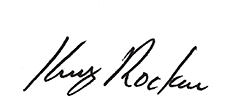 Kenny Rocker
Executive Vice President, Marketing & Sales