Status of the Railroad - A Message from Kenny Rocker, EVP, Marketing & Sales
Announcement Number: CN2022-57
Categories: General Announcements
Posted Date: September 23, 2022
To Our Customers,
As September comes to an end, I wanted to give you an update on the status of our network. I'm pleased that the railroads have reached tentative agreements with all our labor unions, and we look forward to the next steps for ratification. Thank you for supporting our efforts to keep the nation's supply chain moving and for your patience as we worked through the labor negotiations.
Our network performance continues to make progress despite having a major derailment south of Mason City, Iowa which closed our main line from September 5 to September 9. I commend our Operating team for their tireless efforts to rebuild a bridge and repair the tracks and signals in less than a week. Service on the main line has been fully restored and operations are fluid in the area. We will continue to monitor car inventory levels in the impacted area to ensure we maintain network fluidity.
Weekly carloadings rebounded back to over 163,000 after the normal decline from the Labor Day holiday. Operating inventory remains elevated at over 190,000 cars – but growing at the same rate as our carloadings as we added more system cars and unit train sets to support demand. Furthermore, I'm encouraged that our crew availability and locomotive supply continues to improve. Trains held for crews and locomotives have reached the lowest levels we've seen so far this year. In terms of our hiring update for crews, we have graduated 745 employees year to date through September 16, 2022 and have nearly 500 employees in the training pipeline.
Our Metrics
The following weekly metrics as of September 16 compared to the prior week:
Car Velocity: Improved by 1% to 194 miles per day.
AAR Train Speed: Increased 3% from 23.5 mph to 24.1 mph.
Terminal Dwell: Improved by 3% to 24.0 hours.
As always, our metrics are publicly available and reported on a regular cadence to the Surface Transportation Board.
Thank You
As we head into the fourth quarter, I'm encouraged with the progress that we're making to serve you better. Thank you for your patience, your loyalty and your business.

Sincerely,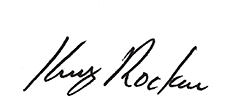 Kenny Rocker
Executive Vice President, Marketing & Sales