Status of the Railroad - A Message from Kenny Rocker, EVP, Marketing & Sales
Announcement Number: CN2022-8
Categories: General Announcements
Posted Date: March 16, 2022
To Our Customers,
Our operations experienced a few setbacks in February with two major winter storms bringing snow and ice across wide spans of our network. Once again, our Operating team responded with additional resources to minimize the impact and restore operations as quickly as possible. However, you will see that our key performance metrics for the month slipped compared to January:
Car velocity dropped 3% to 202.
Car dwell increased by 3% to 23.7 hours.
Manifest trip plan compliance (on-time performance) decreased by 4 percentage points to 64%.
Intermodal trip plan compliance fell to 71%, a drop of 6 percentage points.
Demand continues to remain strong as we saw our 7-day carloadings rise to over 165K at the end of last week – our highest weekly average so far this year. As our carloadings increase, we are seeing more inventory build up on our network. Our Operating team remains focused on reducing our operating inventory, launching more trains on schedule and continuing targeted initiatives to improve the fluidity of the network. In addition, we are making progress on our crew hiring and recruiting strategies to bring on new employees.
Our team is also aware of the challenges our unit train customers are experiencing. We have implemented process improvement initiatives for our locomotive fleet and strategically positioned crews in key locations to support demand. These actions, coupled with reducing the number of rail cars on our network, will drive more fluid operations and improve service to the levels that our customers expect.
Houston Englewood Yard Transformation Update
We completed the tie and rail replacement phase in our Englewood Yard transformation project last week. Track maintenance crews worked for most of February to replace nearly 23,000 railroad ties and more than four miles of rail. These are the latest projects to be completed as we continue to prepare Englewood for the future to become a premier rail car processing hub. Later this month, we will begin the final phase of the software and hardware upgrades to the new hump computer system. We anticipate implementation and testing to occur over a two-week period with limited delays to shipments. Once fully implemented, we will be able to process more rail cars through the terminal. We remain focused on delivering your freight as quickly as possible and appreciate your patience as we complete these improvements that will keep your shipments moving efficiently through this critical region.
Thank You
We appreciate your patience as we work to improve the fluidity of our network. We remain committed to providing you with a safe, solid service product. And as always, thank you for your business.
Sincerely,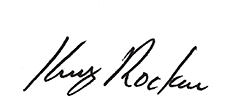 Kenny Rocker
Executive Vice President, Marketing & Sales