If you drive a vehicle or are a frequent passenger, you understand there is always a risk of getting in an accident — it's one of the tradeoffs you make in return for getting from point A to point B quickly and conveniently.
The freight shipping industry is susceptible to risks, too, with the tradeoff being delivery of the goods people rely on every day. Trucks hauling freight on our nation's highways and city streets face the risk of crashes just like passenger vehicles do. Trains are also subject to risk, namely in the form of derailments.
The good thing about a known risk is that you can do something about it. Railroads put significant time, resources, and money into mitigating the risk of derailments and doing all they can to keep shipments — and moreover, people and communities — safe. This makes freight rail one of the safest industries in the nation.
The following are just a few of the technologies railroads employ to operate safely.
Wayside Detectors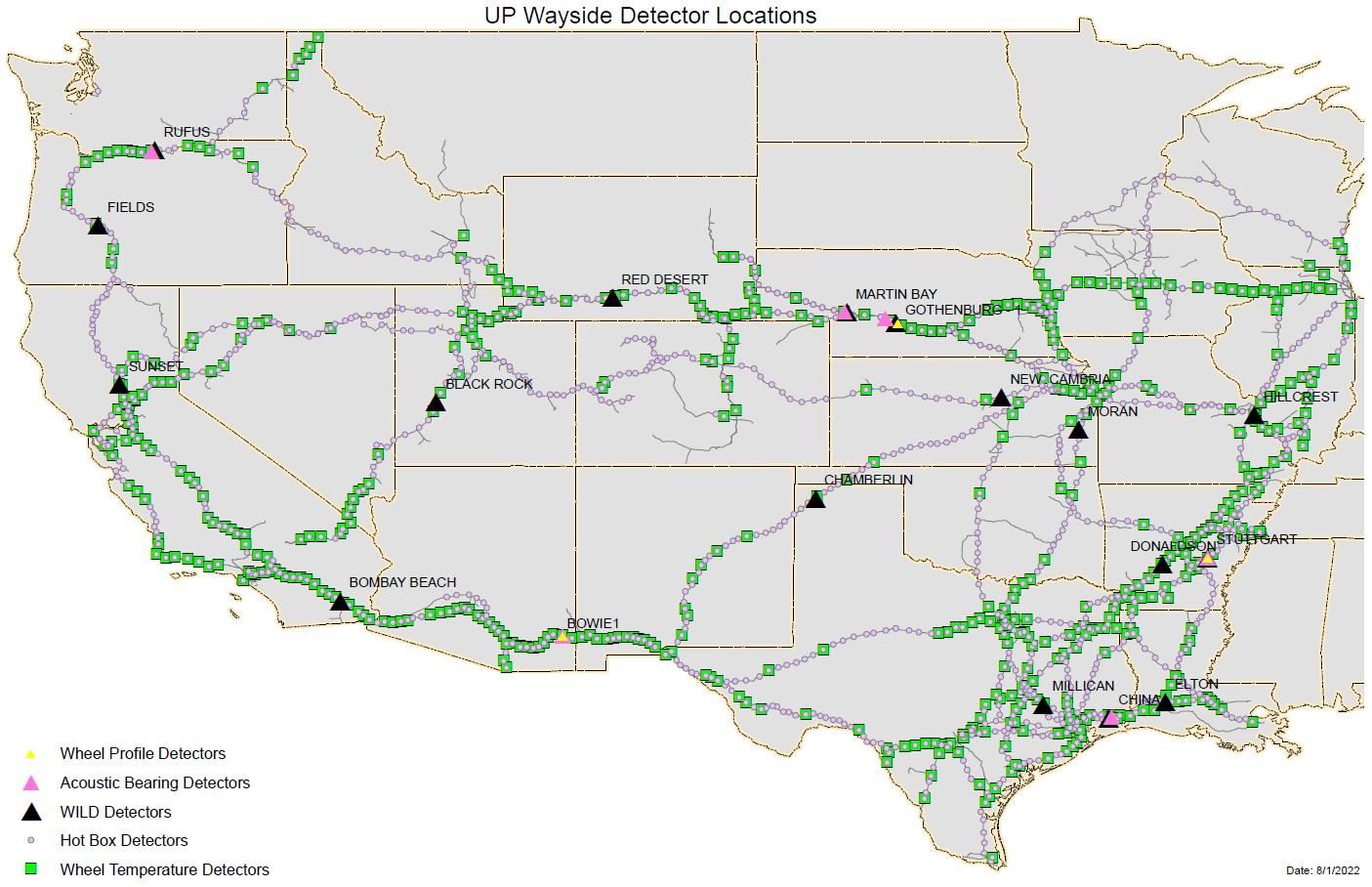 One way to prevent train derailments is making sure train wheels and bearings (the component that keeps wheels turning smoothly) don't overheat. Railroads do this by installing sensors along their tracks that assess the strength and health of wheels and bearings passing over them.
Types of wayside detectors include the following:
Hot Box Detectors measure bearing temperatures on trains as they pass by and immediately notify the train crew via radio if there is an issue with hot bearings.
Wheel Temperature Detectors measure the temperature of the wheel plate. Wheel temperature data is used to identify potential braking issues like sticking brakes, handbrakes left on or brakes that don't stop the train as effectively as they are designed to.
Acoustic Bearing Detectors consist of microphones that record and evaluate the sound bearings make on a passing train. This technology helps identify bearing defects and helps railroads be proactive about identifying and removing potential hot bearings.
Wheel Impact Detectors measure the strain on wheels to identify defects or wheels reaching the end of their useful life.
Wheel Profile Detectors use lasers and optical scanning devices to measure wheel shapes. Over time, wheels begin to show signs of wear and tear; these detectors determine the amount of wear so railroads can address it in a timely manner.
Machine Vision Systems capture images of rolling stock to identify abnormal or defective component conditions.
Wayside sensor alerts help railroads understand if equipment needs to be repaired or replaced so they can prevent derailments and operate safely.
At Union Pacific, 7,000 wayside detectors generate more than 16 million data points every day to monitor the condition of freight cars and locomotives in real time. This comprehensive information — temperature, vibration, stress/strain, acoustics, images and shape — provides a holistic view of equipment condition so railroads can take the appropriate action. Equipment conditions are sent as alerts belonging to specific cars. Based on the severity of the alert, a railroad will:
Immediately stop the train
Repair equipment at the next location
Repair equipment during regularly scheduled maintenance
Monitor and track equipment for trends that could indicate replacement is needed
AI and Machine Learning
Artificial intelligence (AI) and machine learning help railroads make the most of the massive amounts of data that come in from wayside detectors.
For instance, by combining acoustic bearing detector data with data collected from hotbox detectors, AI and machine learning sift through it, find patterns, and can predict when a bearing may overheat three months in advance of the event.
AI and machine learning also process and analyze the 40,000 images per second taken by machine visioning cameras to identify abnormal or defective component conditions. This reduces inspection times to mere seconds and provides railroads a comprehensive view of locomotives, trains and their components.
Machine learning and AI also aid in predictive maintenance, using data to identify patterns and trends that indicate when a maintenance issue, like track wear and tear, might occur. These predictions provide a five-year look-ahead window, which allows railroads to plan repairs and maintenance and minimize equipment failures.
Automated Track Inspection (ATI) Technologies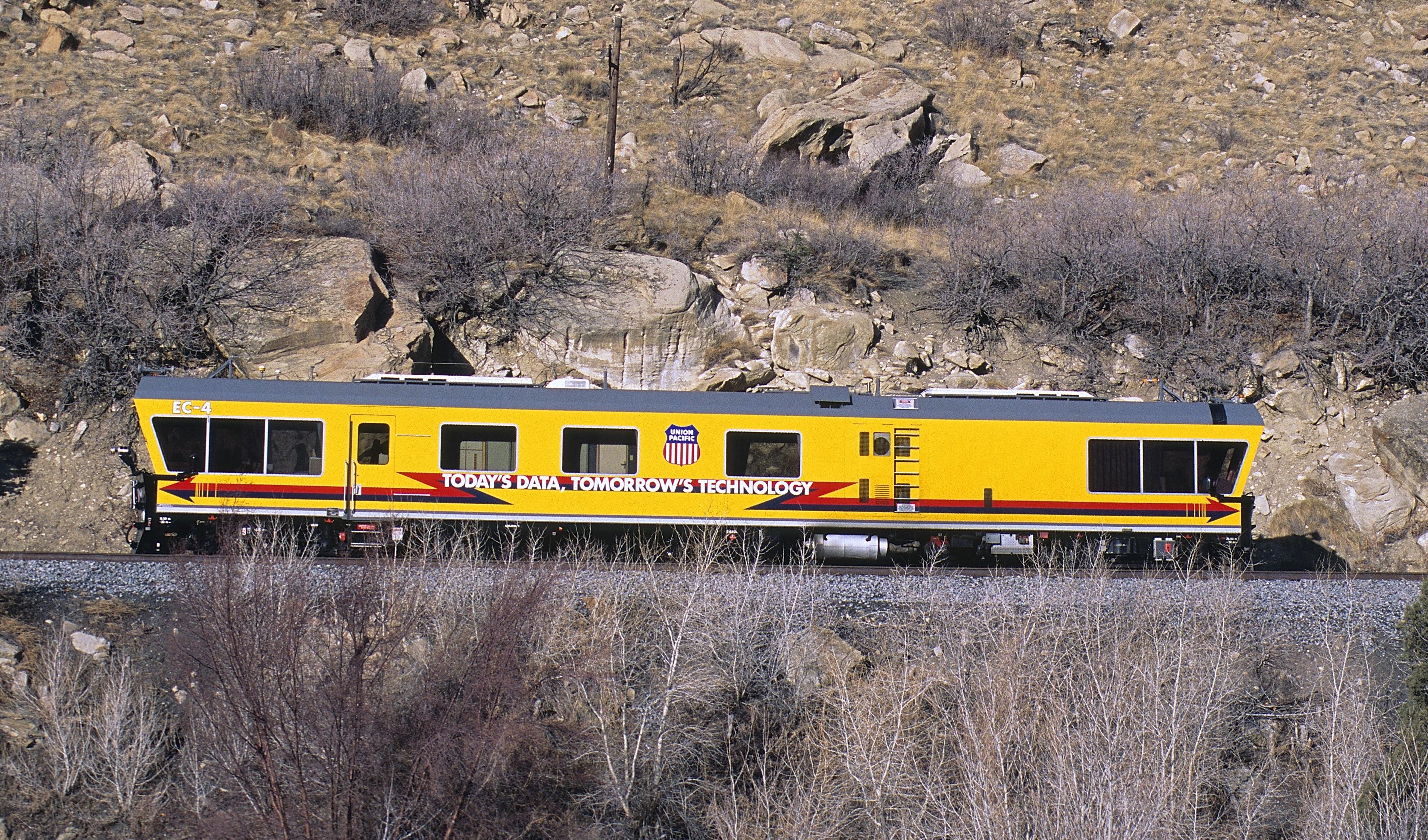 Automated Track Inspection (ATI) technologies measure how track performs under the load of a train. Using lasers and cameras mounted onto locomotives or rail cars, ATIs inspect track as trains travel across the rail network. The system tests each foot of track under the same force as exerted by a loaded train. Railroads use this data to schedule track maintenance where needed.
Track Inspection Vehicles
Track inspection vehicles travel on railroad tracks and use lasers and ultrasound to measure every inch of track for track alignment, elevation in curves, gauge (the distance between the rails) and other measurements that indicate whether the track is safe or requires maintenance. These vehicles allow rail inspectors to see inside a stretch of rail and look for microscopic internal defects that could lead to incidents.
Positive Train Control (PTC)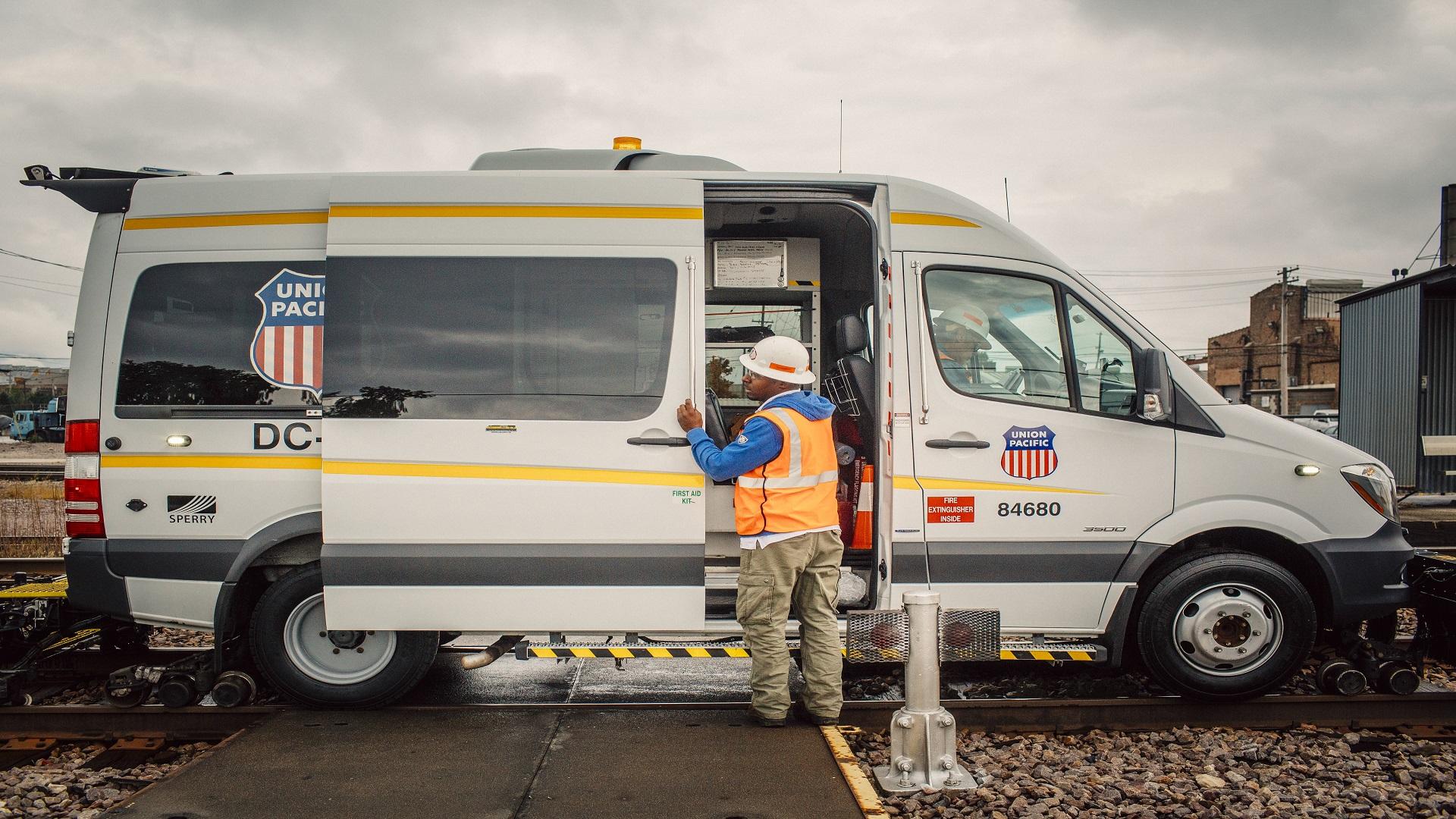 Positive Train Control (PTC) is system that monitors train location, speed, track signals and other inputs to automatically stop a train before certain incidents occur. PTC is designed to prevent:
Train-to-train collisions
Derailments caused by excessive train speed
Train movements through misaligned track switches
Unauthorized train entry into work zones
Are Railroads Safe?
Railroads put many safeguards in place to prevent derailments and are one of the safest ways to ship freight. Data released in March 2023 by the Federal Railroad Administration and reported by the Association of American Railroads demonstrate railroads have continued to improve on critical safety metrics.
Class I railroads' mainline incident rate is at an all-time low and down 49 percent since 2000. For all railroads, that rate has declined 44 percent since 2000.
For all railroads, the derailment rate is down 31 percent since 2000 (although it was up by 5 percent year-over-year).
Track-caused incidents are down 55 percent since 2000 and are at their lowest-ever rate across the entire rail industry.
Equipment-caused incidents were down 21 percent since 2000 but increased by 15 percent compared to 2021.
Per Class I railroad employee, the casualty rate has dropped 63 percent since 2000 and is at an all-time low.
Per carload, the hazardous materials (hazmat) incident rate is down 78 percent since 2000 and the lowest ever based on preliminary Bureau of Explosives data.
Freight rail is one of the safest industries in the nation and railroads are committed to continual improvement and will continue their quest to be entirely incident-free.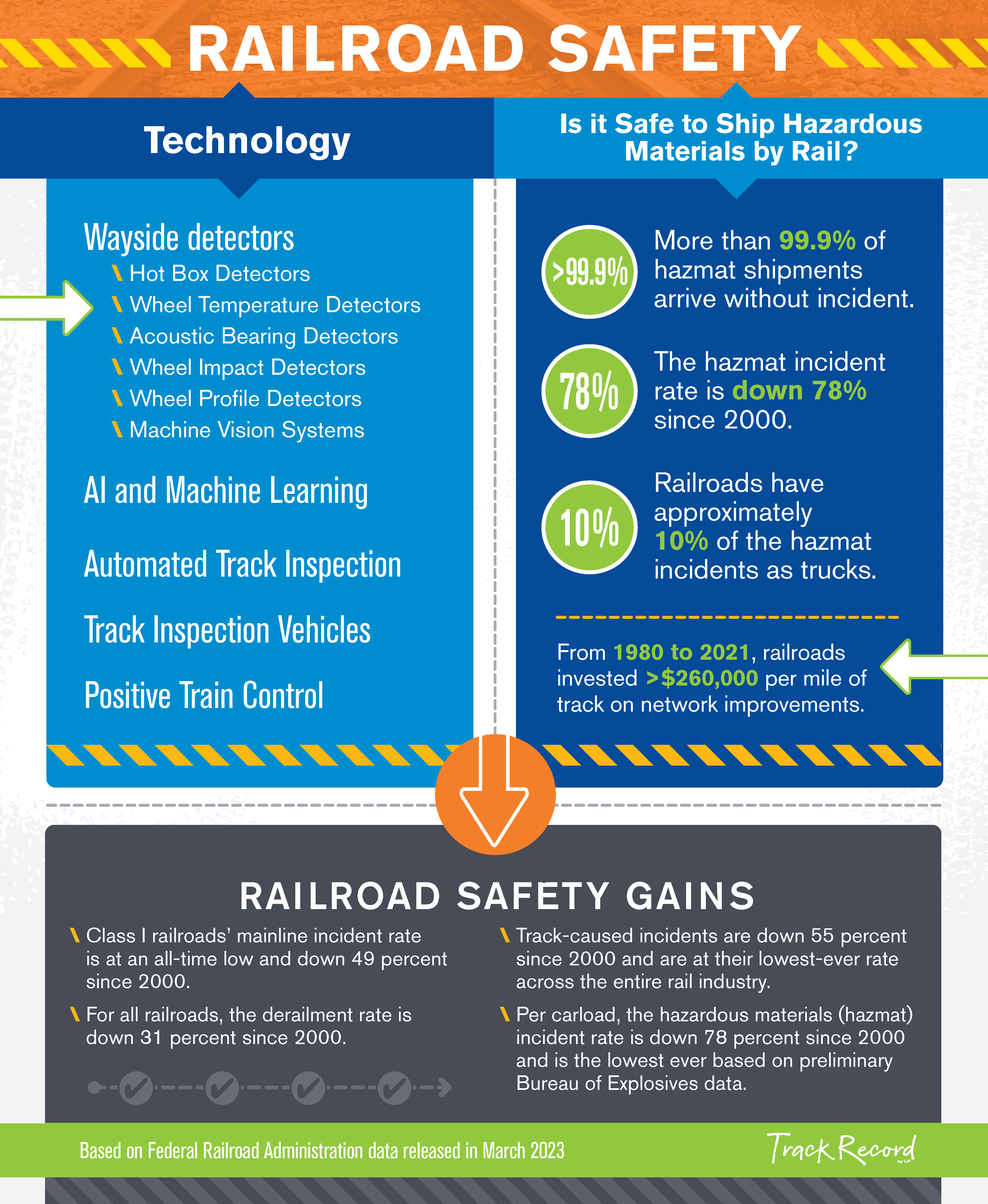 Is it Safe to Ship Hazardous Materials by Rail?
Railroads are a safe way to ship hazardous materials. More than 99.9% of all hazmat moved by rail reaches its destination without a release caused by a train incident. The hazmat incident rate is down 78 percent since 2000.
Railroads are also much safer for moving hazmat than trucks. Railroads have approximately 10% of the hazmat incidents trucks have despite roughly equal hazmat ton-mileage.
Capital Renewal: An Ongoing Safety Investment
Investing in track and equipment maintenance and improvements is a critical part of keeping train operations safe. Unlike other freight shipping methods, railroads pay to maintain their privately-owned networks — and the investments are significant.
From 1980 to 2021, freight railroads spent about $760 billion on capital expenditures and maintenance expenses. That breaks down to more than $260,000 spent on average per mile of America's nearly 140,000-mile freight rail network.

Over the last 15 years, freight railroads have invested, on average, $23.9 billion of their own capital into improving and maintaining their networks every year. These investments are the reason the American Society of Civil Engineers deems rail infrastructure the highest-rated infrastructure in the country.
Learn More
To learn more about railroad safety practices, technology and initiatives, visit the AAR's Freight Rail Safety page. If you'd like to learn more about shipping your product(s) by rail, answer a few questions and an expert will be in touch.
Related Articles