Rail is one of the most cost effective and reliable shipping modes, but many may not know it is the safest industry for ground freight transportation. According to the U.S. Bureau of Labor Statistics, railroads have lower employee injury rates than most other modes of transportation and major industry groups, even grocery stores.

Railroads in general have a strong focus on safety in many areas, including keeping employees safe throughout their day-to-day activities and keeping shipments safe and damage free from origin to destination. A culture focused around safety is a part of everyday life for most railroad employees and extends to the communities and customers they serve. According to the AAR (Association of American Railroads), America's rail industry achieved major safety improvements across every recorded category over the last 20 years. Since 2000, train accident and hazmat accident rates are down 34% and 66% respectively. What's more, rail employee fatalities in 2019 reached an all-time low with numbers in the single digits for the first time in history.

One major safety-related focus for all railroads is keeping employees, drivers and pedestrians safe at train crossings across their networks. Railroads work to ensure everyone's safety through the use of horns, signs and signals where the tracks cross over roads. But what do the sounds and signs mean and who is responsible for installing and maintaining them?
Locomotive Horns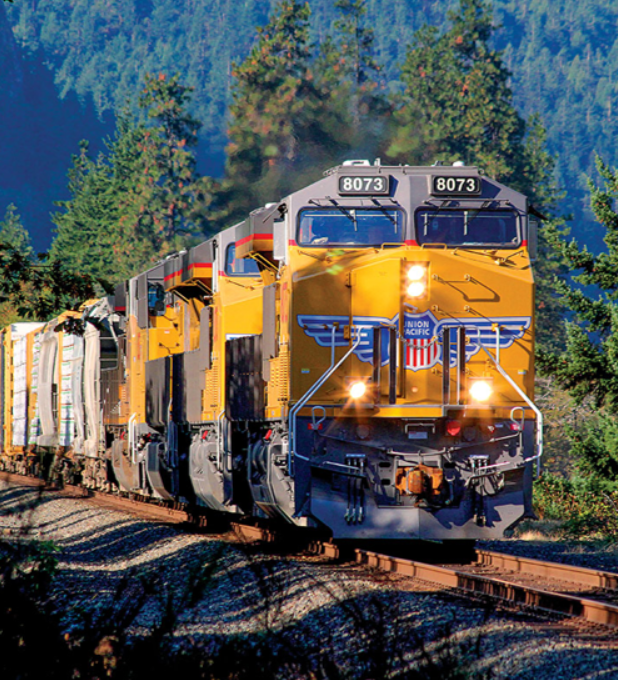 You've probably heard trains sound their horns at railroad crossings, but did you know there is a defined rhyme and reason to how loud and how long the horns must sound in the name of safety? In 2005, the FRA (Federal Railroad Association) established the Final Rule on the Use of Locomotive Horns at Highway/Rail Grade Crossings.

Here's what the rule requires:
Locomotive horns are required to sound for 15-20 seconds before entering all public grade crossings, but not more than one-quarter mile in advance.
The required pattern for blowing the horn is two long, one short and one long sounding horn, repeated as necessary until the locomotive clears the crossing. Locomotive engineers retain the authority to vary this pattern as necessary for crossings in close proximity and are allowed to sound the horn in emergency situations.
If a train is traveling faster than 60 miles per hour, engineers will not sound the horn until it is within one-quarter mile of the crossing, even if the advance warning is less than 15 seconds.
The required volume level for train horns is between 96 and 110 decibels.
The FRA takes these regulations very seriously and can fine train crews for not sounding the horn enough. Many railroads will do random checks on train crews to make sure they are in compliance.
In addition to horns, locomotives are equipped with bright headlights, at least one mounted high and centered, and two on each lower side of the front of the locomotive. They are illuminated night and day when the train is in motion to alert those nearby.
Grade Crossing Warnings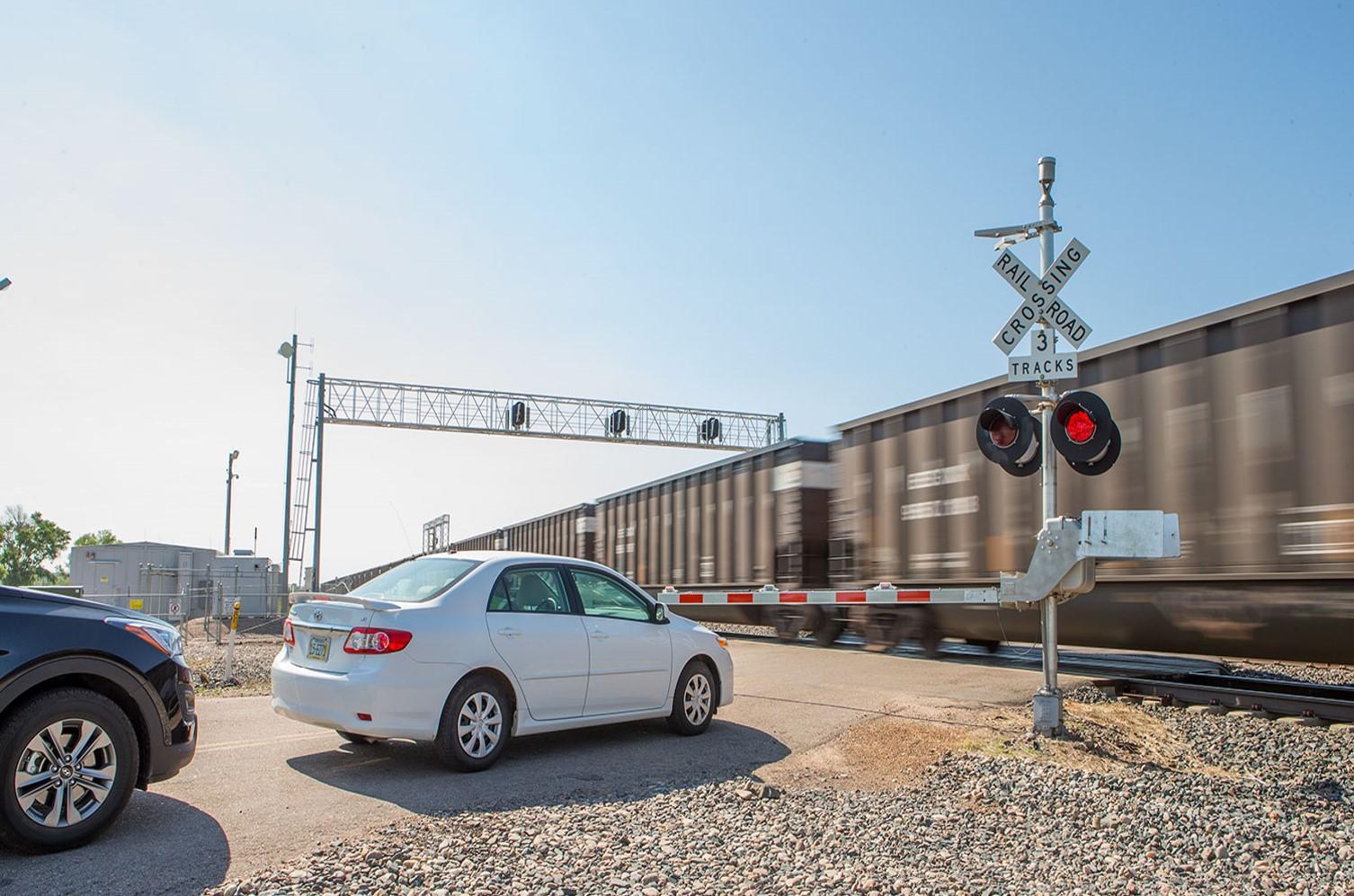 In addition to sounds, there are a number of different visual warning signs at railroad crossings, some of which are maintained by the railroad and others that are maintained by the Federal Highway Administration.
Railroads install and maintain "active" electronic warning signals, like flashing lights and whistles, in addition to other visual cues, such as crossbuck signs (resembling an "X"), multiple track signs (indicating the number of tracks present) and emergency notification signs.

Individual states decide which crossings warrant active warnings. The states keep their own budget and use their own formulas to prioritize crossing installations and improvements. Costs for signal installations will vary depending on the complexity of the crossing and the sophistication of the equipment needed to meet the desired safety levels. Ultimately, of course, the safest crossing is no crossing, and an ongoing goal of railroads is to close redundant crossings.
When determining which crossings warrant active warnings or improvements, the following criteria are generally included:
Vehicle traffic count at the crossing
Types of vehicles using the crossing
Number of daily trains each way
Collision history at the crossing
Public road authorities maintain all other "passive" signage, including stop signs, yield signs, advance warning signs and pavement markings. When approaching a public highway-rail crossing, drivers will see the round, yellow advance warning sign. These and pavement markings are generally installed by local or state agencies.
Tips for Crossing the Tracks
If you need to cross railroad tracks, keep these tips in mind.
Always expect a train and look both ways before crossing.
Only cross the tracks at designated railroad crossings, located where the street intersects with the tracks.
Never walk between the rails or areas that are not designated railroad crossings.
Avoid distractions including loud music, texting or talking on cell phones when crossing the railroad tracks.
Stay away from trains and other railroad property, including trestles, yards and equipment.
Report emergencies or suspicious activity on the tracks to Union Pacific's Response Management Communication Center at 888-877-7267 or 911.
For more information, visit the Operation Lifesaver website, which includes rail-crossing safety information and educational tools.
Learn More
Interested in learning more about rail safety or shipping your products safely by rail? Get in touch with us.
Related Articles