The Omaha Subdivision railroad bridge in Elkhorn, Nebraska, dates back to 1906 — so it is time for that bridge to take a bow and for a newer, stronger bridge to take its place. That is scheduled to happen, per Union Pacific's replacement plan, in 2024. Following a competitive bidding process, Union Pacific's Supply Department selected PVS Structures (formerly known as Paxton Vierling Steel) as the fabricator for the project.
The Omaha Sub Bridge has been around for 116 years, but Union Pacific's relationship with PVS has been around even longer. PVS was founded in 1885 in Omaha, Nebraska, the very same city in which Union Pacific is headquartered. So when Union Pacific needed steel over the years — or centuries — PVS often delivered.

"Union Pacific has been our largest and best customer over the last hundred-plus years," said Brent Pfeiffer, GM of PVS Structures. "The rail industry has always needed a steel partner to build out infrastructure. There is a finite group of fabricators with our kind of relationship and understanding of the railroad."
PVS has fabricated many bridges for Union Pacific, but the Omaha Sub Bridge is perhaps the most meaningful, since the two companies will team up where the relationship began. The result of that teamwork will be a stronger, safer bridge making area rail service more consistent.
Why Care About a Railroad Bridge?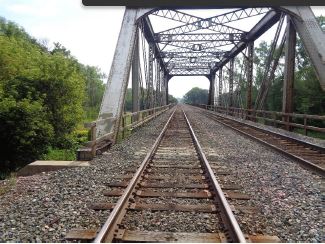 Rail bridges are one strand in the web that is America's freight rail network, delivering the goods people rely on both domestically and abroad. So in a certain sense, everyone should care about railroad bridges!
Bridge and rail enthusiasts might also find it interesting that, in total, 2,100 tons of steel will be needed to construct the new bridge. The new, deck plate girder bridge will have six double-wide spans accommodating two railroad tracks. Each span will be 130 feet (totaling 780 feet in length) and require 350 tons of steel.
The time required to construct a bridge is another point of interest. Between the bridge design, steel fabrication, and construction, the Omaha Sub Bridge project will take six years. In other words, it's not a simple project.
"One of the things that PVS Structures does — and has done for more than 100 years — is 'big, heavy and complex,'" Pfeiffer said. "Projects that are really big, really heavy and really complex is where we excel. That has translated to why we're successful in the bridge space. It's difficult to find someone who is knowledgeable about the rail industry. With our companies being in the same town and having a long relationship, we have the expertise and the capability to be able to do it. Not just everybody is going to build a bridge of that size, but after 50 or 100 years, you get pretty good at it."
Rail shippers may care the most about this bridge construction. The bridge sits along Union Pacific's main transcontinental route, so just about any and every type of raw material or finished good — the things people and companies rely on every day — travels across it. Unfortunately, over the past several years there have been service interruptions due to the bridge's condition. The new structure will eliminate those service issues.
"The main customer benefit is that our service is less variable. This is another investment UP is making to help make our service product more reliable and thus more valuable for our customers," said Adam Studts, Senior Manager of Structures Design for Union Pacific. "Investing in new bridges, rail, ties, facilities, and technology is critical to UP's ability to maintain a safe and reliable rail network and allows UP to deliver on its commitment to its customers, shareholders and the communities we serve."
In addition to staying in service, the new bridge will be built to modern standards, making it safer than its predecessor. "Safety enhancements include having a higher load limit, deeper foundations, improved hydraulic performance and redundant structural systems," Studts said.
Improvements in the type of steel used for the bridge are part of the enhancements. "There are more than 3,000 kinds of steel used for all different industries. For this bridge, we're using weathering steel, which is an alloy steel that allows a patina to form and corrosion to greatly be reduced," said PVS Purchasing Manager Keith Norton. "It may look like rust to a layperson's eye, but it's the best material for a bridge that is going to last potentially 100 years."
Brent Pfeiffer, GM of PVS Structures, said using stronger steel that can stand up to weather improves longevity. "Newer, higher-strength steel gives the railroad the ability to maintain the structure in the field for up to a hundred years and maximize the efficiency of the bridge," he said. "For instance, adding in stiffeners to the girders strengthens the bridge without making it a heavier or deeper plate, which is one way to provide strength while taking out weight."
Moving with the River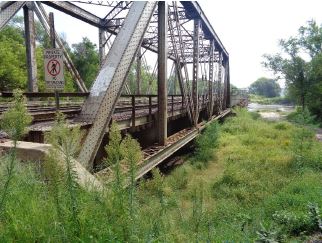 The age of the Omaha Sub Bridge is only one factor necessitating its replacement. In addition to reaching the end of its useful service life, changes in the surrounding landscape have also prompted the need for a new bridge.
"Over the last 115 years, the Elkhorn River has meandered eastward. The main river channel at one time was under the truss span at the west end of the bridge but slowly moved eastward to its present location nearer to the east end of the bridge," Studts said. "The bridge piers where the river channel is today were not built as deep in the ground as the piers to the west, forcing UP to underpin and strengthen these piers multiple times to keep them stable during periods of high river flow."
Because the river edged its way east, the new bridge will be built in a new location, which allows the design to take geographical changes into account and nearly eliminates service disruptions during construction.
"The bridge is being constructed off line, which means the bridge is being built on a new alignment. Construction is more efficient, and the only interruption will be to connect the new alignment with the existing track," Studts said. "Potential delays to trains are greatly reduced by constructing the bridge in this fashion."
Studts said an investment in improvements like the Omaha Sub Bridge across the network are an investment in customers, too. "Any infrastructure-related service interruption carries with it a high cost, primarily through train delays or reroutes that could result in a late delivery of our customers' goods," he said. "A well-maintained rail network is the best defense against such interruptions."
A Supplier and a Customer
The steel PVS will fabricate for the Omaha Sub Bridge was delivered by rail on flatcars. PVS is served by both Canadian National and Union Pacific, making the company both a supplier for and a customer of UP.
Between flat roll and long products, PVS Structures and its counterpart PVS Metals procures 100,000 tons of steel each year, much of which is delivered by Union Pacific. Rail is well-suited for the steel industry, as it can handle heavy loads and large volumes. Norton said shipping steel by rail comes with other benefits as well, including ease-of-use, a lower carbon footprint, and cost advantages.
"I can get the same amount of steel on a rail car as I can on four to five trucks, making it easier to unload and in some cases load, and it's easier to manage," Norton said. "Rail is also healthier for the environment than sending five trucks out on the road. Rail is generally cheaper than truck, especially right now, when the line-haul index for trucking is at an all-time high."
Rail is generally cheaper than truck, especially right now, when the line-haul index for trucking is at an all-time high.
Keith Norton, PVS Purchasing Manager
Past Relationships Forge the Future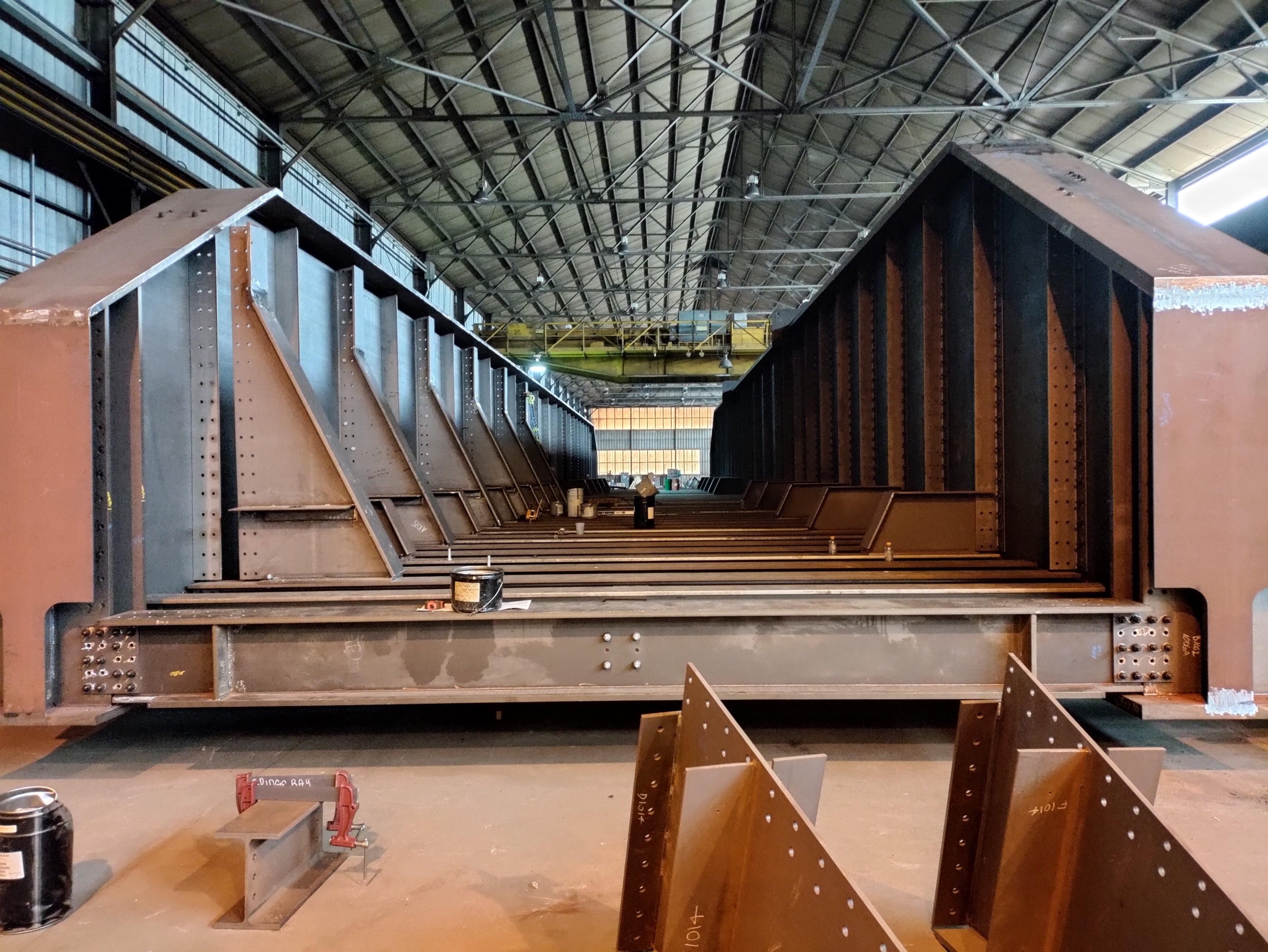 PVS has had the winning bid on many rail bridge projects. But their history with Union Pacific also includes other notable work. In the 1920s, the company performed repairs on rail cars. In the 1950s, PVS built snow throwers for locomotives, and they even fabricated the very first ski lift, which was invented by a Union Pacific employee. Moving into the 21st century, PVS built Union Pacific's headquarters building in Omaha (and the one before that, for what it's worth). This historic relationship is one Pfeiffer hopes to see last into the future, too.
"UP is our largest and best long-term relationship," Pfeiffer said. "We owe a lot of our current success to the relationships that have come long before us. We aspire to be a vendor and customer for another 130 years. It takes a commitment from both organizations, and we feel like we have that."
Learn More
To learn more about PVS, visit pvsstructures.com. For more information about shipping steel or other products by rail, answer a few questions and an expert will be in touch.
Related Articles
What Can You Ship by Rail?
How Does the Infrastructure Bill Impact Freight Railroads?
Freight Shipping and Its Impact on Climate Change
The Impact of America's Failing Infrastructure on Supply Chains
What Is a Coil Car?
What Is a Flatcar Rail Car?
What Is a Gondola?
Rail: An Environmentally Responsible Way to Ship