When you think of a gondola, do you start daydreaming about a leisurely boat ride on a Venetian canal? While aptly named for their shallow boat-like shape, in the world of freight transportation, a gondola means something quite different.
Gondola rail cars are used to transport rugged, unfinished commodities used in construction and manufacturing. In fact, rail plays a major role in transporting the products that keep America moving, like sand, gravel, scrap metal, steel and other raw materials used to build roads, machinery, skyscrapers, shopping centers and much more. According to the Association of American Railroads (AAR), in a typical year, U.S. freight railroads transport more than two million carloads of construction-related materials.
For an in-depth look at everything you need to know about gondola rail cars and how they safely transport a wide variety of materials, read on.
What Is a Gondola Rail Car Used For?
A gondola rail car's versatile design makes it ideal for shipping all kinds of heavy bulk commodities used for construction, including scrap metal, steel rebar, steel beams, grinding media, aggregates, logs, lumber, sand, copper and iron ore.
What Does a Gondola Rail Car Look Like?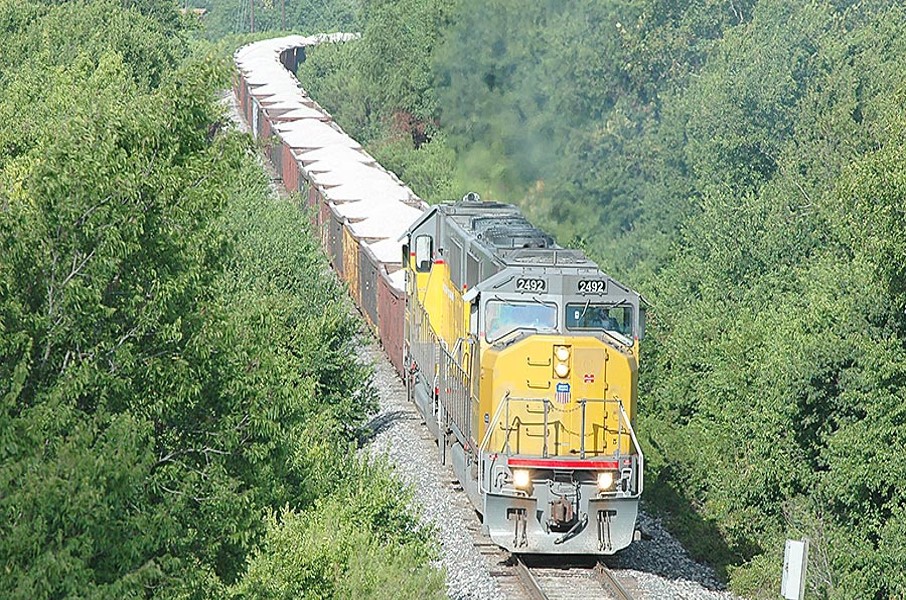 In the shipping world, a gondola is a sturdy rail car with low side walls and an open top. Imagine a boxcar cut in half horizontally, and you've got yourself a gondola.
What Are the Different Gondola Rail Car Types?
The gondola has been in use since the early 1800s and its simple design has not changed much since its inception. However, there are a few variations of gondola rail cars:
Side-dump style is used to carry bulk materials, like gravel, sand and rock that can easily be unloaded with the help of a rotary car dumper.
Simple "bathtub" style allows for the transport of just about anything and everything that will not be harmed by the elements, including scrap metal and iron ore.
How Is a Gondola Rail Car Loaded and Unloaded?
The simple structure of gondolas allow for easy loading and unloading – usually done with the help of cranes. Gondola cars can also be unloaded using a backhoe. When loading and loading steel, a claw or magnet is also used. Many steel plants receive scrap metal delivered in gondolas which can then be reloaded with outbound steel, resulting in efficient inbound and outbound shipping and cost savings.
Why do Shippers Use Gondola Rail Cars?
There are several reasons why shippers use gondolas to transport their freight:
Efficiency – Gondolas allow shippers to move a large amount of freight at one time. With the ability to carry up to 267,000 pounds in one car, gondolas provide a more efficient and cost effective shipping option compared to truck. In fact, a single train can carry as much freight as 300 trucks. Additionally, on average, railroads are three to four times more fuel efficient than trucks, with a single train removing several hundred trucks from the nation's congested highways.
Flexibility – Gondolas can carry just about anything and everything, of all shapes and sizes, making it the all-purpose workhorse of the railroad.
Gondola Rail Car Fun Facts
Gondolas are often referred to as "gons" for short
The very first gondolas used in England were 9 feet 6 inches long, by 7 feet 8 inches wide and could only carry a few tons per car
Today, some gondolas can carry the load of up to 267,000 pounds
Learn More
To learn more about gondola rail cars or shipping aggregates, metals and construction materials by rail, get in touch.
Want to learn more about other types of rail car equipment, including boxcars, flatcars, coil cars and covered hoppers? Check out our rail car type guide.
Related Articles
"What Is a Gondola Rail Car?" Video