During the COVID-19 pandemic, the U.S. West Coast ports have played a pivotal role in providing faster delivery of critical resources and other imported goods. As the United States and countries around the world begin to reopen, U.S. West Coast ports will continue to play a vital role. Here's how.
Supporting American Business and the World Economy
The COVID-19 pandemic forced many businesses, both domestically and internationally, to slowdown or, in some instances, shut down altogether. As overseas businesses reopen, demand for U.S. exports is expected to increase quickly. Likewise, as United States businesses resume normal operations, it's anticipated they will ramp up production to react to the increased demand, and will increase sourcing product from overseas as well. For these reasons, getting product moving quickly will be important. The U.S. West Coast ports are positioned to do just that, with faster transit times, ample capacity and the most frequent transpacific service offering versus East Coast ports.
West Coast Ports: Faster Service, Greater Capacity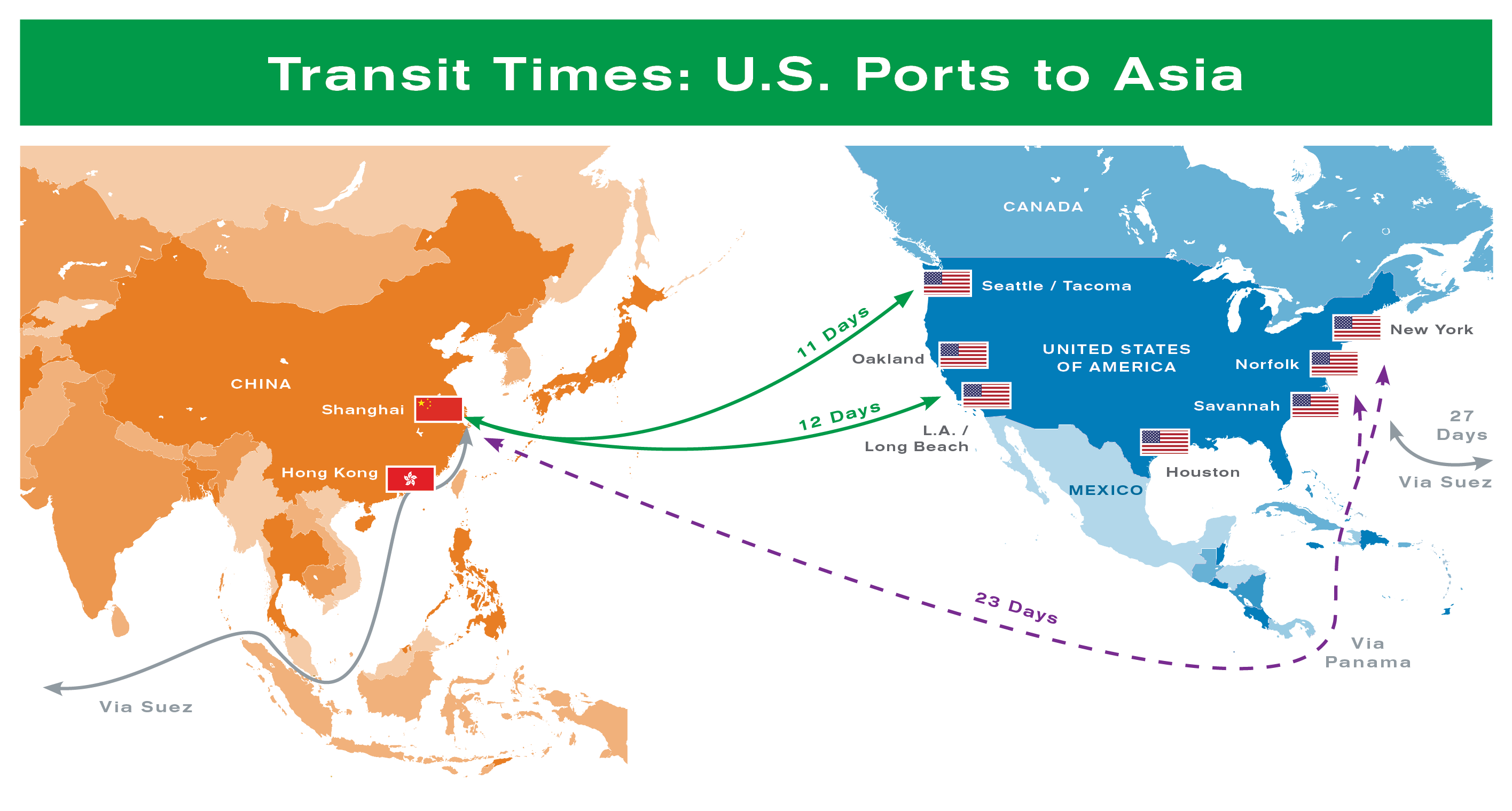 How can the U.S. West Coast ports help import and export products faster? The first factor is over-the-water transit time. When shipping over the water between North American ports and Asia, average transit times are as follows:
U.S. East Coast ports via the Suez Canal: ~27 days
U.S. East Coast ports via the Panama Canal: ~23 days
U.S. West Coast ports across the Pacific: ~11-12 days
The West Coast ports, which include the Port of Los Angeles, Port of Long Beach, Port of Tacoma, Port of Seattle, and the Port of Oakland, have significantly shorter over-the-water transit times than the East Coast ports — a difference of two weeks in some instances. That can make a big difference when American businesses are eager to push product to market, while overseas customers are anxious to receive the products they need. The same is true for companies importing products from Asia to sell in the United States. As these businesses reopen and U.S. consumer demand returns, shorter over-the-water transit times ensure they have product available to meet the need.
Fortunately, the U.S. West Coast ports are ready and able to handle the freight, considering the ample capacity. As production ramps up, the West Coast ports have the capacity to keep freight moving, with an abundance of warehouses in which to store product, the largest rail terminal capacity, and available container capacity on ocean carriers, even as volumes increase.
The U.S. West Coast ports also have more transpacific vessel calls per week than East Coast ports, with the West Coast ports handling roughly 66 percent of the traffic and the East Coast ports handling just 27 percent. The increased frequency with which ocean carriers arrive and leave the port means products are continuously moving to their end markets.
Likewise, the West Coast ports provide service to more countries compared to other U.S. ports, allowing companies to access more markets.
Between market access, faster over-the-water transit times, service frequency and ample available capacity, U.S. West Coast ports provide American businesses speed-to-market and flexibility to move their products and serve their customers. For companies sourcing product from Asia or for those that have product on the ground and want to move it offsite quickly to their buyers in Asia, shipping them through U.S. West Coast ports is the fastest and most flexible means in which to do so.
What Products Are Being Shipped through the U.S. West Coast Ports?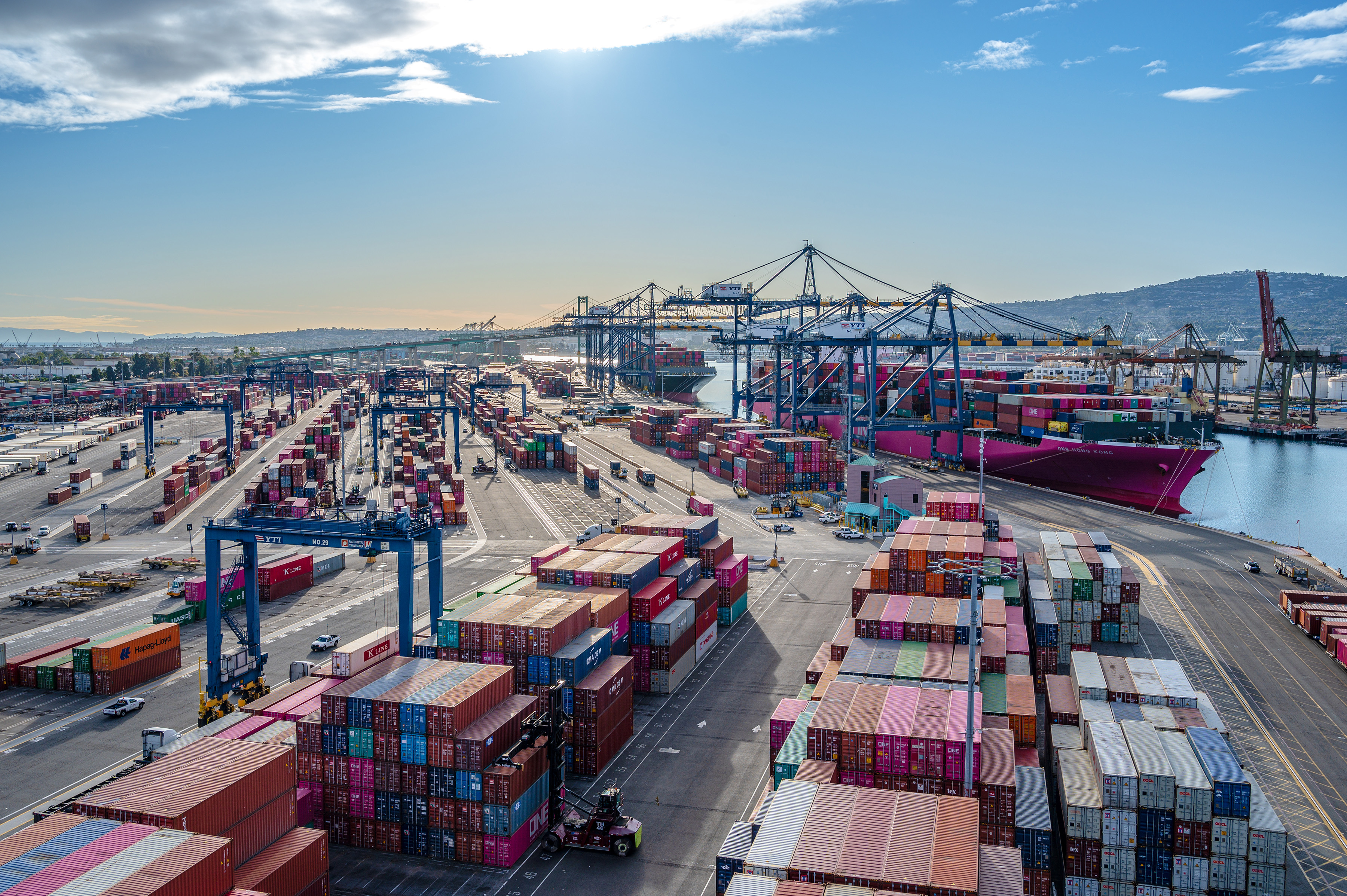 What types of products flow through West Coast Ports? On the import side, the most common products sourced by U.S. companies are clothing, electronics, furniture and other consumer goods. When shipping to Asia, all kinds of products can be containerized for export, including:
Ag products like hay to feed animals, whole soy beans, DDGS and other ethanol byproducts.
Plastic resins to make things like phones, computer parts, and even shoes.
Forest products like lumber, paper and cardboard.
Industrial products like machine parts, steel products, and more.
Items critical to the food supply, like proteins, dairy and grains.
While these may be among the most common products exported to Asia, just about anything can travel in an intermodal container, whether internationally or domestically.
A Pivotal Role Now and in the Future
As the world recovers from COVID-19, the U.S. West Coast ports will continue to play an important role in both supplying the world's nations with the American products they need and supporting the recovery of the U.S. economy.
Learn More
If you'd like to learn more about shipping products through the U.S. West Coast ports, or moving products to the coast by rail, get in touch.
Related Articles