The COVID-19 pandemic has brought a heightened awareness to the importance of supply chains. With shifts in consumer buying patterns and increased demand for pandemic-related products, supply chain fluidity and faster speed to market are more important than ever. U.S. West Coast ports are helping to accomplish just that.
Take personal protective equipment (PPE) like masks, gowns, eye shields, and medical equipment like hoses, for instance. When these products are imported from Asia, finding ways to get them inland quickly is essential. While some of the more critical products, like ventilators, may travel by air cargo for an initial emergency shipment, a steady flow of product is a must to maintain stock in areas where product is needed. The same goes for the many other consumables on which the general public relies – and that are keeping people safe and comfortable at home. The way these products are imported can mean the difference between product availability and product shortages, especially as typical inventory patterns have been disrupted by the pandemic.
That's where the U.S. West Coast ports step up to the plate to play a pivotal role in the supply chain. When products are imported through U.S. West Coast ports, the result is faster speed to market inland. Likewise, U.S. West Coast ports have warehouse and cross-dock capabilities that provide supply chain flexibility, allowing suppliers to be agile and flex to the shifting push-pull of consumer demand during this time.
This is the story of how U.S. West Coast ports, which include the Port of Los Angeles, Port of Long Beach, Port of Tacoma, Port of Seattle, and the Port of Oakland, are doing their part to help Americans get the products they need.
U.S. West Coast Ports Offer Shorter Transit Time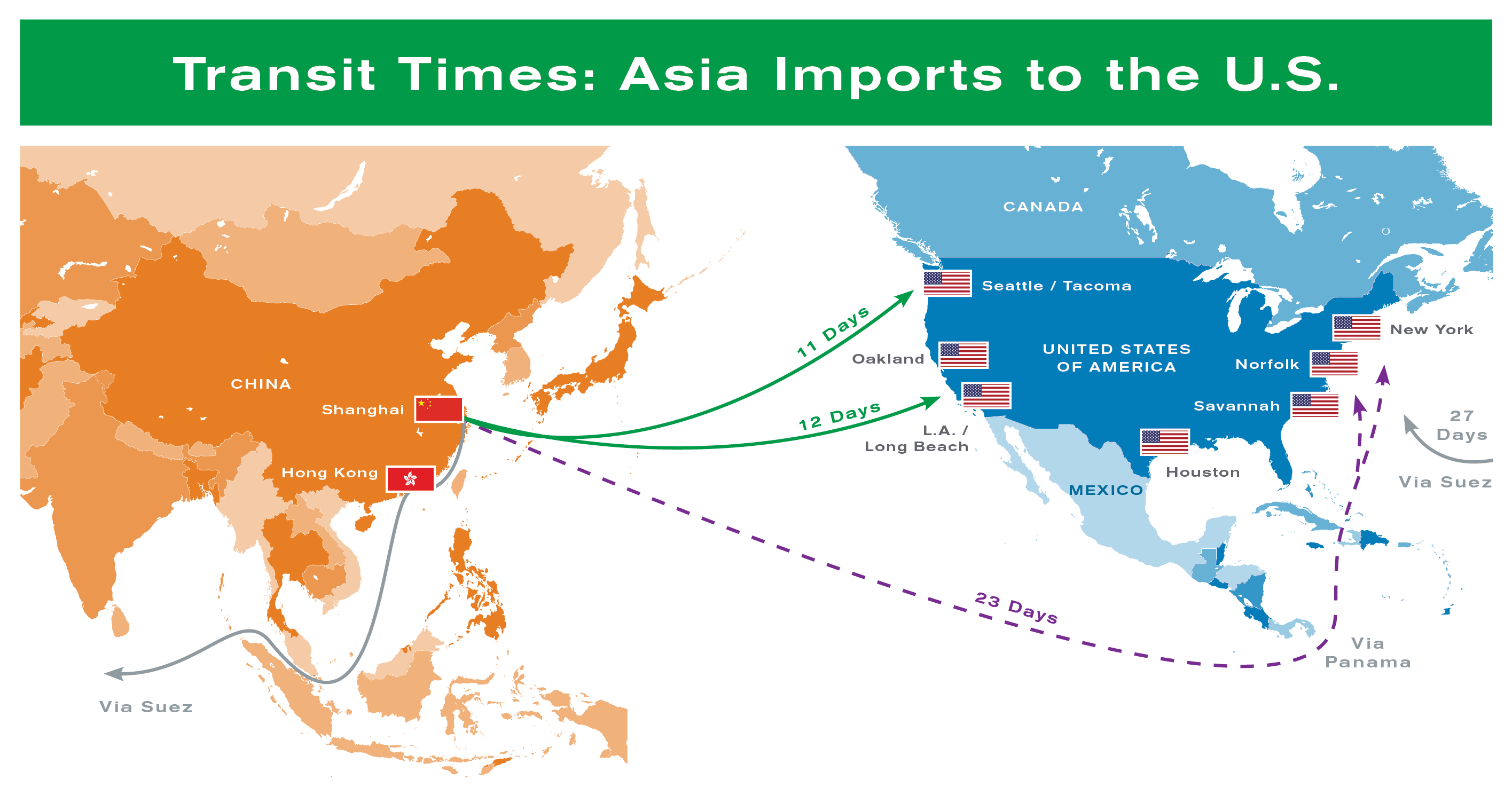 When goods are shipped to the U.S. from Asia, beneficial cargo owners (commonly referred to as "BCOs" – companies like Target, Walmart, etc.) and ocean carriers can choose which port to ship through. This is an important choice, as it can drastically affect transit times. When shipping over the water from Asia to North American ports, average transit times are as follows:
To U.S. East Coast ports via the Suez Canal: 27 days
To U.S. East Coast ports via the Panama Canal: 23 days
To U.S. West Coast ports across the Pacific: 11-12 days
West Coast ports have significantly shorter over-the-water transit times than East Coast ports — a difference of two weeks in some instances. That can make a big difference, especially during these times.
Supply Chain Flexibility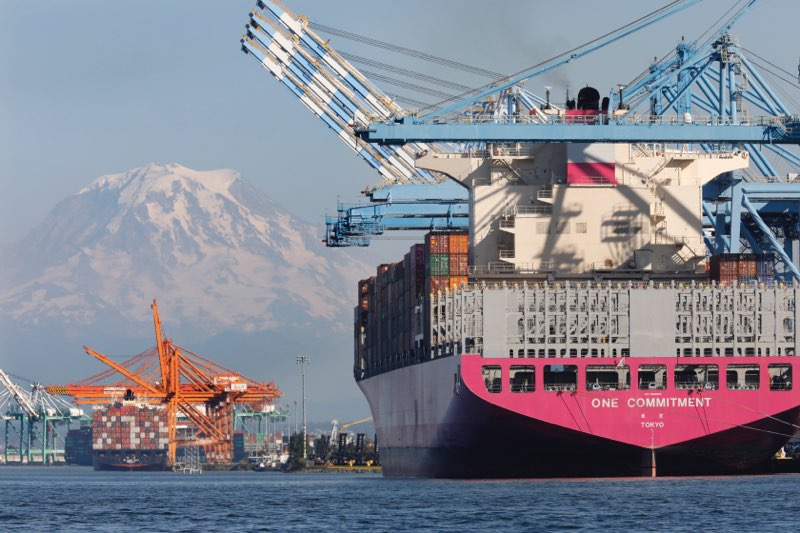 Transit time is just one way U.S. West Coast ports are helping supply Americans with the products they need. U.S. West Coast ports also offer improved supply chain flexibility. With near-dock storage and warehouse options, companies can store inventory on U.S. soil, then ship it as demand dictates. This is important, as storage capabilities allow companies to easily manage the ebb and flow in the supply chain. As COVID-19 is changing consumer buying patterns and demand is fluctuating in unprecedented ways, being able to call up inventory as needed can help prevent shortages and keep the flow of goods moving toward consumers.
Likewise, U.S. West Coast ports offer transloading and cross-dock capabilities, which allows shippers to break up overseas shipments and transfer them into containers with different destinations so that the right product type and quantity arrives where it is needed. With these facilities located close to the dock, shippers don't have to pay excessive drayage costs to have products transferred to the proper containers.
Positioned for Volume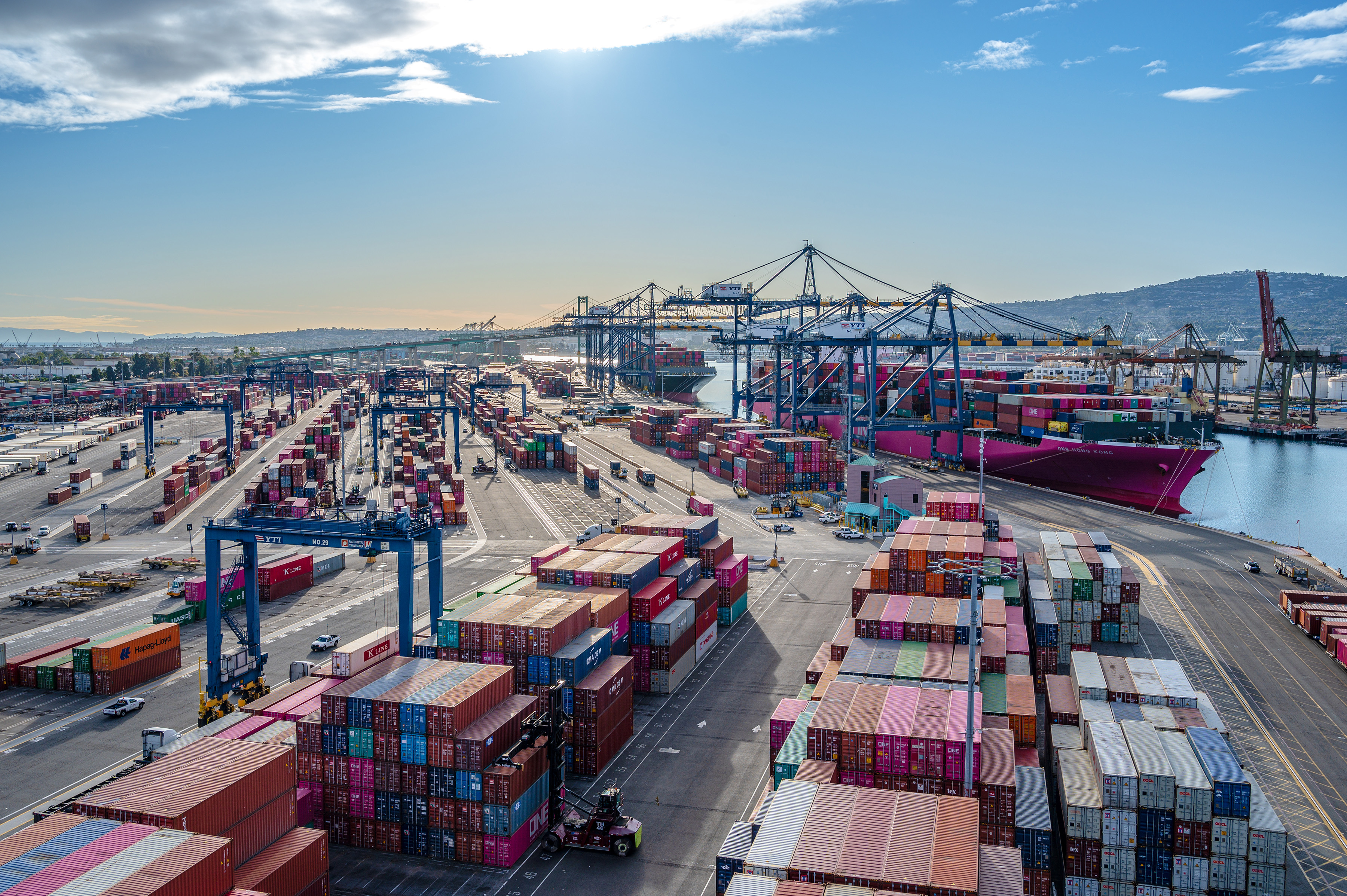 As production in China and other Asian countries picks back up, U.S. West Coast ports are positioned to handle the volume. U.S. West Coast ports provide greater capacity than all East Coast ports combined, which means they have the terminal capacity and workforce to handle the influx of product and get it to the Americans who need it.
As the nation continues to adapt to the changing landscape that is COVID-19, U.S. West Coast ports will continue to play an important role in a high-functioning supply chain — a role that is more important now than ever before.
Learn More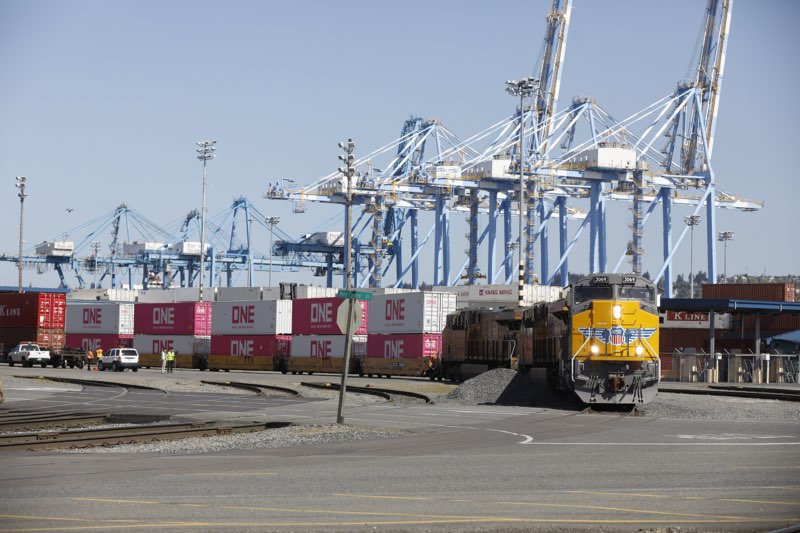 If you'd like to learn more about importing products through U.S. West Coast ports, or moving products inland by rail, get in touch.
Related Articles