When you're shipping freight across the U.S./Mexico border, it's usually a little more complicated than shipping within the United States — but that doesn't mean it's no less important. Establishing an efficient and cost-effective supply chain to and/or from Mexico can mean real money for your business, whether you're participating in nearshoring, sourcing raw materials, or shipping your final product across the border.
One way to have a consistent, reliable, and environmentally friendly supply chain is shipping products to and from Mexico by rail. If you're currently shipping by truck, using rail instead can cut transportation costs and lower your transportation-related carbon footprint by 75%.
It's worth mentioning it can make the customs process a lot easier, too.
Shipping across the border can be complex; choosing rail for your shipments can help simplify the path forward. These answers to cross-border shipping questions can help familiarize you with how the process works and why it's worth giving rail a try.
What's the difference between shipping within the U.S. and shipping across the border to Mexico?
Shipping products to Mexico requires a few additional steps, like obtaining a commodity permit, providing a commercial invoice and paying customs duties.
When shipping freight by rail to Mexico, you'll want to ensure to check these boxes:
Obtain a commodity permit (if necessary)
Provide a complete and accurate bill of lading (the information you provide to the railroad about your shipment)
Provide a commercial invoice to both the freight forwarder and Mexican broker
Pay all duties
TIP: If you need help with these items, companies called freight forwarders will work with Mexican brokers to ensure you have the proper paperwork and have met all requirements to safely, accurately and legally ship into Mexico.
If I want to ship my product by rail across the border into Mexico, who do I work with?
Start by contacting a Class I railroad. Railroad employees are experts at helping customers work through the things you'll need to successfully ship to Mexico by rail, including:
You don't have to tackle shipping freight by rail to Mexico alone. For example, Union Pacific Railroad has teams in the United States and Mexico who are bilingual and are dedicated to helping customers with cross-border shipments.
Union Pacific's International Customer Care and Support team and specialized Mexico sales team work closely with current and potential customers to help set up shipments traveling to and from Mexico. With expertise in international freight handling, border processes and the Mexico rail systems, these teams are positioned to help customers succeed.
What are the access points to cross the border?
Rail shipments cross the border into Mexico in six places: Calexico, California; Nogales, Arizona; and El Paso, Eagle Pass, Laredo and Brownsville, Texas. While each Class I railroad operates over its own set of crossings, Union Pacific is the only one with access to all six border crossings. These access points are commonly referred to as "gateways" in international shipping.
Which gateway should I use?
When it comes to international shipping, the gateway you use will depend on the shipment's destination in Mexico and which Mexican railroad delivers to that destination.
A member of the Union Pacific Mexico Sales team can help you identify the most efficient route based on your origin and destination.
Which railroads operate in Mexico?
Mexico has two major railroads: Grupo Mexico Transportes (GMXT) and Canadian Pacific Kansas City (CPKC). Mexico also has smaller rail carriers who interchange with these larger railroads to deliver products to their final destination. An interchange is essentially a hand off of the rail shipment between the railroads and happens based on the rail car's waybill and pre-established agreements between carriers. This process is seamless to the customer.
How do I connect with the right Mexican railroad?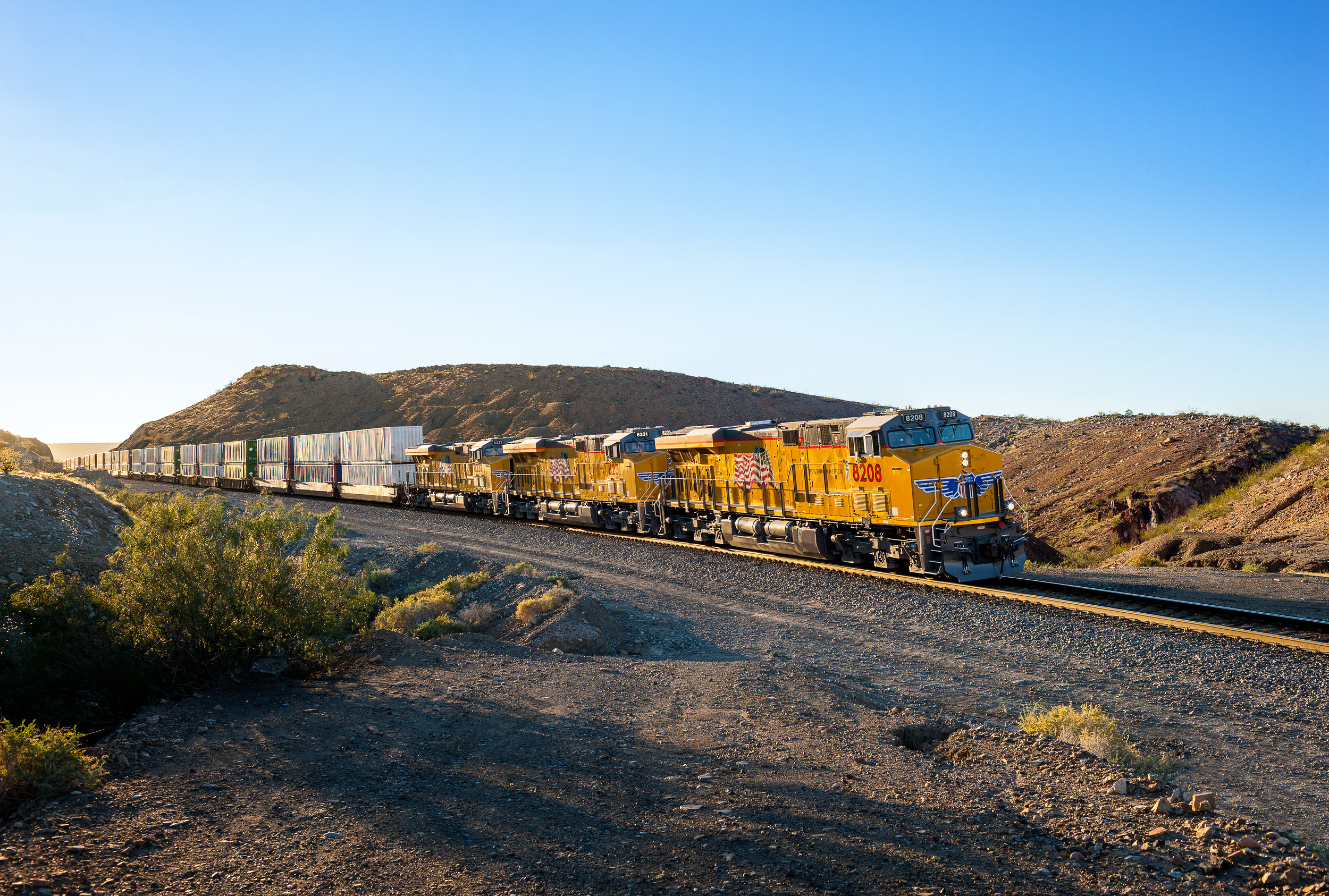 When you work with Union Pacific, our team can help connect you with the appropriate Mexican railroad as needed. Other Class I railroads may be able to offer similar assistance.
Who do I work with at the border?
At the border, you will work with your U.S. freight forwarder and Mexican broker.
If you have a question about a delay or other customer service issue, rail carriers can often answer these types of questions. At Union Pacific, we make it a priority to quickly manage and resolve customer concerns at the border, which is why we have a robust bilingual International Customer Care and Support team to manage all cross-border activities in and out of Mexico to keep shipments moving.
What paperwork is needed to ship my product across the border?
Cross-border shipments require specific clearance documents; a U.S. freight forwarder is responsible for gathering and sending these documents. On the rail side of things, all shipments to Mexico are billed from origin to final destination in Mexico and the railroad's waybill (the form that includes all of the shipment's details) will list both the U.S. freight forwarder and the Mexican customs broker to ensure that the shipment reaches its destination in a timely manner.
What intermodal services are available to ship to and from Mexico?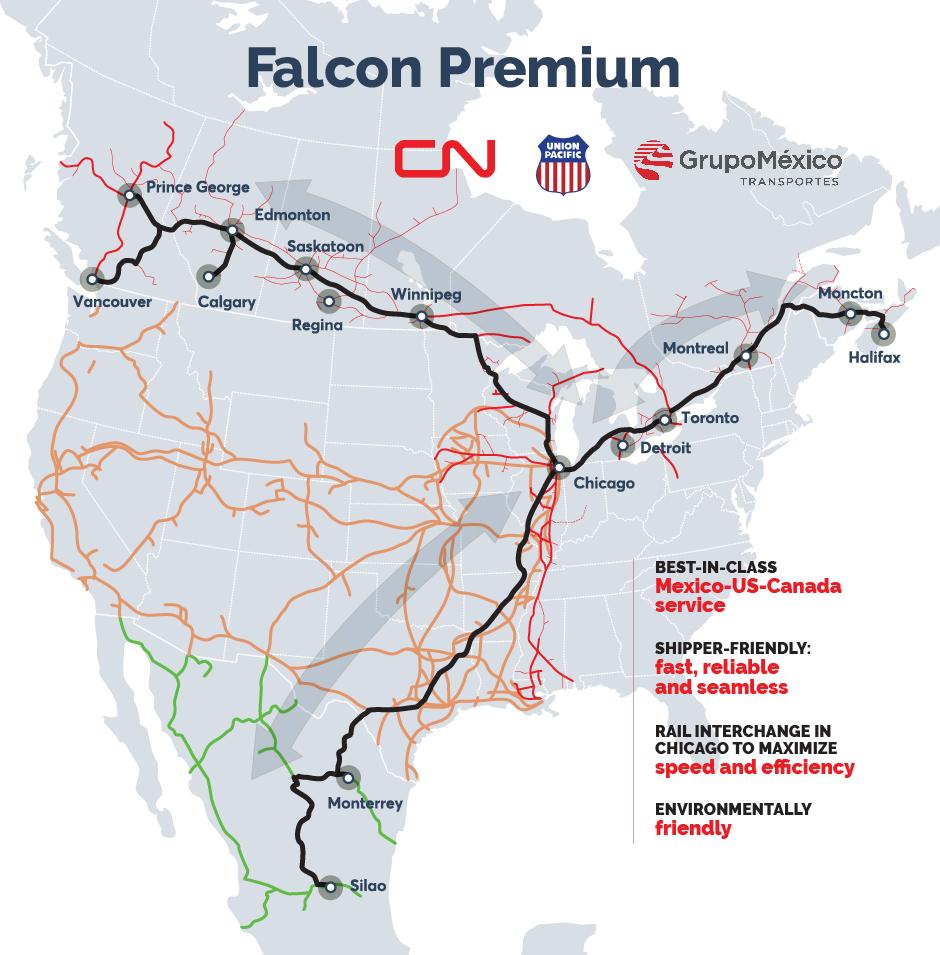 Intermodal shipping across the border is another efficient and cost-effective transportation solution. Intermodal shipments to Mexico also have the benefit of skipping a stop at the border for customs clearance. Instead, they clear customs in Mexico. Many times you can also get the convenience of a single price and a single bill both the rail and truck portions of the shipment, even if multiple railroads handle the shipment.
A few examples of best-in-class intermodal services across the border by rail include Falcon Premium and Eagle Premium.
Falcon Premium Intermodal Service
Falcon Premium is the fastest, most reliable intermodal rail service between Canada and Mexico. Three railroads, Canadian National, Union Pacific, and Grupo México, connect to each other to offer this service, which runs between Mexico and Canada through Eagle Pass and Chicago.
Falcon Premium directly benefits intermodal customers shipping automotive parts, food, FAK (freight all kinds), home appliances, and temperature-controlled products.
Eagle Premium
Union Pacific's Eagle Premium service is an all-rail, seamless service that bypasses congested border crossings, which helps shipments arrive on time. Working with Mexican railroad GMXT, Eagle Premium service includes:
Service between Monterrey and Chicago Yard Center
Service from Monterrey to Lathrop, California, Los Angeles, and Seattle
Service from Silao, Mexico, to Chicago and Memphis
Interline service to Canada and the eastern United States through Chicago
Eagle Premium Service features seamless Intermodal service six days per week between Chicago, Illinois and Monterrey, Mexico with expanded service from Monterrey to Los Angeles, Lathrop and Seattle.
How do I keep my shipment safe when crossing the border?
Making sure your shipment is properly secured, the waybill is correct, and customs paperwork is processed in a timely manner are the most important steps to take to ensure your shipment arrives as planned.
Railroads also do their part to keep shipments safe. Each railroad has its own set of procedures to keep the border process safe and secure, and Union Pacific has a robust process in place to provide safe and secure transportation.
Mexican railroads also have their own security strategies to keep rail shipments safe, including strategic relationships with Mexican authorities and physical security like fencing and CCTV in rail yards.
Learn More
To learn more about how to ship freight into and out of Mexico, answer a few questions and an expert will be in touch.
Related Articles