Earlier this year, Union Pacific Railroad and Canadian National Railway united to accomplish a shared goal: testing the feasibility of running two classes of locomotives on a blend of renewable fuels.
It's a noteworthy collaboration, as it accelerates progress toward greater use of low-carbon carbon fuels in the railroad industry. The testing method though? That's a little unusual, and the reason can be stated in just three words: train-track treadmills.
If you're wondering what train-track treadmills are, here's how they work and why they're an important tool in the journey to decarbonize freight shipping.
The Fast Track to Testing Renewable Fuel Powered Locomotives
If you want to see how a locomotive powered by renewable will perform over time, you need to run it for literally years. Union Pacific and Canadian National don't have time for that: Each company has science-based targets of reducing greenhouse gas emissions by 2030. A lengthy testing period doesn't comply with those plans.
So what's the alternative?
Rather than testing these biofuel-powered locomotives on the network for years on end to learn the results, the freight railroads opted for stationary testing — essentially putting renewable-fuel-powered locomotives on a treadmill and letting them run 24/7. Stationary testing will consolidate years of on-network testing down to about eight months.
The tests started in April 2023 at a testing and training facility operated by the Association of American Railroads' (AAR) MxV Rail facility in Pueblo, Colorado, and should be completed by the end of 2023.
Running locomotives on train-track treadmills tests the greenhouse gas (GHG) emissions and durability of engines powered by renewable fuels, while minimally impacting railroad operations. The tests will help determine the feasibility and efficiency of running renewable fuels on two Wabtec locomotives models. The goal is to establish that renewable fuels will not impact the engine's reliability and will meet the U.S. Environmental Protection Agency's goal GHG emission requirements.
Collaboration Accelerates Progress on Sustainability
Union Pacific and CN shared costs and resources to support the project, helping to move the sustainability ball forward quicker and more efficiently. Their collaboration demonstrates that even though rail shipping is the most environmentally responsible way to move freight by land, the rail industry is nonetheless committed to decarbonizing freight shipments.
The collaboration also made sense considering Union Pacific and CN share similar climate goals and strategies: They are the only Class I railroads to date who have committed to setting a 2050 net-zero emissions target.
What You Can Do to Reduce the Environmental Impact of Your Shipments?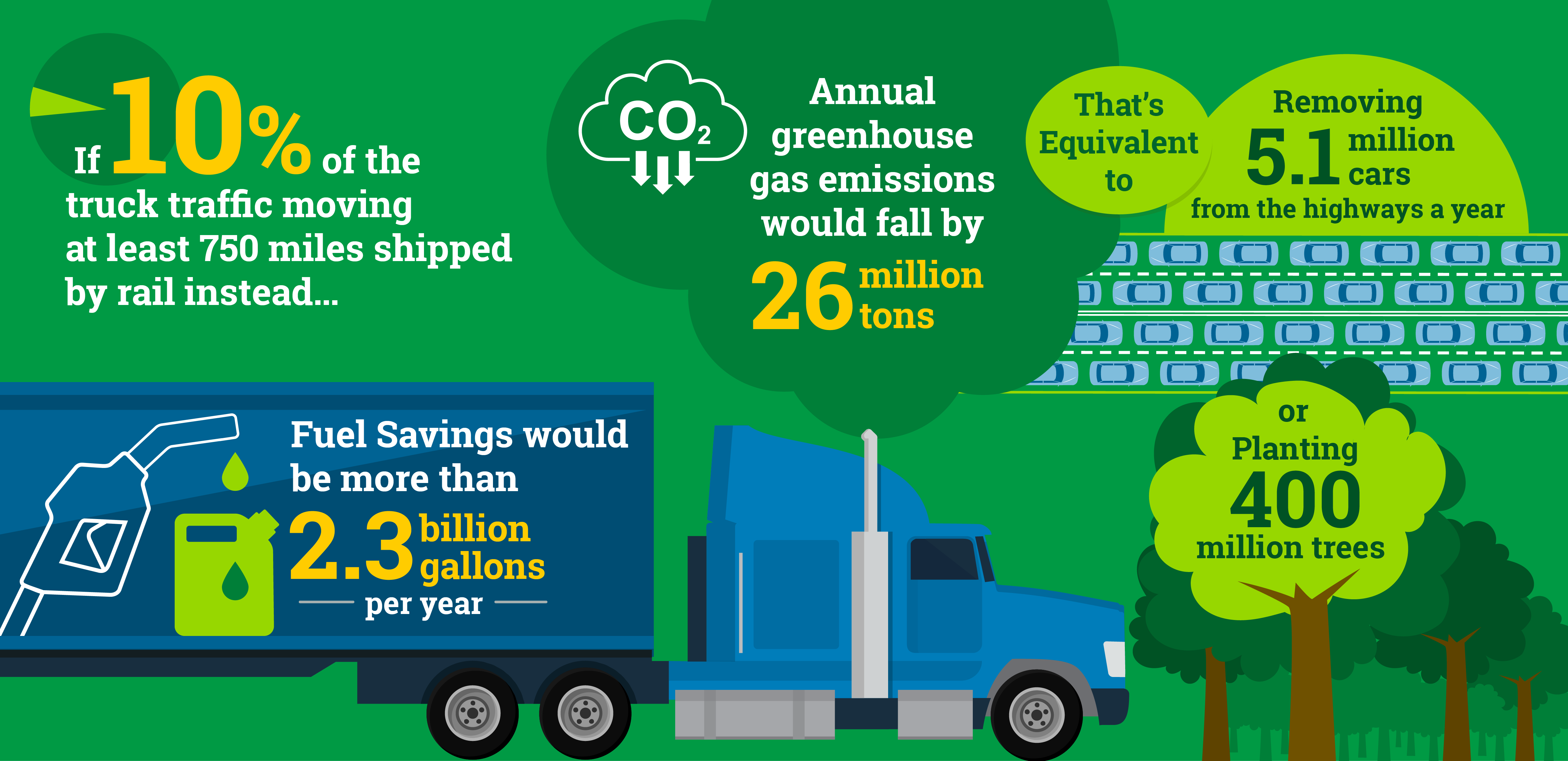 The transportation mode you choose for shipping freight can have a big impact on GHG emissions. Reducing the environmental impact of your shipments is as simple as shipping more products by rail instead of trucks.
According to the Association of American Railroads (AAR), if 25% of the truck traffic moving at least 750 miles shipped by rail instead, annual greenhouse gas emissions would fall by approximately 13.1 million tons; If 50% of the truck traffic moving at least 750 miles went by rail instead, greenhouse gas emissions would fall by approximately 26.2 million tons. That would be equivalent to taking 5.1 million cars off the highway or planting nearly 400 million trees.
Why Do Rail Shipments Have a Lower Carbon Footprint Than Trucks?
Even though railroads move 40% of U.S. freight, rail shipments account for only 1.9% of U.S. transportation-related greenhouse gas emissions.
The reason rail shipments have a lower carbon footprint is that greenhouse gas emissions are directly related to fuel consumption and trains are the most fuel-efficient way for shipping freight over land.
Trains offer a more environmentally responsible method of shipping compared to trucks for several reasons:
One train can carry as many freight shipments as 300 trucks, which reduces highway congestion and GHG emissions.
On average, U.S. freight railroads can move one ton of freight more than 480 miles per gallon of fuel, making them 3-4 times more fuel efficient than trucks.
As a result of their improved fuel efficiency, moving freight by train instead of truck reduces GHG emissions by up to 75%.
If you want to see how much shipping freight by trains instead of trucks can lower your company's carbon footprint, use this Carbon Emission Estimator.
Learn More
If you'd like to reduce your company's carbon footprint by shipping by rail, answer a few questions and an expert will be in touch. To learn more about the steps Union Pacific is taking to reduce our carbon footprint as well as those of our customers, learn about our Climate Action Plan.
Related Articles